Houston Lawyer Says 9 Women Have Brought Cases Against QB Deshaun Watson
Prominent Houston attorney Tony Buzbee said Thursday that his law firm has been asked to represent nine women who have brought sexual assault accusations against Houston Texans quarterback Deshaun Watson. Buzbee's announcement came just a couple of hours before he posted a "confidential" letter from the NFL that says the league was conducting its own investigation into the allegations against Watson.
Buzbee on Tuesday night posted to Instagram that he was filing suit against Watson on behalf of a Houston woman who claimed she was sexually assaulted by Watson. That suit was filed in Harris County on Wednesday morning and, by the day's closing, two more had been filed.
The attorney posted to Instagram again on Thursday, saying there were a total of nine women who have hired his law firm, and that there could possibly be others.
"The Buzbee Law Firm has now been hired by nine women to bring cases against Deshaun Watson. The allegations are similar. We have filed three, and, as we complete our due diligence, will file the remaining ones in due course. We are talking to several others," Buzbee wrote.
Later on Thursday, Buzbee posted a screenshot of a letter sent to him by the NFL that stated they were investigating allegations against Watson. Although the letter clearly says it's "confidential," Buzbee posted it after the Texans publicly acknowledged the league's investigation.
"I posted this previously, but wanted to edit it a bit to remove the authors's personal info. We, of course, will cooperate with the NFL's investigation and with any other investigative authorities," Buzbee wrote. "Although this letter states it is "confidential," know that the Texans have confirmed the existence of this investigation."
The three lawsuits filed so far are "civil lawsuits" and not criminal.
Watson, who denied the claims earlier this week on social media, has hired Houston attorney Rusty Hardin for representation.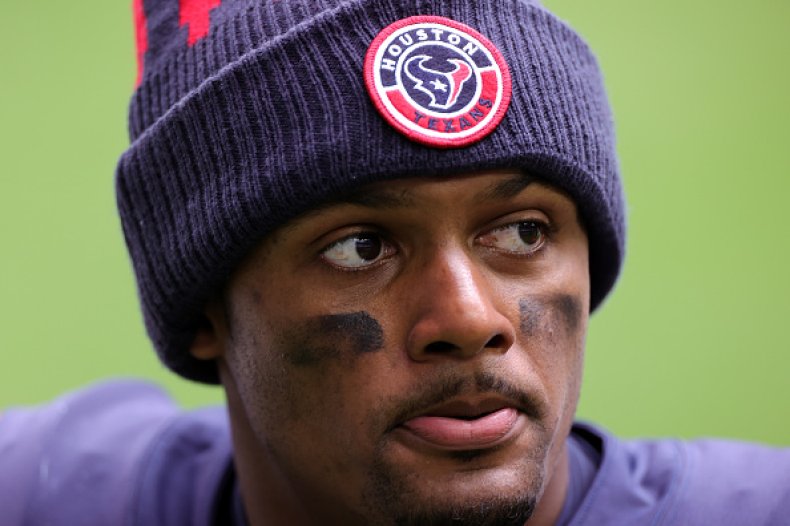 According to one lawsuit, Watson has inappropriate contact with a massage therapist, allegedly touching her with his private parts.
Another lawsuit states that Watson sent the plaintiff a direct message to meet him at a local office building. The therapist reportedly left the room and then later returned to find the quarterback on the table, lying on his stomach with a small towel covering his rear. Midway through the massage, he allegedly rolled over and "got more aggressive, forcefully telling her to move her hand down to his pubic area."
The therapist said she felt "intimidated and threatened" and "was afraid of what someone like Watson could do if she did not submit to his demands."
After allegedly telling the masseuse that he could "help or hurt" her career, the therapist said Watson tried to force her to perform oral sex for him, to which "she did not consent."
Watson's response two nights ago was that the accusers were seeking "a baseless six-figure settlement demand" that he rejected. The quarterback said this is more about clearing his name, and that he always treats women with respect.
"I have never treated any woman with anything other than the utmost respect," Watson tweeted, adding "this isn't about money for me - it's about clearing my name."
Watson has publicly made it known that he wants to be traded from the Texans after the team's front office made questionable personnel decisions, which included trading the team's best receiver (DeAndre Hopkins) last year, and then this offseason releasing defensive star J.J. Watt. Both of those players are now with the Arizona Cardinals.