Houston Makes NCAA Final Four for First Time Since Phi Slama Jama in 1984
The University of Houston men's basketball team is back in the Final Four after holding off Oregon State, 67-61, on Monday night in the Elite 8 round.
The Houston Cougars now advance to their first Final Four since 1984, when they lost in the national championship to Georgetown. Back then, the players patrolling the court for the esteemed fraternity included Akeem "The Dream" Olajuwon. Clyde "The Glide" Drexler, Michael Young and others. The Cougars reached three-consecutive Final Fours during that span of 1982-84, a feat hardly matched even to this day.
The current Houston Cougars will play Saturday night in the national semifinal against the winner of Monday night's other Elite 8 game between Baylor and Arkansas—who are both former foes of Houston in the now-defunct Southwest Conference.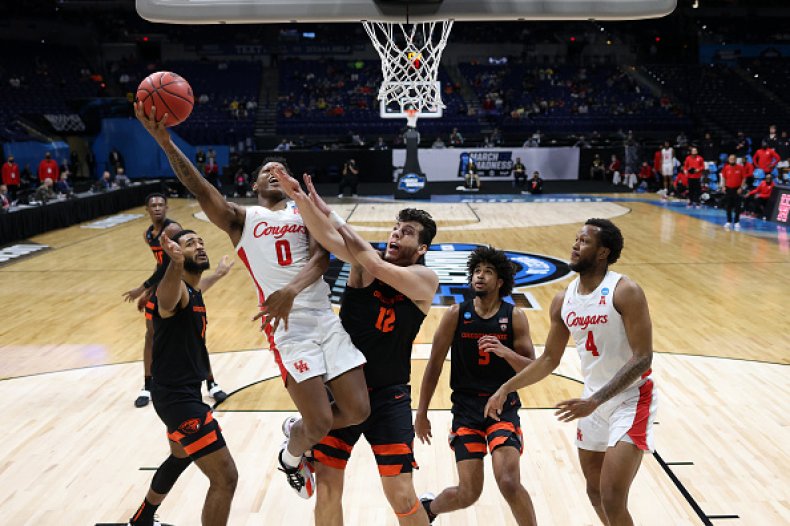 Houston grabbed an early lead over Oregon State and then led, 34-17, at the half. The Beavers then went on a 31-18 run to pull the game to within four points (52-48) with 6:15 to remaining.
Houston's Quentin Grimes extended the lead to seven with a shot beyond the arc, but Oregon State answered with a Gianni Hunt jumper. The Beavers then cut the lead to three (55-52), and Houston's Dejon Jarreau sank a desperation 3-pointer as the shot clock expired. Officials went to review it and claimed Jarreau did not get his shot away before the time zeroed out.
Hunt then made a 3-point shot—off the glass—to tie the game at 55.
Houston took a lead on a three-point shot by Grimes. The Houston Cougars then held off a valiant comeback back by Oregon State.
Houston is the No. 2 seed in the Midwest regional of this year's tournament. The Cougars beat No. 15 Cleveland State, 87-56, in the first round, and then outlasted No. 10 Rutgers, 63-60, in the second round.
Oregon State was the ultimate Cinderella in this year's big dance, advancing to the Elite 8 as a No. 12 seed. The Beavers took down No. 5-seed Tennessee in the first round and then beat No. 4 Oklahoma State in the second round. Oregon State then beat No. 8 Loyola Chicago in the Sweet 16.
Oregon State needed to win the Pac-12 Conference tournament championship just to qualify for the NCAA tournament this year. The Beavers have not made the Final Four since the 1963 season. The Beavers were picked to finish last in the Pac-12 Conference during the 2020-21 season.
The Houston squads in the 1980s were coached by the legendary Guy Lewis, who guided the program from 1953 until 1986. Lewis led the Cougars to back-to-back title games in 1983 and 1984. He lost to North Carolina State in 1983 before falling to Georgetown in 1984.