Houston Mayor Cautions Against Re-Opening Economy Without Adequate Testing: 'You Don't Have to Sacrifice the Old'
Houston Mayor Sylvester Turner, a Democrat, pushed back against the assertion from Texas Lieutenant Governor Dan Patrick, a Republican, that re-opening the economy is "more important" than living, while also cautioning against quickly returning to normal without adequate testing.
Speaking to Fox News host Tucker Carlson on Monday evening, Patrick argued that keeping the economy closed was causing serious damage to the U.S. "There are more important things than living, and that's saving this country for my children and grandchildren and saving this country for all of us," the GOP lawmaker said.
But Turner, who leads the biggest city in Texas and the fourth biggest city in the country, pushed back against this argument during a Wednesday morning interview with CNN. The Democratic lawmaker said that a balanced approach that addressed public health concerns alongside economic concerns was required.
"I don't think it's an either/or," Turner said. "And I don't think you have to provide those types of choices. I simply think you have to listen to what the doctors are saying, take their advice. If you do the testing and you make it widespread, if you provide the supplies, the PPEs, then you don't have to sacrifice one group in order to save another."
Turner touted the success that social distancing measures have had in his city of 2.3 million residents, noting that just 34 people have died after contracting the coronavirus. The mayor also pointed out that Houston had zero deaths over the past two days.
"So the things that have been put in place are working," Turner emphasized. "But you have to be very careful if you open up too soon, you'll undo all the sacrifices that people made. But you don't have to sacrifice the old...." he said.
Patrick drew controversy back in March after he first suggested that elderly people in the U.S. were willing to risk dying to keep the economy open.
"I just think there are lots of grandparents out there in this country like me—I have six grandchildren—that what we all care about and what we love more than anything are those children, and I want to live smart and see through this, but I don't want the whole country to be sacrificed. And that's what I see," he said at the time, in an interview with Carlson on Fox News.
"We're having an economic collapse," he warned.
Speaking to Carlson again this week, Patrick insisted that the economy should never have been shut down in the first place. "I'm thankful that we are now beginning to open up Texas and other states because it's long overdue," he said.
Patrick's concerns align with those of right-wing demonstrators who have protested in city's across the country against stay-at-home orders put in place by governors to curb the spread of the coronavirus. These protesters have converged on state capitals and other major cities to express their frustration with stringent social distancing measures, arguing that reopening the economy is more important than the precautions put in place by state leaders.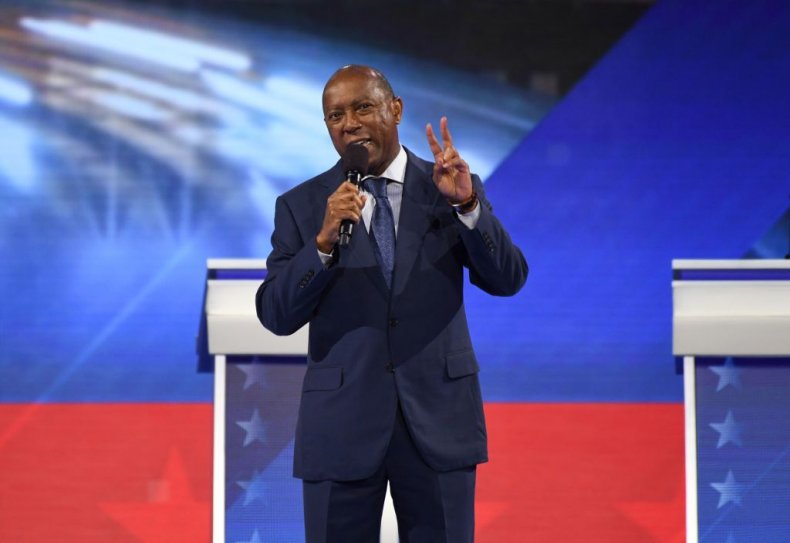 Despite the sentiments expressed by Patrick and many demonstrators, polling has consistently shown that the majority of Americans prefer the government to focus on addressing the coronavirus pandemic over the economy. Additionally, most Americans are more concerned that state leaders will be too quick to withdraw social distancing restrictions, not too slow to do so.
Polling data from Morning Consult published last week showed that majorities of Republicans, independents and Democrats believed it was more important for the government to focus on dealing with the coronavirus than the economy. Overall, 75 percent of voters said they prefer the government focus first on the public health crisis. That sentiment was shared by 88 percent of Democrats, 72 percent of independents and 65 percent of Republicans.
A survey by Pew Research Center, which was conducted from April 7 to 12, also showed that 66 percent of respondents said they were concerned that their state government would move too quickly to reopen businesses. Only 32 percent said they were concerned this would happen too slowly.