Houston Mayor Orders Removal of 492 Public Basketball Hoops to Help Curb Spread of Coronavirus
Houston Mayor Sylvester Turner on Wednesday ordered the removal of nearly 500 basketball rims from public spaces in order to help slow the spread of COVID-19, better known as coronavirus. Though city parks remain open, the basketball rims are doing down.
The Houston Parks and Recreation Department tweeted the message Wednesday, saying it's one way the mayor is encouraging social distancing guidelines. The tweet has since been deleted, but it read:
"To encourage social distancing, Mayor Sylvester Turner ordered the Houston Parks and Recreation Department to remove the 492 basketball rims in 192 City of Houston Parks. Thank you to @FOX26Houston for helping us send the message about what we're doing to keep the public safe," HPARD tweeted.
There have been 761 documented cases of coronavirus in Harris County, according to KHOU in Houston. Of those, there have been six deaths and 64 recoveries, while the other 691 are active cases. There have been 42 City of Houston employees infected with coronavirus, including 12 members from the fire department and another 12 from the police department.
The state of Texas, in its entirety, has reported 3,997 cases and 58 deaths as of Wednesday afternoon, the Texas Tribune reported.
Newsweek subscription offers >
Though the state has nearly 4,000 people test positive for coronavirus, Gov. Greg Abbott has not issued a stay-at-home order for the state. He even encouraged people to attend church, as long as they practice safe social distancing in the process.
Mayor Turner on Wednesday blasted the idea, saying church members should not go into a church.
"If you're engaging in socializing, hugging, hand-clapping, sitting next to one another, then you are putting yourself in harm's way," Turner said at a news conference on Wednesday. "I don't care who tells you to go in there. Exercise some common sense."
"This is not the time to change course when you're still in the midst of the storm," Turner said. "And I know the faith-based community understands that. So, you know, I shouldn't have to tell you that if there's a building on fire, don't go into the building."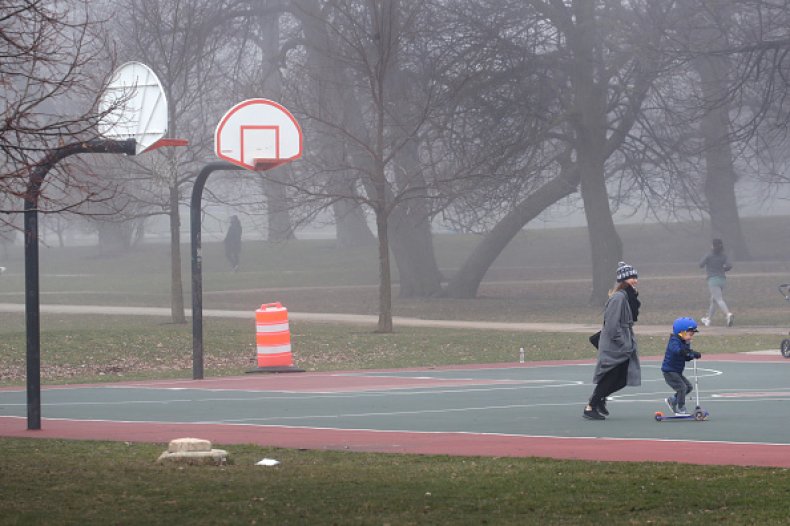 Meanwhile, medical chiefs in Texas urged Abbott to implement a stay-at-home policy statewide, according to KXAN in Austin.
Ted Shaw, who is the Texas Hospital Association President/CEO, penned a letter along with Cindy Zolnierek, CEO of the Texas Nurses Association, to Abbott. They said a governor's order would "send a clear message about the seriousness of the threat," and "ultimately save lives."
Abbott has closed schools until May 4 and reemphasized the importance of social distancing, but has still left it up to individual cities and counties to initiate their own stay-at-home policies.
Shaw and Zolnierek applauded that effort, but insisted the governor take another preemptive step.
"While we applaud Texas' work to stand up additional capacity and provide the health care industry with regulatory flexibilities, the chief priority right now is preventing the spread of illness," Shaw and Zolnierek wrote. "The most effective way to do that is for people to stay at home.
"With surging counts and projections – and news of community pockets that are not heeding the warning to distance – a statewide stay-at-home policy will send a clear message about the seriousness of the threat. Ultimately, it will save lives," the pair added.
As for Houston, it is the fourth-largest city in the nation behind New York City, Los Angeles and Chicago. With schools out until further notice and warm weather hitting the Lone Star State, Turner's order is one way to try and keep people out of crowded areas together.
Houston Mayor Orders Removal of 492 Public Basketball Hoops to Help Curb Spread of Coronavirus | News