Houston Mayor Plans Mandatory Face Masks as Texas Reels From Coronavirus
Houston Mayor Sylvester Turner said Wednesday that he and Harris County Judge Lina Hidalgo are working on an executive order that will require Houstonians to wear face coverings or masks in public buildings, or in public areas when social distancing isn't possible, to help curb the spread of the novel coronavirus.
The order would be similar to the executive order issued by San Antonio Mayor Ron Nirenberg and Bexar County Judge Nelson Wolff on Wednesday that stated businesses in Bexar County have until Monday to start requiring face masks "where six feet of separation is not feasible," before the business risks facing a fine of up to $1,000.
"Now is not the time to go out and behave as if life has returned to normal," Turner said in a KHOU report. "It has not and it won't anytime soon."
The City of Houston has not responded to Newsweek's request for comment.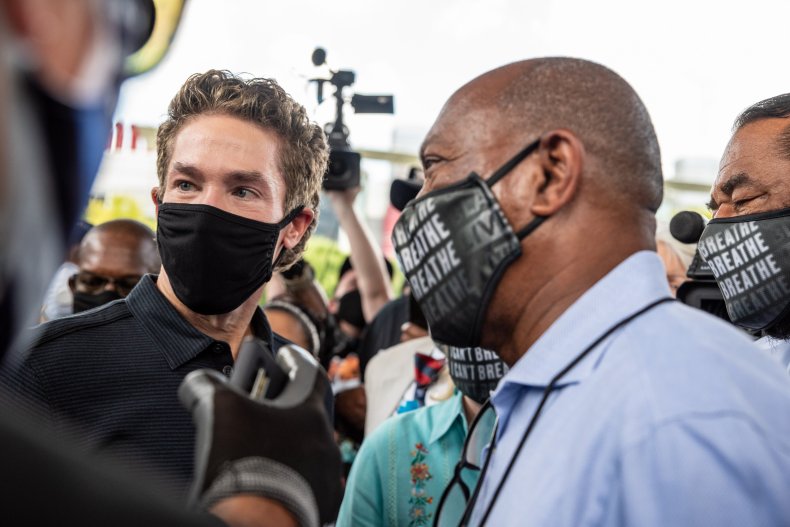 Turner's announcement came a day after he and mayors from Dallas, Fort Worth, San Antonio, Austin, El Paso, Arlington, Plano and Grand Prairie sent a letter to Governor Greg Abbott asking for the authority to mandate face coverings in their cities during the COVID-19 pandemic.
"We think you would agree that a healthy economy starts with healthy people," the letter shared on Twitter by State Representative Trey Martinez Fischer stated. "If you do not have plans to mandate face coverings statewide, we ask that you restore the ability for local authorities to enforce the wearing of face coverings in public venues where physical distancing cannot be practiced."
El Paso Mayor Dee Margo said she fears people in her border city are letting their guard down and becoming complacent.
"People are antsy and people want to get out. But if you let down your guard you will have a spike in cases," Margo said in a Fox 14 report.
In April, city leaders in Houston, Austin and San Antonio issued executive orders that required everyone to wear face masks in public or face a fine. They were nixed by Abbott's executive order as the state was beginning to reopen.
"I make clear on a daily basis around the entire state of Texas that wearing a mask is very important, and local officials send that message," he said in a Texas Tribune report. "Putting people in jail, however, is the wrong approach for this thing."
On Tuesday, Abbott addressed the recent surge in novel coronavirus cases and reassured Texans that the state's hospital capacity is equipped to handle the rise. Abbott's announcement came the same day that Texas recorded an all-time high of 2,622 COVID-19 cases, surpassing the previous high of 2,504 cases that was set on June 10.