Pet Shop Worker Clings to Speeding Car After Woman Allegedly Stole $10,000 Dog
A pet shop worker was captured on camera clinging to the hood of a speeding car as she tried to rescue a stolen puppy on a Texas highway.
Royshana King was arrested last week and charged with aggravated robbery involving a deadly weapon in connection with the incident on November 4 last year, according to court documents seen by the Houston Chronicle.
It came after Chica, a bulldog puppy worth $10,000, was stolen from the Bully Kamp pet shop near Aldine in Harris County, the newspaper reported.
Shop employee Alize James, 21, ran after the thieves and tried to stop their car, according to KPRC. She was later seen clinging onto its hood as the vehicle sped down a Houston highway, in an incident that was filmed by another driver.
James told the broadcaster that a couple had visited the store to look at different breeds and chose a $10,000 exotic bulldog.
The 21-year-old said she then went upstairs to get some paperwork for a UPS driver and came back down to find the couple had left. Surveillance footage shows the pair exiting the shop with the dog in the woman's arms.
James said she chased after them, concerned for the 7-month-old puppy's welfare since it had had surgery days earlier and needed medication.
She told the broadcaster: "My mind is focused on her health, I obviously didn't care about my wellbeing."
After pursuing the couple to their car, James said she demanded they return the dog to her. Instead, the couple reportedly drove into her, threatening to run her over, and she instinctively jumped onto the hood.
"Next time I heard the gas go, he went very aggressively and it [the bumper] kind of slapped me on top of the car," she said.
The driver sped down side streets and the Interstate 45 service road for more than a mile, while James clung to the hood, according to the Houston Chronicle.
The woman then lunged out of the passenger window, hitting and scratching James while she tried to call 911, she told the paper. She said they soon pulled over mid-traffic and started to assault her, hitting and scratching her in the face and head before the man tossed her to the ground.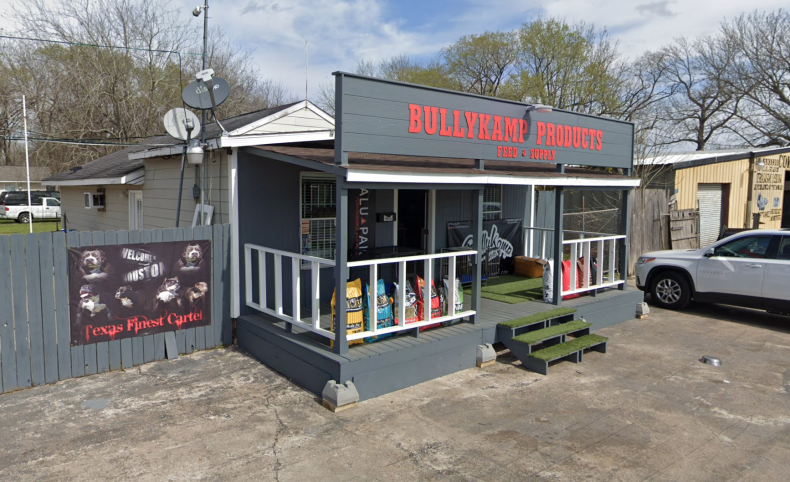 Jose Garcia, a manager at the store, told the newspaper that he had received no news about the stolen dog's whereabouts as of Tuesday morning.
He said his customers were usually loyal and friendly, but employees felt anxious after the robbery. "We're just trying to get back to normal," he said.
Newsweek has contacted the Harris County Sheriff's department and Bully Kamp for comment.