A Houston restaurant has replaced its marquee banner to read "Ted Cruz you can eat here," after the Texas senator was heckled out of an eatery in Washington, D.C.
George and Rene Reed, who own George's Pastaria in West Houston, said they "welcome everybody" to their restaurant, regardless of political standing. "We would never allow [heckling] to happen here," said Rene Reed, according to KHOU11.
Reed said it was just another example of how mean and divisive politics had become. "It's become juvenile, temper tantrums. People can't allow others to express their own opinions if they're disagreeable to them. We have a motto inside the restaurant that says "Be nice or leave.' If you're nice, we embrace you, and we welcome you as customers and hopefully, almost as family friends."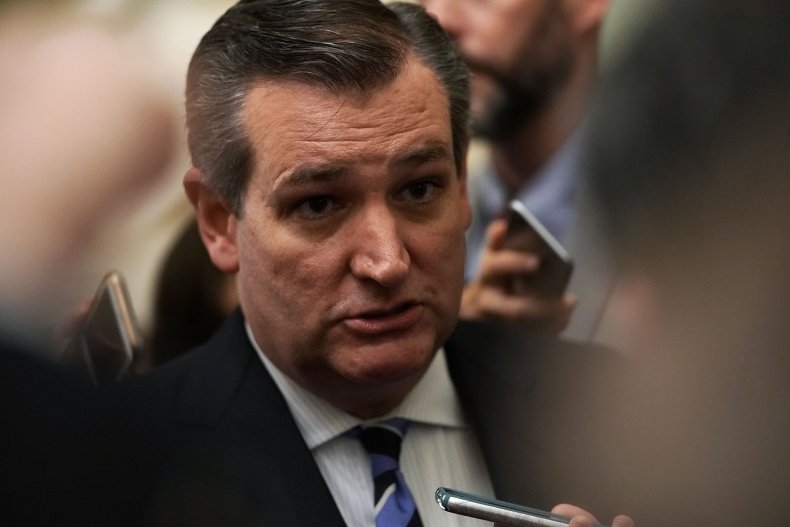 While the owners have been praised for their gesture, they said Cruz had not yet visited their establishment. "People come in and say, 'Great sign, we love the sign.' Ted Cruz has not been here. We would welcome Beto." (Beto O'Rourke is the Democratic candidate opposing Cruz in the upcoming Senate race.)
On September 24, Cruz and his wife were chased out of Fiola—a restaurant in Washington, D.C.—after hecklers began verbally abusing the senator over his friendship with Supreme Court nominee Brett Kavanaugh. Protesters chanted "We believe survivors" as Cruz snd his wife scurried to remove themselves from the restaurant.
According to footage posted on social media, one man told Cruz that Beto O'Rourke was "way hotter." Another person asked him if he would admit he was "best friends" with Kavanaugh. "Let my wife through," Cruz could be heard saying as he tried to make his way through the crowd.
In the aftermath of the protest, the owners of Fiola said they had received death threats.
Speaking to Fox 5, owner Maria Trabocchi said she doesn't understand why anyone would want to threaten or harm her family. "We focus on hospitality not on politics, and all are welcome," Trabocchi said.
Security has since been hired to protect customers and staff. Chef Fabio Trabocchi said the reservations line has been "inundated with calls from people who are taunting our staff and threatening to destroy our restaurant." "Maria and I have personally received death threats," Trabocchi said.
The owners have denied claims they informed protesters that Cruz was dining.