Houston Police Officer Who Stormed the Capitol Placed on Leave Amid Federal Investigation
A patrol officer who served an 18-year tenure at the Houston Police Department was placed on administrative leave Wednesday morning, as federal authorities investigate his participation in the violent Capitol riot that took place in Washington, D.C., last week.
Houston Police Chief Art Acevedo shared preliminary details related to the officer's involvement, as well as the Federal Bureau of Investigation's (FBI) consequent inquiry, during a televised news conference. Neither the officer's name nor personal information was revealed.
Acevedo said that he became aware of the officer's connection to the January 6 uprising on Sunday, when a community member sent him a photograph that showed the individual in question present at the siege. The police chief noted that he took additional steps to verify the officer's identity before contacting Perry Turner, special agent in charge at the FBI's Houston Division, about his conduct.
The FBI and Houston Police Department initiated a joint investigation into the officer's actions later on Sunday, according to Acevedo's latest comments. In addition to placing the officer on leave, Acevedo said that he served the individual with a 48-hour notice instructing him to appear at a disciplinary hearing with the chief on Friday. Acevedo expressed skepticism as to whether the officer would appear.
The unidentified officer stormed the Capitol complex alongside thousands of Donald Trump's supporters last week, after the sitting president hosted a rally held to baselessly reject his loss during November's general election. His followers' chaotic assault on the Capitol, which occurred as Congress met to certify President-elect Joe Biden's victory, caused five deaths and dozens of injuries. A group of rioters breached the complex, taking photos and recording videos from inside the building's rotunda and corridors.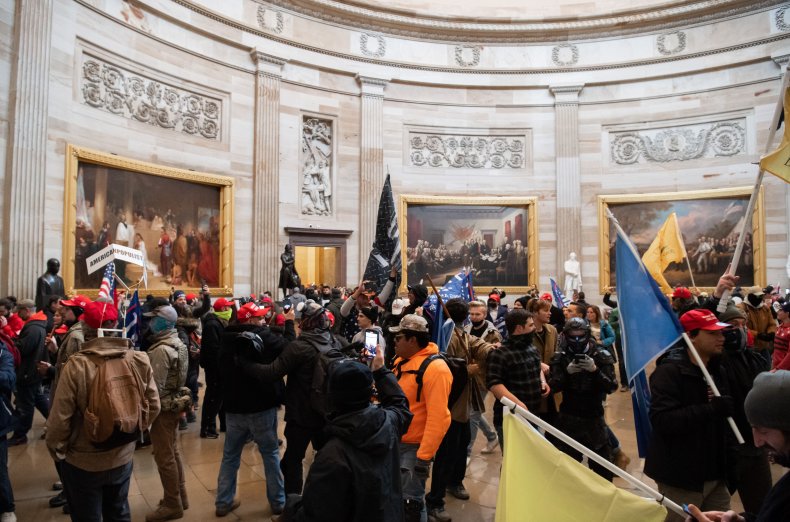 "This individual...penetrated the Capitol," said Acevedo. As the FBI's investigation persists, he told reporters at Wednesday's press conference that the officer will likely face federal charges.
"There's a high probability this individual will be charged with federal charges, and rightfully so," he continued. "And I'd be surprised if they show up Friday to my hearing."
"Let me let me just say this. There is no excuse for criminal activity, especially rom a police officer," the chief added. "I can't tell you the anger I feel at the thought of a police officer, and other police officers, thinking they get to go storm the Capitol."
A Houston Police Department spokesperson referred Newsweek to Chief Acevedo's press conference remarks in response to a request for comment.