Houston Police Rescue 26 People From Alleged Human Smuggling Operation
Texas police discovered at least 26 people allegedly being held hostage on Thursday in what may have been part of a human trafficking operation in Houston.
Houston has been considered a hub for human trafficking with the U.S. Department for Health and Human Services estimating that 50,000 people are smuggled in Texas from around the world every year. Information from Texas Attorney General Ken Paxton states that there are 234,000 individuals who have been kidnapped by traffickers to be used as laborers in Texas "at any given time." Both Houston Mayor Sylvester Turner and Texas Governor Greg Abbott have enacted programs to combat human trafficking and provide assistance to those who have been victims of trafficking.
According to a Thursday tweet from the Houston Police, officers were investigating a report of "a male in his briefs running down the street yelling that he had been kidnapped." The individual directed officers to a home in which they discovered "25 males and 1 female," many of whom professed to be held against their will.
The victims were allegedly from El Salvador, Honduras, Mexico and Cuba. A tweet from KHOU reporter Chris Costa indicated that at least one person had been detained.
"Officers just put one person who was in handcuffs in the back of one of these cruisers," Costa tweeted. "One of the victims told officers they knew they were coming to Houston, were promised a job, but that changed when they got here. @KHOU #khou11"
After being removed from the residence by officers, the individuals were taken to a nearby school for shelter. According to KTRK, clothes were given to the individuals by area residents.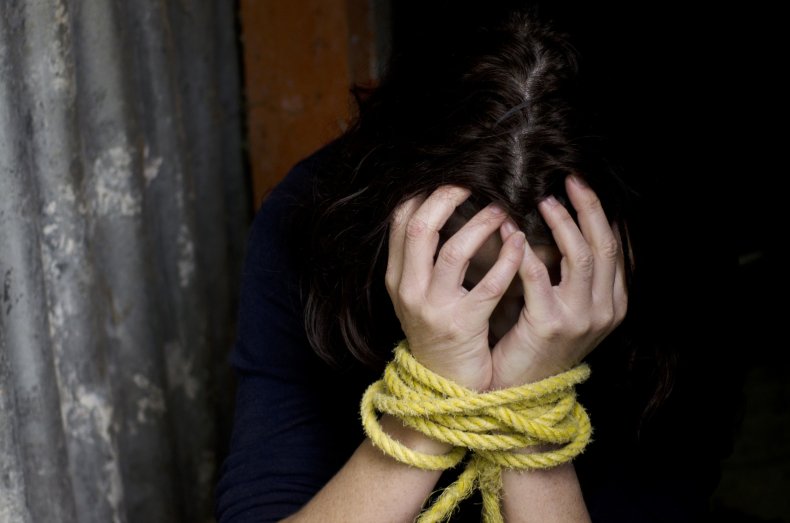 Newsweek reached out to Mayor Turner's office for comment.
According to the Department of Justice, there are two major classifications of human trafficking. Labor trafficking involves forcing people into "involuntary servitude, peonage, debt bondage or slavery." Sex trafficking involves making individuals, including minors, engage in commercial sex by "force, fraud, or coercion."
Officials have been cracking down on human trafficking in Texas. In June 2019, Governor Abbott signed a measure making it illegal for individuals to use their property as a "stash house" in which crimes such as human trafficking or prostitution are conducted.
Mayor Turner enacted the Anti-Human Trafficking Strategic Plan in 2016 to combat the growing problem in Houston. The plan included increasing social awareness of the issue and coordinating social services to human trafficking victims. Houston health department employees, restaurant inspectors and individuals that work for cab companies were trained to spot potential trafficking victims.
At a Houston meeting with officials from other American metropolitan areas in June, Turner said, "If we are not working to eradicate human trafficking in all cities, in all states and globally, you don't win."