Houston Shooting: Four Dead After Gunman Lights Fire, Shoots People Leaving
A gunman has died in a firefight with police after he set fire to homes and shot at residents as they escaped, according to police.
Houston Police Department (HPD) Chief Troy Finner said the incident happened at 8020 Dunlap Street early on Sunday morning.
The HPD and Houston Fire Department (HFD) received multiple calls that there had been a shooting and a fire.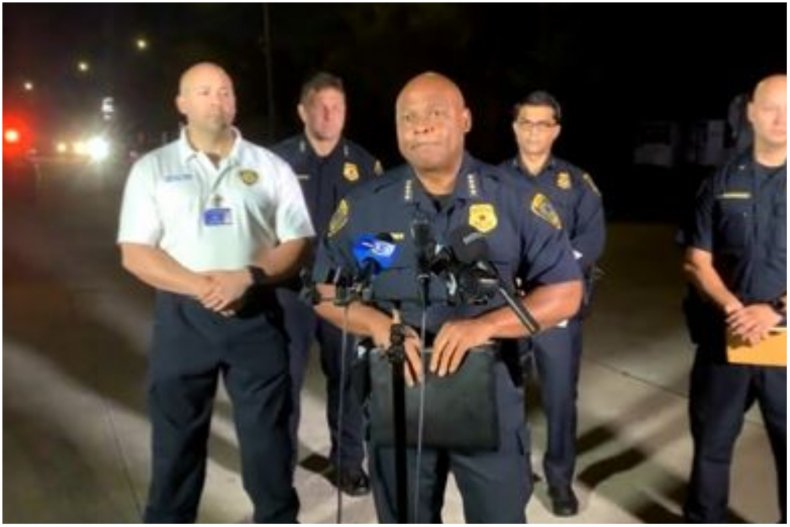 When firefighters first arrived on the scene of the rental property they were fired upon by the shooter. Police later said it was unclear if the gunman was firing in their direction at the time.
An HPD officer arrived shortly afterward and found the firefighters had taken cover and started to exchange fire with the shooter.
The shooter was ultimately killed during the firefight and police were able to confirm that four people, including the gunman, had died.
During a press conference, Finner said: "HFD and HPD received multiple calls. One call came in as a person down, another call came in as a shooting. Also, a fire call came in.
"This suspect, unfortunately, and very sadly and very evily (sic) set fire to several residences. Laid waiting for those residents to come out and fired upon them."
Finner said the suspect was Black, about 40 years old and was wearing an all-black outfit. He added the suspect was armed with a shotgun.
He added: "That suspect is on the scene deceased. We have two other individuals on the scene, deceased. They are both white males in their 60s.
"We have another African American male who was approximately 40 years old, transported to the hospital deceased.
"Another male, approximately 40 to 50 years old was transported to the hospital with an injury of a shot to his arm. Another male who was running away was injured, but he was not transported to the hospital."
Finner continued: "I want to say something. It's sad what's going on in our nation and I always ask for a prayer and I'm going to ask for one right now.
"All of these families. Can you imagine some of them probably haven't been notified just of yet. It's currently 1 o'clock in the morning. But please pray."
According to the Gun Violence Archive, a database that collects information about shootings from across the U.S., 29 people have been fatally shot in the Houston this month.
The database did not include information about fatal shootings that happened past August 24.
Newsweek has contacted the HPD for comment.