Houston Teen Called 'Obnoxious' By Fox Anchor For Applying To 20 Colleges Demands Public Apology
Updated | A teenager offered a full ride to 20 different colleges, including Harvard, Yale and Stanford, wants journalists at a Fox affiliate to apologize for calling his decision to apply for the schools "obnoxious."
After news broke that Michael Brown had been accepted to 20 different colleges with offers of full financial aid, co-anchor Holly Morris and contributor Sarah Fraser critcized the student, accusing him of taking potential spots away from peers in a segment that aired on April 3.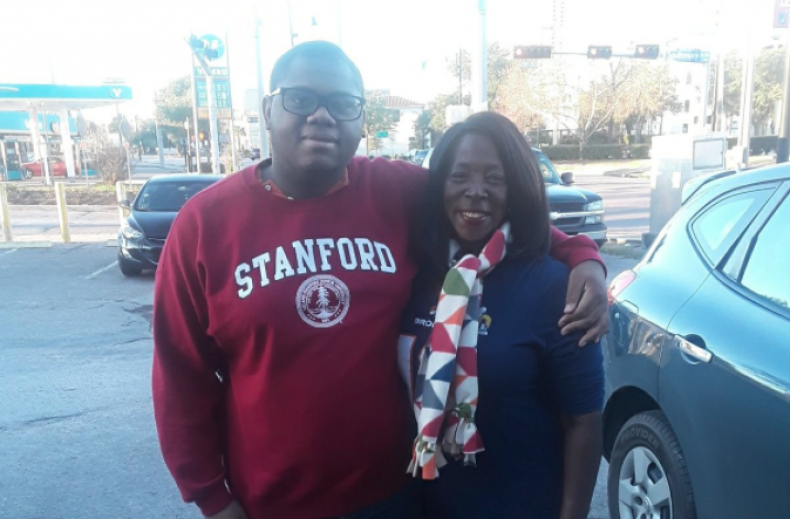 "It's a little ridiculous that this kid applied to 20 taking away a spot and basically wait-listing another kid," Fraser said.
"I think it's a little obnoxious because you can only go to one," Morris chimed in. "You can only take one full ride and you are taking a spot from someone else who worked really hard."
The comments came after a video of Brown, a 17-year-old black student who had grown up in a poor area of Houston, celebrating his acceptance to 20 schools went viral.
The teenager, who had earned a 4.68 GPA at Lamar High School and was offered a full ride to all 20 colleges, said that while he wasn't "too angry" over the comments, he did feel disappointed.
"My disappointment was with the language used to describe me, a minor. To call someone obnoxious and annoying," Brown told Newsweek.
"I cannot change how someone thinks, but how someone presents their opinion is important and they just presented it poorly."
Brown said that while had a "respectful" Skype interview with Morris, he did not get a direct apology during the interview.
He said Morris and Fraser should "maybe next time think a little bit more before you act or say something and just consider the person on the other side."
Despite Morris posting to Twitter after her conversation with Brown that she had "apologized to Michael and he accepted my apology," Brown said it wasn't the case and that he was still waiting for a formal apology from the the broadcaster.
His mother, Berthinia Rutledge-Brown, told Newsweek she would also like to see her son get an apology over the incident.
"It would just be the right thing to do, period," Rutledge-Brown said.
"One thing I do embrace is that in this country, we have a right to feel however we want to feel and a right to voice our opinion. I just think, though, that this is a child. This was not a bad thing in any way," she continued.
Rutledge-Brown said her son's response to the incident gives her hope for the future.
"These kids think differently than we do, they grew up in a different climate," she said. "What I've noticed with Michael and his friends is that...they don't care about race, class. If we just back up, they will make so many changes in this world. Everything will get better."
Despite the criticisms, Brown said most of the feedback he received about his college acceptance letters was "positive."
Former U.S. President Bill Clinton even reached out to congratulate the student on his "incredible accomplishment."
"What an incredible accomplishment, Michael," he wrote on Twitter. "Follow your heart and your head, your future is incredibly bright. I can't wait to see what comes next."
Clinton even offered to give Brown some advice, writing: "If you want to talk about Georgetown, give me a call."
Brown said he is still deciding on which school's offer he will accept, with Stanford, Harvard, Yale and Georgetown the main contenders. However, he already knows what he will be studying: political science. He said he plans to announce his college pick on April 30.
This story has been updated with comments from Michael Brown and his mother, Berthinia Rutledge-Brown​.