Houston Texans Fire Coach Bill O'Brien After 0-4 Start
The Houston Texans have fired head coach Bill O'Brien, effective immediately, after the team's 31-23 loss at home to the Minnesota Vikings just one day earlier. O'Brien was also the team's general manager.
The Texans will likely name Romeo Crennel as the interim coach, according to ESPN's Dan Graziano.
The Texans, which won the AFC South last year, have started 2020 with an 0-4 record. This comes with high expectations with a healthy J.J. Watt on defense and a contract extension for quarterback DeShaun Watson.
The team started 0-2 by facing the two best teams in the entire league—the Kansas City Chiefs and Baltimore Ravens. The Texans then lost at the Pittsburgh Steelers, and then to the winless Vikings. The grumblings of Texans fans began before the Minnesota game, and Sunday's loss obviously led management to ending their tenure with him as well.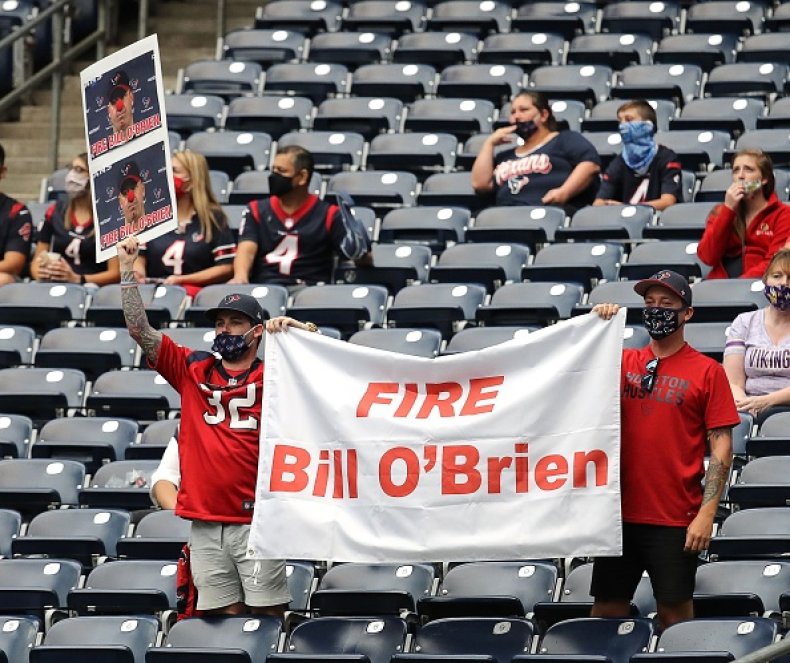 The Texans won the AFC South in 2019, and then beat the Buffalo Bills, 22-19, in overtime of the Wild Card round. In the AFC Divisional round at Kansas City, the Texans built a 24-0 lead that was anything but comfortable. The Chiefs stormed back and won the game, 51-31, and then went on to win the Super Bowl in early 2020.
In the offseason, the Texans traded star wide receiver DeAndre Hopkins to the Arizona Cardinals for running back David Johnson.
During the preseason, Watson signed a 4-year, $160 million contract extension last month, making him one of the highest-paid quarterbacks in the history of the league.
The Texans host the Jacksonville Jaguars (1-3) this Sunday at NRG Stadium in Houston.
O'Brien started his career as the tight ends coach at Brown University, and then became the school's linebackers coach. He moved around to three different schools in the ACC (Georgia Tech, Maryland and Duke) before getting hired as an offensive assistant coach by the New England Patriots.
He coached wide receivers, and then quarterbacks before becoming the Patriots' offensive coordinator in 2011.
In 2012, he got his first head coaching job when he was hired by Penn State to replace Joe Paterno. He went 15-9 over two seasons at Penn State before getting hired by the Texans as their coach in 2014. Though he had only one losing season (4-12 in 2017), he went 9-7 three times in six seasons, 10-6 once and 11-5 the other season.
O'Brien had a 2-4 record in the playoffs for the Texans in four appearances. He led the Texans to four AFC South titles in his first six years.
O'Brien was 52-48 in regular-season games in Houston.