Tropical Storm Imelda: Hero Samaritan With a Hammer Risks His Life to Save Truck Driver Stranded in High Water
With Tropical Storm Imelda killing at least two people already, one truck driver was lucky not to be added to the death toll when he got caught up in the rising floodwaters.
Within seconds of moving his 18-wheeler into the floodwater on the 59 northbound feeder road in north Houston, the unnamed driver got stuck.
He was unable to open his door or wind down the window, as the water right up to his windshield rose ever higher.
Luckily, a passerby, who gave his name only as Nathan, was walking on a bridge above. He spotted the driver in distress and came to his rescue, KHOU reported.
"Then the trailer started turning and he started, he panicked really," Nathan told the news channel.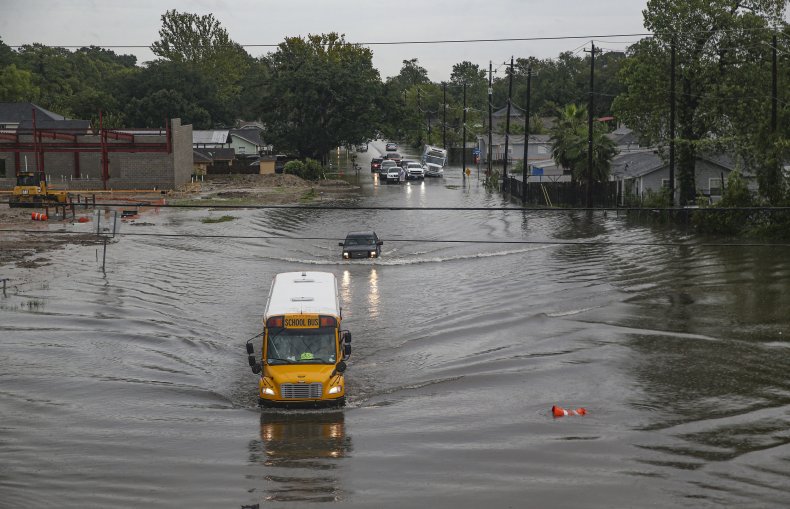 Thinking quickly, Nathan grabbed a hammer from his truck, leaped the guardrail and landed on top of the trapped truck before smashing the window to get the driver out.
With the help of another man who had grabbed a rope from his truck and a Harris County Sheriff's deputy, the three managed to winch the stricken driver to safety.
The close shave was one of the more than 1,000 high-water rescues in Harris County, which includes Houston.
Officials say there have also been several evacuations as people were taken to shelters to avoid the waters, which had also hit parts of Louisiana.
Houston Mayor Sylvester Turner said the waters had gone down in most of his city by Thursday night and officers spent the night clearing the roads of stalled and abandoned cars, CBS reported.
Ed Gonzalez, the Harris Country Sheriff, praised the efforts to rescue people, tweeting an image of his team with the message: "Couldn't be prouder of my HCSO Texas family for their effort today."
"This is only a snapshot of the amazing men & women that proudly served our county today," he added.
A flash flood watch was still in effect through Friday for Houston and southeast Texas, according to KHOU.
There were fears that a levee might break near Beaumont in Jefferson County and more than 900 flights were canceled or delayed in and out of Houston.
The death toll of two includes a 19-year-old man who drowned and was electrocuted while trying to move his horse during a lightning storm, according to KFDM.
Meanwhile, another man, thought to be in his 50s, died when he tried to drive a van through 8-foot-deep floodwaters near Bush Intercontinental Airport.
According to data from the National Weather Service, the 40 inches of rain that fell in Jefferson County in 72 hours makes Imelda the seventh wettest tropical cyclone in U.S. history.