Houston, Texas' Largest City, Says Unboiled Water Unsafe to Drink; 3 Million Without Power
Houston, the nation's third-largest city, notified residents on Wednesday that water is unsafe to drink without boiling it first, while more than 3 million residents are without power because of extreme weather conditions.
"Individuals without power to boil water are advised to use bottled water," a Houston Public Works press release said.
The release continued, "The public is advised to minimize water usage for health and safety and discontinue use of sprinklers, washing machines and other nonessential activities that require water usage."
The release also said that "water pressure dropped below the Texas Commission on Environmental Quality's required minimum of 20 PSI during the arctic winter weather event starting on February 16, 2021, at noon."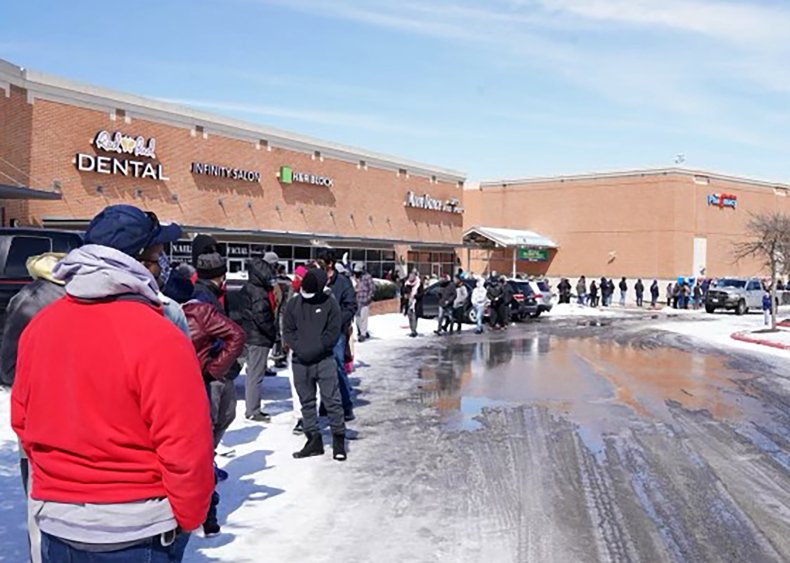 The release noted that "the city expects pressures to improve over the day today and to have stabilized pressures back into the operational range before the end of the day on Thursday, February 18."
Newsweek reached out to Houston Public Works for comment but did not receive a response in time for publication.
In addition to Houston, boil water notices have been issued in other locations across Texas, such as Baytown, Bellaire, Deer Park, Jersey Village, Katy, Pasadena, Pearland and Tomball.
Harris County, where Houston is located, also issued a press release on boiling water. "To ensure destruction of all harmful bacteria and other microbes, water for drinking, mixing baby formula, cooking, and making ice should be boiled and cooled prior to use," it said.
Houston Mayor Sylvester Turner spoke about the boil water notice on Wednesday and said that city officials are "asking people across the city to conserve their water," according to the Houston Chronicle.
Newsweek reached out Turner's office for comment but did not receive a response in time for publication.
The notice issued by Texas' largest city comes shortly after an unprecedented winter storm hit the state, causing problems with power generation sources statewide and leaving millions without power.
According to CenterPoint Energy, around 42 percent of households in Houston have power, while Poweroutage.us shows more than 3.2 million power outages across the state among 12,523,800 customers tracked.
Speaking on a call with reporters on Tuesday, Electric Reliability Council of Texas CEO Bill Magness said that power outages in the state may continue.
"We needed to step in and make sure that we were not going to end up with Texas in a blackout, which could keep folks without power—not just some people without power but everyone in our region without power—for much, much longer than we believe this event is going to last, as long and as difficult as this event is right now," Magness said during the call.
He added that many Texans could be left without power for "an indeterminate amount of time."