Tiger Remains on Loose in Houston as Residents Pass It Around a Dozen Times to Avoid Detection
Houston investigators said exotic animal traffickers are likely moving a suddenly famous tiger around from person to person to conceal its exact location. A Houston Police Department commander speculated the Bengal tiger, named India, is believed to still be in the city and has been handed off around a dozen times since he was first spotted.
The passing around of the endangered cat from locations is said to be a common practice among animal traffickers. Police also believe a local crime circuit is in possession of India.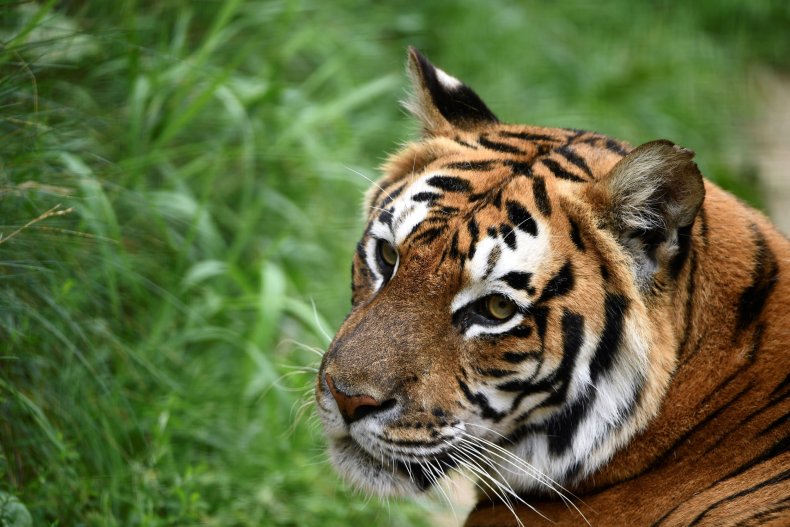 The 9-month-old male tiger hasn't been seen in public since Sunday when a Houston resident noticed the big cat on his front lawn. A witness's cellphone shows a man coming out of a nearby house and grabbing the tiger. When police arrived, a man identified as Victor Hugo Cuevas put the tiger in a white Jeep Cherokee and sped off.
Cuevas was eventually apprehended, but he was not found with India. Authorities said Cuevas was out on bond for a murder charge in connection to the fatal shooting of a man in 2017. Cuevas' attorney, Michael Elliott, provided the details of India's name and age but said Cuevas is not the exotic feline's owner.
Cuevas was out on bond on Wednesday after being arrested and charged with evading arrest/detention with a vehicle. Elliott said he and his client were trying to help police locate the tiger, but he would not say where Cuevas drove to in the SUV with India.
Meanwhile, a hearing is set for Cuevas on Friday, as the state is seeking to revoke his bond for the unrelated murder charge.
Local news station KTRK reviewed Cuevas' Instagram account and found videos of him being around a baby bear, monkey, and a young tiger.
The Houston Police Department's official Twitter account has been providing updates about the tiger all week. On Friday morning, Commander Ron Borza, who focuses on animal abuse cases for the department, updated the media about the tiger search. He said they are still unaware of India's location, though he believes the cat is still in Houston or a neighboring county.
He said officers had contacted people known to be involved in the city's illegal animal trade but have received no meaningful information.
The missing tiger has caught the attention of the nation. On May 11, Jimmy Kimmel referenced India in the opening monologue of his show, and Carole Baskin—owner of a big cat sanctuary and star of Netflix's documentary miniseries Tiger King—offered $5,000 to the person in possession of the feline, provided he is released to an accredited sanctuary.
In Houston, owning a tiger is in violation of city law, although it is legal (with certain restrictions) under Texas state law.
Lara Cottingham, Houston's chief sustainability officer, said in a written statement: "In the event any such animals are found in Houston, Animal Control Officers will impound the animals and transport them to a secure location—either BARC [Houston's animal shelter and adoption facility], another shelter, or regional wildlife facility—to protect the safety of the public as well as the animals' health."