Houston's Largest Newspaper Tells Trump Texans 'Are Losing Confidence' in His Leadership
The editorial board of the Houston Chronicle said Wednesday evidence is growing that Texans "are losing confidence" in President Donald Trump's leadership, with fewer than 100 days to go before the 2020 election.
The paper published the board's editorial the morning Trump was expected to make his 16th trip to the state as president. The White House said Trump would visit an oil rig in Midland and deliver a speech about "restoring energy dominance" in the area.
"A consensus is growing that Texans are losing confidence that you are the person to lead the nation out of the canyon that you and your administration have helped dig," the editorial said. "The signs are pointing to a level of disenchantment in the state that can't be addressed by a photo-op on an oil rig."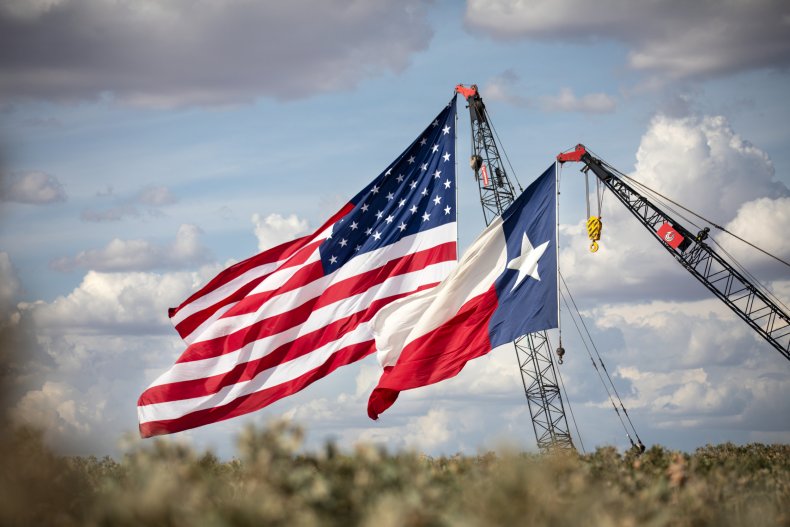 Texas hasn't gone blue in a presidential election since 1976, but recent polling suggests the state might not remain a GOP stronghold for much longer, as presumptive Democratic presidential nominee Joe Biden is ahead of Trump.
A Morning Consult poll published Tuesday said Biden has gained 9 points among Texas voters since May, giving him a 2-point lead by late July. A Quinnipiac University poll found Biden had only a 1-point lead over Trump by mid-July in Texas—but with a little over three months to go before the election, Quinnipiac pollsters said the state was "a toss-up."
A state polling average compiled by FiveThirtyEight found Biden with a narrow lead over Trump in Texas by Wednesday, with an estimated 46.4 percent of voter support.
Though the coronavirus pandemic changed the way both Biden and Trump campaigned during the spring and summer months, both continued to fundraise and remain engaged with supporters throughout the upheaval caused by the pandemic. Referencing a fundraising event also planned for Trump's Texas trip, the editorial board said he was unlikely to bump into "a growing number of Texans" suffering under the weight of the pandemic and its resulting economic shutdown.
Texas was one of the first states to reopen in early May, but Republican Governor Greg Abbott backtracked on his reopening efforts earlier this month because of a surge in new virus cases.
Federal health officials identified Texas as one of the country's hot spots last month. The state still has one of the highest total infection tallies in the country, with 394,265 cases and 5,877 deaths reported by Tuesday, July 28.
"Things have only gotten worse since you last visited in June," the editorial said. Texans were "resilient" in the face of natural and economic disasters, it said, but they "have suffered from unwise and inconsistent leadership."
The paper slammed the "cheerleading" of reopening, testing and contact tracing efforts, which it collectively labeled "a dismal failure."
To improve both the status of the outbreak in Texas and voters' perception of Trump, the paper encouraged the president to put renewed support behind testing, social distancing recommendations and face covering requirements.
"We are almost certain you won't, but that would be a good start to something resembling leadership," the editorial said.
Newsweek reached out to the White House for comment but did not receive a response in time for publication.