Houthis Ready for Yemen Peace Talks If Airstrikes Stop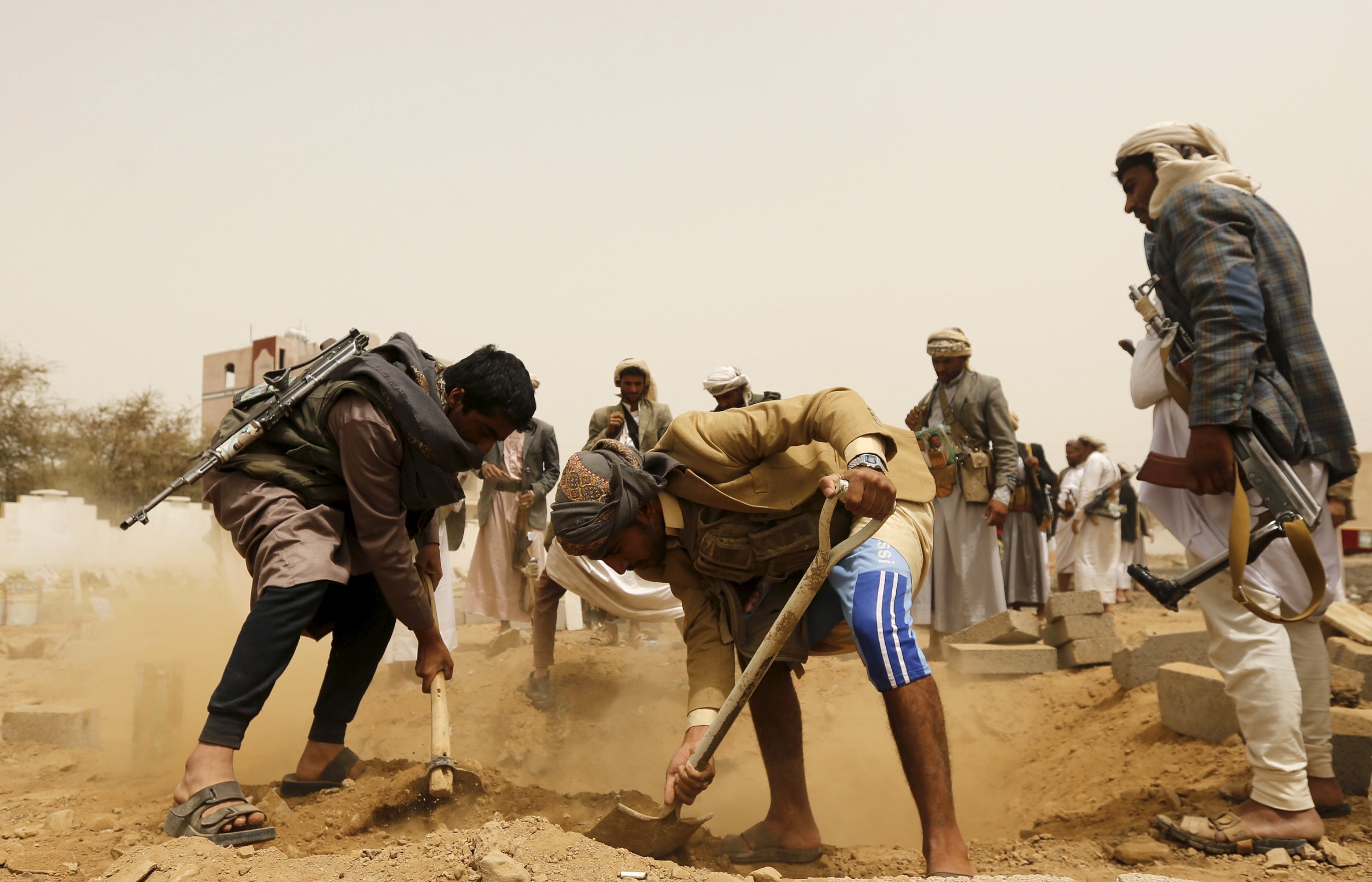 CAIRO (Reuters) - Yemen's Houthis are ready to sit down for peace talks as long as a Saudi-led air campaign is halted and the negotiations are overseen by "non-aggressive" parties, a senior Houthi member said.
Saleh al-Sammad, who was an adviser to President Abd-Rabbu Mansour Hadi, also told Reuters in emailed answers that Yemenis reject the return of Hadi, who escaped to Saudi Arabia after Shi'ite Houthi fighters edged closer to his southern base of Aden last month.
Warplanes and ships from a Saudi-led coalition have been bombing the Iran-allied Houthi forces for 11 days, saying they are trying drive back the Houthis and restore Hadi. U.N.-brokered peace talks in the preceding weeks between Hadi and the Houthis had failed.
"We still stand by our position on dialogue and we demand its continuation despite everything that has happened, on the basis of respect and acknowledging the other," Sammad said.
"We have no conditions except a halt to the aggression and sitting on the dialogue table within a specific time period...and any international or regional parties that have no aggressive positions towards the Yemeni people can oversee the dialogue," Sammad said, without specifying who they might be.
Sammad added that he wanted the dialogue sessions aired to the Yemeni people "so that they can know who is the obstructer".
Saudi Arabia's King Salman was quoted as saying on Monday that the kingdom was also ready for a political meeting of Yemeni parties, under the auspices of the Gulf Cooperation Council (GCC). Five out of the six GCC member states are part of the military coalition bombing which is bombing the Houthis.
PROXY WAR
Houthi fighters seized the capital Sanaa six months ago and last month launched an offensive on the south, backed by army units loyal to longtime ruler Ali Abdullah Saleh.
That prompted Saudi Arabia to launch a campaign of air strikes on March 26 alongside regional Sunni Muslim Arab allies.
The United Nations says more than 500 people have been killed in the past two weeks in Yemen and nearly 1,700 wounded.
The conflict has turned Yemen into another front in Sunni Muslim Saudi Arabia's proxy war with Shi'ite rival Iran, a struggle that is also playing out in Syria, Lebanon and Iraq.
Tehran denies Riyadh's charges that it arms the Houthis, and Sammad dismissed the accusations as rumors. "Even if there was Iranian support as is being said, it is not an excuse for this flagrant aggression," he said.
Sammad denied the Houthis want control of the south, home to a long-running secessionist movement, and said they were focused on confronting the threat from al Qaeda.
"The sons of the south will run their own affairs and they will have the more prominent role in the coming political scene," he said.