Concerns about voter fraud that were prevalent in discussions surrounding the 2020 presidential election began to reemerge in the days before California's gubernatorial recall election.
Though the U.S. Department of Homeland Security's Cybersecurity and Infrastructure Security Agency (CISA) said last fall's general election was "the most secure in American history," assurances from the agency and election officials across the country did not dissuade some politicians—including former President Donald Trump—from raising allegations of widespread voter fraud.
Some of those allegations were made in connection with Dominion Voting Systems, an election software company that former Trump campaign lawyers Rudy Giuliani and Sidney Powell referenced in connection with voter fraud allegations.
According to Dominion, vote-switching and software malfunction allegations are "all baseless claims" that "have been debunked by election officials, subject matter experts and third-party fact checkers." After the 2020 election, Dominion pursued defamation lawsuits against Giuliani and Powell for allegations they made about the company.
Less than one year after the presidential election, the top-polling Republican candidate in the gubernatorial recall election targeting California Governor Gavin Newsom has revived discussions of alleged voter fraud and encouraged Californians to take action against suspected fraudulent behavior.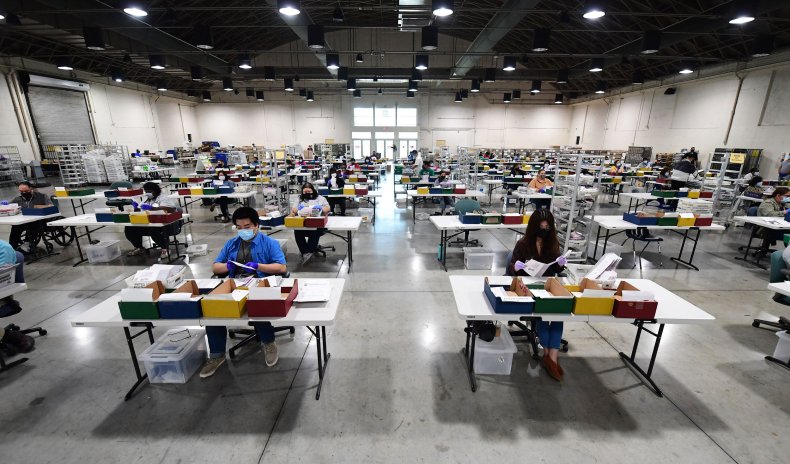 Larry Elder, a conservative radio host who has led among Republicans in most polls conducted since he launched his gubernatorial campaign in July, has a "report election incident" tab on his website that redirects to a website where voters are encouraged to "fight California election fraud" and can fill out a form to report "discrepancies" in the recall election.
Speaking with reporters last week, Elder said he believes "there might very well be shenanigans" in the recall election "as it were in the 2020 election," according to CNN. He mentioned his campaign's "voter integrity board" and added, "We're going to file lawsuits in a timely fashion."
The California Republican Party also features an election integrity link on its website that redirects to a page where voters can file an election integrity "incident report."
On September 10, Newsom said Elder's allegations of voter fraud were "just an extension of the Big Lie and 'Stop the Steal,'" referring to allegations from the 2020 election of voter fraud and stolen races, according to Politico. Trump also recently addressed the California recall during an appearance on Newsmax in which he said the election was "probably rigged."
A spokesperson for California Secretary of State Shirley Weber's office told The Associated Press earlier this month that California has "the strictest and most comprehensive voting system testing, use, and requirements in the country" that was "designed to withstand potential threats."
However, some election cybersecurity experts called upon Weber to conduct a "statewide post-election risk-limiting audit" in a letter sent to Weber's office earlier this month, the AP reported. That letter also referenced Dominion due to reports last month that a version of the company's election management system was shared during an event hosted by Mike Lindell, the CEO of MyPillow and another of Trump's supporters.
Since California is one of the 28 states in which election officials use Dominion machines, the letter from election cybersecurity experts said the recent leak of Dominion's election management system "increased the risk to the security of California elections to the point that emergency action is warranted."
The experts wrote the software that was leaked was "not identical" to the kind election officials use in California but said the "differences are relatively minor." They said they were "not accusing Dominion of wrongdoing" and added they had no evidence of any plans to manipulate the results of the recall election.
The spokesperson from Weber's office told the AP the counties that use Dominion in California use a version of the company's system that aligns with requirements implemented by the state and said there are other precautions in place to prevent election interference.
When contacted for comment, a spokesperson for Dominion Voting Systems said in a statement shared with Newsweek that the company reported to authorities information about last month's leak and pointed Newsweek to comments from CISA that the agency "does not view this breach as a significant heightening of the election risk landscape at this point."
CISA has not updated its recommendations for election oversight in the wake of the reported leak, the Dominion spokesperson added.
"Strong election security protocols—such as bipartisan testing of election equipment before and after elections, rigorous post-election audits, and paper ballot records—are used to ensure the integrity of elections," the spokesperson said.
"To help our customers—local elections officials—continue to facilitate the safe and secure use of their certified voting systems, Dominion has updated its chain of custody guidance," the spokesperson said, adding that local election officials with questions were advised to contact state election officials.