The Alt-Right's Next Target? Liberal Canada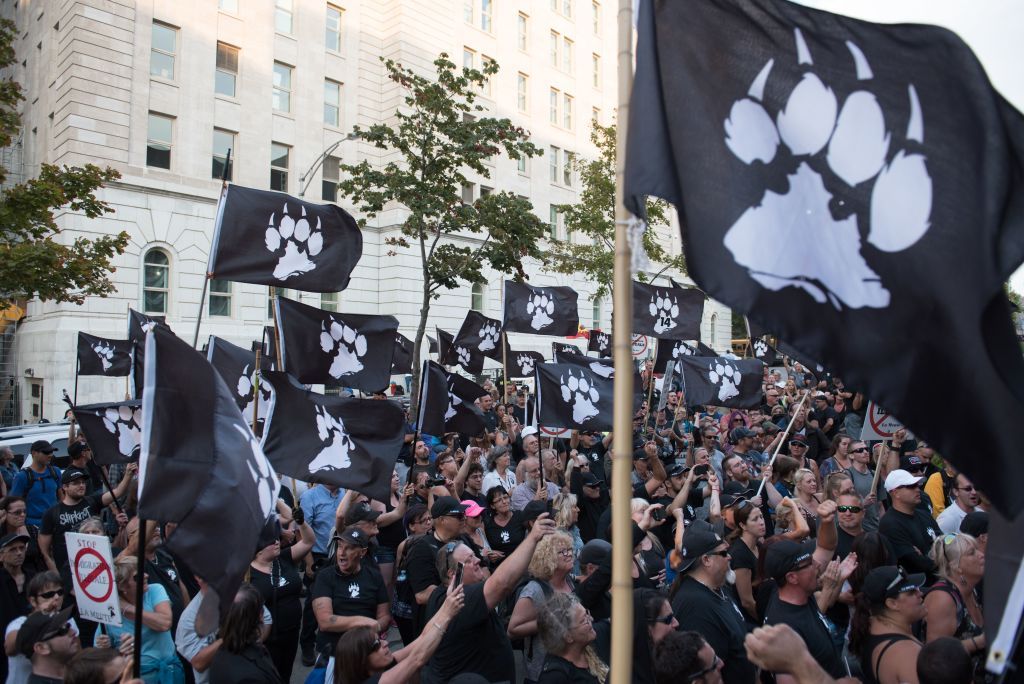 "We Have a Right to Exist," declares the slogan, under a picture of a young white man and woman, on posters found last week on university campuses in New Brunswick, Canada.
The posters—decried as white supremacist hate speech by college authorities—were found on the University of New Brunswick campus in Fredericton, only days after "alt-right" activists defaced a First Nations welcome sign at the nearby St. Thomas University.
"There was hurt and anger and sadness and even disbelief that something like this could've taken place here at [STU,]" Mandy Richard, an indigenous student there, told CBC. "It took me a little bit to be able to digest this and process it, because of how horrific and hateful this act was."
The incident was not isolated, coming amid a spike in far-right activism in Canada that may surprise those who regard the country as a bastion of liberal tolerance amid growing support for right-wing populist movements around the world.
In recent months, posters and flyers with alt-right slogans have been posted on Canadian campuses, including those of McGill, the University of Toronto, the University of Alberta and McMaster University.
They mirror campaigns launched by alt-right groups on college campuses in the U.S., which have sought to exploit controversies over freedom of speech, immigration and Islam. The University of California, Berkeley, has emerged as a flash point, with alt-right and left-wing groups engaging in violent clashes on the campus in April.
Alt-right groups in both countries portray white people and Western civilization as being under threat and call for radical action in response.
"To think the current populist wave has permanently missed Canada is to ignore the obvious," wrote journalist and human rights advocate Steven Zhou following President Donald Trump's inauguration in January. University campuses, he said, are a natural target for alt-right groups.
"Universities are, to an extent, a microcosm of the wider society. They're supposed to encourage the free exchange of ideas—a principle that can be exploited to facilitate movements that center on hard-core populist ideas such as, say, regaining lost Canadian values in the age of immigration and refugees," he wrote.
At the forefront of the campus postering campaign is Generation Identity, a far-right youth group that has its roots in Europe, where members have engaged in high-profile anti-Islam stunts. The group claims not to be racist and says it stands for the preservation of traditional Western values, but members have been described as an "extreme, radical and racist minority" by German Justice Minister Heiko Maas.
In recent years, "identitarian" groups have spread to North America, and posters and promotional pamphlets from the group have appeared on campuses across five provinces in Canada, Vice reported in September.
"We believe in ethno states, countries for our people, our right to be proud and preserve our culture and our traditions," the group's leader in Canada, who gave his name only as Tyler, told Vice. He said Generation Identity's goal is to rally youths who share its values to undo the "harm" caused by pro-immigration baby boomers.
Generation Identity is not the only far-right group active on Canadian campuses. In Quebec City in September, as students prepared for a new semester, ultra-nationalist group Atalante's posters were spotted at Laval University and a nearby vocational college, according to local media reports.
Far-right activism is not confined to college campuses. On August 20, anti-Islam group Le Meute rallied in Quebec City, protesting against federal and provincial immigration policies following a surge in the number of refugees entering Canada illegally, many fleeing deportation under the Donald Trump administration.
The previous month, on Canada's National Day, members of "male chauvinist" fraternity the Proud Boys, which was started by Vice co-founder Gavin McInnes, confronted demonstrators at a ceremony in Halifax in memory of indigenous people killed by British colonial forces.
University authorities and student unions have removed alt-right posters and condemned the groups that spread them.
Some experts have warned that the spread of far-right ideology can have violent consequences authorities are doing little to counter.
In January, Alexandre Bissonnette killed six people in an attack on a mosque in Quebec City. Bissonnette had reportedly expressed alt-right views and admiration for National Front leader Marine Le Pen in France, as well as Trump.
"The data suggests that right-wing extremism is certainly on par if not exceeding the threat from Islamic terrorism cropping up within Canada itself," James Ellis, a Vancouver, British Columbia-based terrorism scholar affiliated with the Canadian Network for Research on Terrorism, Security and Society, told CBC in August.
Canadian security services argue that far-right groups are too fractured and disorganized to mount a serious threat. Others have warned of the capacity of far-right propaganda to erode adherence to long-standing Canadian values of tolerance and diversity if it is allowed to go unchallenged.
"University administrations and student unions have condemned the dissemination of this kind of propaganda, but it will likely take more than tweets and press releases to stem the growth of such messaging on campuses," wrote Zhou.