How Amanda Knox's Supporters Could Doom Her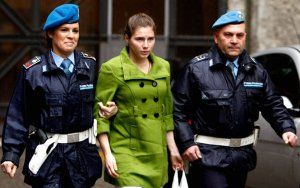 Amanda Knox must surely cringe every time she hears that another vocal supporter in the United States has taken up her cause. The 23-year-old Seattle student is currently serving 26 years in Capanne prison near Perugia, Italy, for the sexual assault and murder of her British roommate, Meredith Kercher, in 2007. A Perugia jury found her unanimously guilty last December, but her ardent supporters in America have been convinced, even before the verdict came down, that she was the victim of a botched investigation and a show trial. And they've advertised their point loudly in the American press. Problem is, every time someone shouts about her unfair conviction back home, the reverberations are felt all the way to her Italian cellblock.
Knox does not ask for this kind of attention. Instead, prison guards and inmates say she bides her time behind bars studying and reading, careful not to say anything that would be held against her during her appeal, scheduled to begin later this fall. It will be heard by a new judge and jury who have not been protected from the firestorm around her case, so anything she says publicly could be construed as criticism against the system she is hoping will free her. She has a job in the prison commissary, taking orders and delivering goods to prisoners in her wing. She is a "model prisoner," according to Bernardina di Mario, director of Capanne. "She does nothing to stir things up. She just keeps to herself."
The same can not be said for her supporters. Even the most banal headlines in the United States claiming miscarriages of justice and maltreatment of Knox are inevitably translated, along with snide comments defending the Italian system that impute to the American press a sense of American supremacy. Since her arrest in November 2007 and conviction in December 2009, Knox supporters have repeatedly condemned everyone involved in the case who does not believe in wholeheartedly in her innocence. Knox's stepfather, Chris Mellas, ridiculed the ruling judge's conviction reasoning as a "fictional novel" and a support group called Friends of Amanda regularly called the chief prosecutor "mentally unstable" throughout the trial. In the wake of the verdict last December, Sen. Maria Cantwell of Washington (Knox's home state) promised to get Secretary of State Hillary Clinton to extradite the young American home from Italy (Clinton has said she will not intervene), and Donald Trump has even boycotted Italy and its products. "Amanda has become an affair of the state," wrote La Repubblica months before the verdict. "Italy blames the American conspiracy."
And most recently, retired FBI agent Steve Moore accused the Italians of "manipulating evidence to make Knox look guilty" based on an "independent investigation" he conducted using what he calls "raw materials." When asked by NEWSWEEK, neither the Italian state forensic department, the coroner who conducted the autopsies on Kercher, nor the homicide squad in Perugia had been contacted by Moore for original reports and documents, calling into question just where Moore's "raw materials" came from. "They call him Moore, not unlike the famous 007 before him," quipped the newspaper Messaggero. "She's been waiting in prison for an angel called Moore."
Armchair investigation is a natural facet of any high-profile case, but Knox's supporters are actually doing more harm than good in what has become a clash of cultures. Though their intentions are obviously noble, the actions have the opposite effect. Every time a high-profile supporter condemns the Italian justice system, the Italians, in turn, get defensive and dig their heels in to prove their system is just. "For the Americans, we're the problem" exclaimed the Web site Giornalettismo, Italy's answer to Newser. com. A common talking point in pro-Knox offensives has been ample doubt over whether she would have been convicted on similar evidence in the United States—but because both the crime and the investigation took place in Italy, it is virtually impossible to make a valid argument about what would have happened under similar circumstances across the Atlantic. Italians are often quick to point out that Knox would have faced the death penalty had she stood trial for murder in her home state of Washington. "Amanda is a victim of a hostile Anti-American Italy," exclaimed the Italian wire service after the verdict. "But she's lucky it happened here. In America it would be the electric chair." Italians also told themselves that the abuse she claims to have received from Italian police—a couple of swats on the back of the head—might have been far worse at the hands of American police. "Amanda was lucky, the Seattle police hit harder" said an Italian editorialist after video emerged of a young Seattle woman being punched in the face after a jaywalking infraction. "These criticisms are not helping the defense of Amanda," Rome criminal lawyer Alessandra Batassa told NEWSWEEK. "This media circus has always been bad for her, and attacks against Italian institutions as well as the work of police investigators do more harm than good in trying to prove her innocence."
The damage done by Knox supporters has, in some ways, been almost worse for Amanda than the DNA evidence she left at the crime scene. Back in October 2008, a judge denied Knox's house arrest based on the actions of her fervent supporters whom, he wrote, would "stop at nothing to whisk the girl back home." Various times throughout her yearlong trial in 2009, the prosecutor and members of the jury told NEWSWEEK. They were "offended" by American criticism of the case. At the time of her verdict last December, when many Americans were shouting about what they saw as an unfair conviction, Knox herself felt compelled to tell a member of Italian Parliament that she was actually treated fairly, in part to appease the Italians and, according to her lawyers who defended her comments, to protect herself. "I still have faith in the Italian justice system," she told Walter Verini, a member of Italy's center-left government. "My rights were respected."
Despite the heavy criticism from abroad, Knox's own Italian lawyers have never been part of the frenzy and have repeatedly had to distance themselves from most of the most vocal voices. "There has been a lot of criticism of this case in America, but it is important to remember that no one speaks for Amanda except her lawyers here in Italy," says her Perugian lawyer, Luciano Ghirga. "The Americans do not represent her here in Perugia, nor does the constant criticism represent her own views." Still, two American networks are up for Emmy awards later this month for their pro-Knox coverage of Italian trial. ABC's 20/20 has been nominated for their verdict-night coverage, which included an interview with Cantwell in which the senator called the guilty verdict "prejudicial." CBS's 48 Hours is also up for an award for its magazine program "American Girl, Italian Nightmare," during which a notable private investigator called the case "a railroad job from hell."
Knox is expected back in court on Oct. 1 to face charges of slander for accusing the Perugian police of hitting her "twice on the back of the head" during an interrogation in November 2007. If she is found guilty, she faces an additional six years on top of her 26-year sentence. Later this fall, she will be back in court for the beginning of her appeal, which will be decided by a new Italian jury that has undoubtedly been following the news since the verdict.
Nadeau is the author of Angel Face: The True Story of Student Killer Amanda Knox