How America is Protesting Michael Brown's Death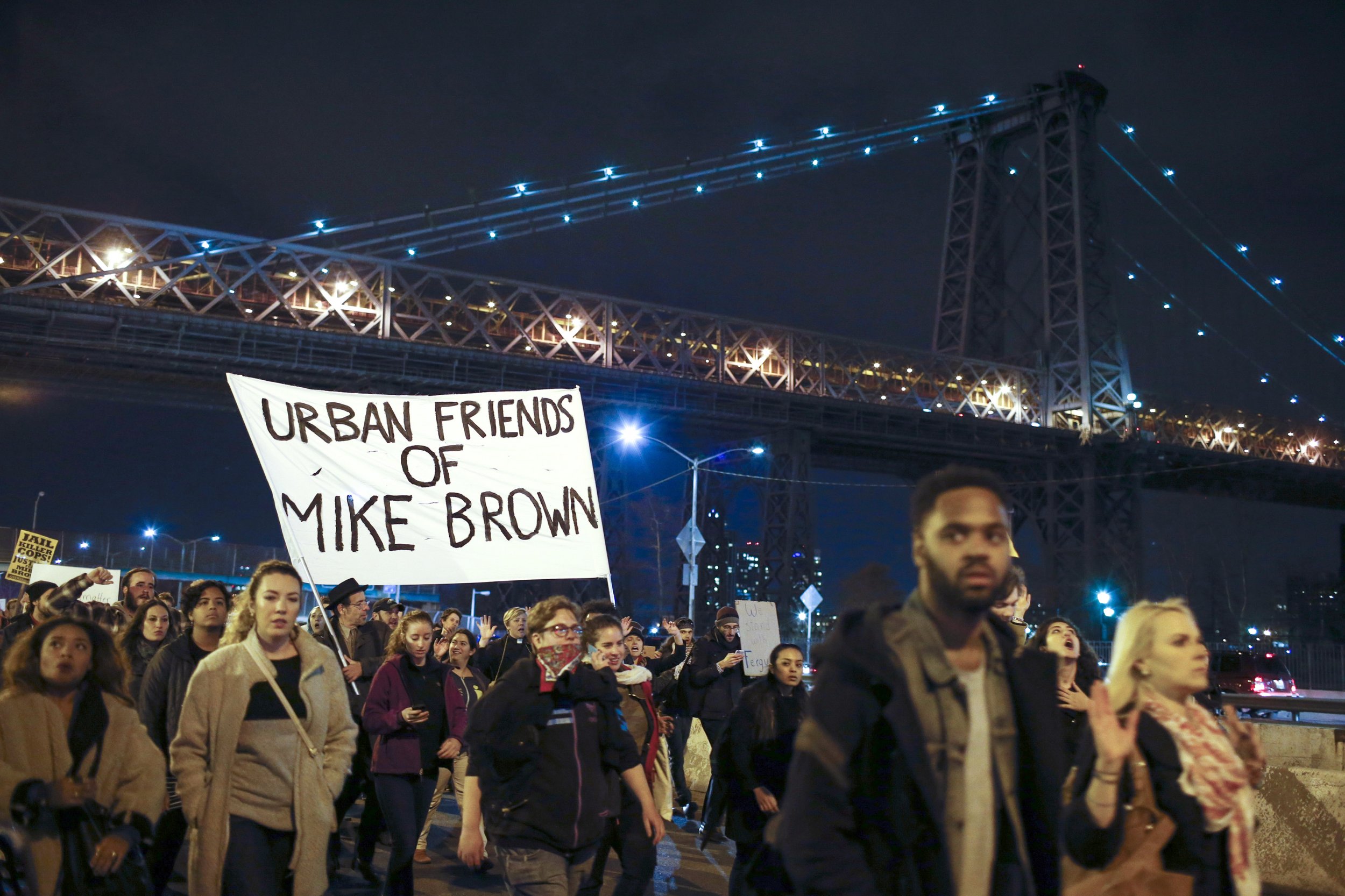 Across the country on Tuesday, thousands protested the grand jury decision not to indict Ferguson police officer Darren Wilson. Many of the protests were organized by the Ferguson National Response Network, which also set up protests in Canada, the United Kingdom, Japan and Norway. Most of the protests were scheduled ahead of time for the day after the grand jury decision was handed down. The decision was not made public under 8 p.m. Monday evening.
On Tuesday night, New York protestors shut down traffic on the Williamsburg Bridge and FDR East River Drive. The Manhattan Bridge was also shut down:
Houston Street, a major artery in the city, was also blocked:
As was the West Side Highway:
Videographer Luke Rudkowski observed: "Fascinating thing about the protest in NYC for Ferguson is that there is no organizer or leader of this protest march."
Just before midnight, about 100 protesters remained in Times Square. One noted that the police looked "bored."
But while officers may have been "bored" in midtown, they were lining up on Centre Street:
In Boston, protestors organized under the hashtag #IndictBoston, marching through the South Bay area. Police officers prevented protestors from entering the Mass Pike, an area highway, with barricades:
Some protestors who managed to enter the exit ramp to the highway were reportedly arrested, including a large group of women.
Inmates in the South Bay House of Correction cheered on the protestors from their cells:
Some Boston officers supported the protestors and one urged them to keep marching:
On the West Coast, protestors marched towards highways. On Monday evening, a number of freeways were closed as people marched:
Broadcast live streaming video on Ustream
After midnight, some Los Angeles protestors found themselves cornered by authorities:
A large group remained at the Los Angeles County Police Department, some jumping on police vehicles:
A group in Dallas also took to the police department:
In Chicago, protesters staged a sit-in at City Hall, with police on the scene:
After ten hours, the group left City Hall:
Crowds gathered in Miami, where two were arrested for civil disobedience:
Fellow protestors began a fund for those who were arrested to post their bail:
The protest in Miami was generally peaceful: