How the American South Influenced Elton John's Iconic Music | Opinion
It was a night I'll never forget. And one my wife and daughter won't forget either.
It was a rainy night in Memphis last Wednesday as we drove 60 miles north from our hometown of Oxford, Mississippi, to watch one of the world's greatest recording artists ever perform a show on his final tour.
What I won't forget—and what we won't forget—about Elton John's Farewell Yellow Brick Road show was just how utterly connected this British rock star was—and still is—to the American South. And it was also a reminder of how utterly connected the American South was—and still is—to him.
From the moment John and his band took the stage, to the conclusion of his nearly three-hour set, it was a celebration not just of his music, but the music that inspired him: soul, blues, country and rock 'n' roll. Additionally, the show represented the slice of the world—from Memphis to Nashville, and from the Mississippi Delta to the Smoky Mountains—from which most of the music was birthed.
He introduced his gospel-influenced "Border Song," co-written with lyricist Bernie Taupin, by telling the story of how it was the first song of theirs to be covered by a prominent artist named Aretha Franklin. "Born in Memphis," he quickly added, pointing out that Franklin, too, was a product of the American South, the daughter of one of the country's most famous preachers, Reverend C.L. Franklin. "To think that the Queen of Soul had chosen a song by two little English guys, well, I always thanked her profusely for that. I loved her, and still love her."
"Gospel and soul and country—that was my favorite kind of music, like Elvis Presley did," John once told the BBC. "That's where my heart was. In the soulful, joyful country, gospel funky rock and roll. That element of the South. That's my true spirit."
Indeed, John is so connected to the South that one of his two main residences is in Atlanta. "People always ask me, 'Why do you have a place in Atlanta?'" John told the Atlanta Journal Constitution. "It's because people here have always been nice to me. I've always been welcome here. I feel at home."
Of all the places in the world, this jet-setting pop star chose the American South to live. And for the same reason so many Americans and companies have moved there, too. For example, Mercedes of North America pulled up its roots—and its 1,000 employees—in northern New Jersey a few years ago to move to Sandy Springs, a beautiful town just miles from Atlanta. It was also what I did 14 years ago when I left New Jersey and headed to my adopted new home of Mississippi.
The air at the FedExForum in Memphis that night was filled with the very kind of love and tolerance that's at the heart of not just the singer's adopted home country, but the South itself. The mutual outpouring of affection between a gay British man and a stadium filled with mostly white Southerners was beautiful. It was so unimaginable just decades ago not only in Memphis, but almost anywhere in America and the world. John's decision to marry a man and start a family did not matter to his fans, old and young alike, inside the arena. And a solid majority of them were Christians.
What I also won't forget—and what my family won't forget—was the class on display in that arena. The set was beautiful, and the band was dressed meticulously in black suits. John himself spared no expense with four wardrobe changes that Liberace himself would have loved.
And there was not a minute of politics from the stage or the audience. Indeed, John said these words to establish clearly what he thought about such things:
"I don't care who you vote for, or what color you are, or what religion you are," John said. "I don't care about that. It's none of my business. What I care about is bringing you together and having a great time." He wasn't finished. "And we need to be kinder to each other, and we need to come together. We need to tolerate each other in this world," John added.
The rapturous response from the nearly 20,000 fans gathered was perhaps the high point of the night. So many of us—left and right, believers and non-believers—are tired of the endless vitriol and name calling on social media, cable TV and the news. It has no bearing on how most of us live our lives. We Americans, including Southerners, don't merely tolerate each other's differences. We celebrate them.
I am part Lebanese and Swiss-German, and grew up in a small working-class northern New Jersey neighborhood. My wife is part Irish, British, Scandinavian and Native American, and grew up on the Gulf Coast of Mississippi. Which makes our daughter a walking United Nations. That's the America we know. How we love, live and marry is testimony to the tolerance and diversity of a nation that practically invented the idea. It was on display in Memphis last Wednesday at John's show in all its glory—a beautiful sight to behold.
But most of all, what I won't forget—what we won't forget anytime soon—was the celebration of John's music. The 72-year-old ripped through a 25-song set list that included some of his best songs from his country-infused Tumbleweed Connection and Madman Across the Water albums, to his rock arena staples like "Saturday Night's Alright for Fighting" and "Funeral for a Friend."
Alone at his piano, he transformed the basketball arena into a nightclub, most compellingly as he performed—without his band—a stunning version of "Candle in the Wind," a song written in 1973 in honor of Marilyn Monroe. As he sang that tune, we knew John understood the perils of fame that tormented the actress. Because fame—and all that comes with it—tormented him, too:
"Loneliness was tough
The toughest role you ever played
Hollywood created a superstar
And pain was the price you paid."
John shared painful parts of his own life, especially those years he succumbed to the lure of drugs and alcohol. "Ask for help," he urged those in the audience who might be suffering from depression or addiction. "Don't sit on your pity pot." He noted without boastfulness that he'd been sober and clean for a long time. The audience burst into applause. It was a remarkably candid and beautiful moment. Incidentally, the updated version of "Candle in the Wind," rewritten as a tribute to Diana, Princess of Wales, in 1997 and the pain she endured in her short life in the spotlight, would go on to become the second-highest-selling single of all time, topped only by Bing Crosby's "White Christmas." It sold over 33 million copies.
In his legendary recording career, John sold more than 300 million records, had more than 50 Top 40 hits, nine number one songs—and in one remarkable stretch, scored seven consecutive number one albums in America. Overall, he has accumulated over 20 platinum albums. In 2013, Billboard ranked John the most successful male solo artists of all time.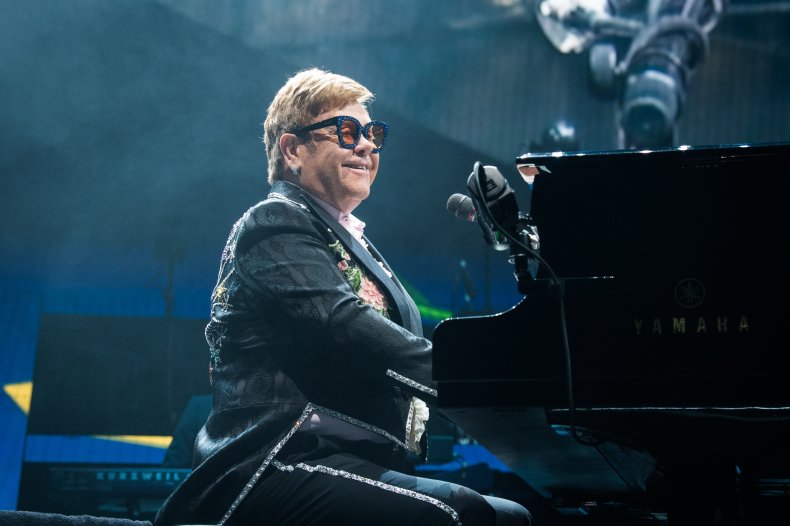 John wasn't shy about honoring the early influences that propelled him to stardom. On display in Memphis was his affection for Jerry Lee Lewis, in which John slammed his keyboards on several occasions mimicking the '50s rocker. And John's slow-burning version of "Bennie and the Jets" was about as close as any musician could come to honoring the legendary soul master Ray Charles.
The singer also paid tribute to his writing partner of 50 years, lyricist Bernie Taupin. Most songwriting between partners begins with the music. But with Taupin the words came first, followed by John's music.
"I love getting the lyrics from Bernie," John told the BBC. " I love seeing what he comes up with and going into the room and creating something from his imagination. I've never gotten tired of it."
At times, it seemed like the performer was on the verge of fighting back tears as he shared his gratitude for a life and career he could never have imagined, let alone planned.
"I've had enough applause to last a trillion lifetimes, and I won't forget you. God, how could I forget you," John told a spellbound audience. "You're in my soul and in my heart in every fiber of my being."
He also let the crowd know why he was ending a lifetime of live performance. "This is my 50th year of touring," John explained. "I couldn't have imagined a farewell tour even 10 years ago. But 10 years ago, I didn't have a family. Now I do."
For all of those reasons, I won't forget his show in Memphis last week—and my wife and daughter won't as well. Like John's music, that evening will be in our hearts and every fiber of our being.
It may have been a farewell show. But it will never be forgotten.
Lee Habeeb is vice president of content for Salem Radio Network and host of Our American Stories. He lives in Oxford, Mississippi, with his wife, Valerie, and his daughter, Reagan.
The views expressed in this article are the author's own.