How Americans' Opinion of Dr. Anthony Fauci Has Changed Over the Past Year
Don't listen to those maniacs. Everybody loves you," Jimmy Kimmel told Dr. Anthony Fauci on his ABC show May 5, shortly after mocking the Fox News Channel's Tucker Carlson for criticizing colleges that mandate students get a coronavirus vaccine.
Last week, singer Trisha Yearwood was so giddy over meeting Fauci she said she was tempted to have him autograph her vaccine card. Last year, actress Julia Roberts called Fauci her "personal hero." There's also a children's book set for release June 28 called Dr. Fauci: How a Boy From Brooklyn Became America's Doctor, and Disney's National Geographic is working on a presumably laudatory documentary about Fauci.
More than a year into the pandemic, the list of trendsetters who have fawned over the chief medical adviser to the president goes on and on.
But while Americans had mostly been on board with the praise, new polling data suggests their patience for lockdowns, social distancing and mask-wearing has worn thin, as has their confidence in Fauci, with 60 percent of Republicans, 41 percent of independents and 20 percent of Democrats saying their trust in him has decreased in the past year.
The poll conducted in May by Convention of States Action and Trafalgar Group, one of the few pollsters to accurately call the 2016 presidential election for Donald Trump, also found that 26 percent of voters consider the pandemic "over." That's just a fraction of a percentage point lower than those who say they'll rely on the CDC and federal government to tell them when it's over. (It's also worth mentioning that Trafalgar Group predicted Trump would win in 2020, too.)
There has always been a partisan component to the perception of Fauci: An Economist/YouGov poll in April 2020, for example, said 80 percent of Democrats trusted him while only 18 percent Republicans were in agreement. Even the recent Trafalgar poll indicates that 18.8 percent of Democrats trust Fauci more now that he works for President Joe Biden than they did when he was under Trump.
But the poll leaves little doubt that an effort to discredit Fauci that has been in force for months on talk radio, Fox News, conservative websites and in books has been effective, with some of those in the middle joining the longtime skeptics on the right.
For the most part, conservatives are attacking Fauci nowadays for his earlier statements that even those who have been vaccinated wear masks, though he said May 13 that it's unnecessary to do so outdoors unless in large groups.
Conservatives often use what they term Fauci's "mixed messaging" against him, noting, for example, that in March 2020, he said "there's no reason to be walking around with a mask," then within eight months he was advising people to wear two masks. Meanwhile,Fauci emails that covered a range of topics, including face masks and the origin of the virus, were recently published by BuzzFeed News and The Washington Post, and they could result in further backlash against him.
And the origin of the pandemic is a huge issue on the right, given that a year ago Fauci was fairly adamant that the coronavirus didn't come from a virology lab in Wuhan, China, though he told Sen. Rand Paul recently that he's "in favor of any further investigation of what went on in China." Early in May, Fauci told PolitiFact that he is "not convinced" coronavirus developed naturally, throwing some doubt on the previously accepted theory it came from bats at wet markets. Last week, Facebook finally lifted a ban on even discussing whether the virus came from a Wuhan lab while Twitter hasn't said if it will follow suit, even though Biden has ordered the CIA to investigate the possibility.
"Fauci has lied about everything—masks, herd-immunity threshold, the origins of the virus. Things he's saying now, I'd have been thrown off of social media for saying," said Steve Deace, author of Faucian Bargain: The Most Powerful and Dangerous Bureaucrat in American History. The book from Post Hill Press was recently atop bestseller lists at Amazon and The Wall Street Journal, offering further proof of Fauci's waning influence in many circles.
An official with the National Institute of Allergy and Infectious Diseases, headed by Fauci, said the doctor was unavailable to comment for this story.
Mistrust of Fauci can have potentially deadly consequences as Americans weigh his advice to get themselves vaccinated. "We have his word for it that it's safe and effective, but after what I've witnessed for the past year, I wouldn't take his word for anything," said Deace.
"[Fauci has] made decisions to shut down churches and schools and encouraged people to hide in their homes, with little to no accountability," said Deace, who also criticizes Fauci daily on his radio show, as do most other right-leaning radio hosts.
More than 13 months ago, for example, Dennis Prager played a clip of Fauci doubting the good that would come from knowing how many Americans were testing positive for coronavirus. "If 5,000 Americans are infected and 1,000 die, this is a big deal," Prager told his audience. "So the number of infected is extremely important. How could you tell me not, Fauci? What's wrong with you? This is crap that he sold the American people ... you're lying to the American people or you're stupid; there's no third alternative."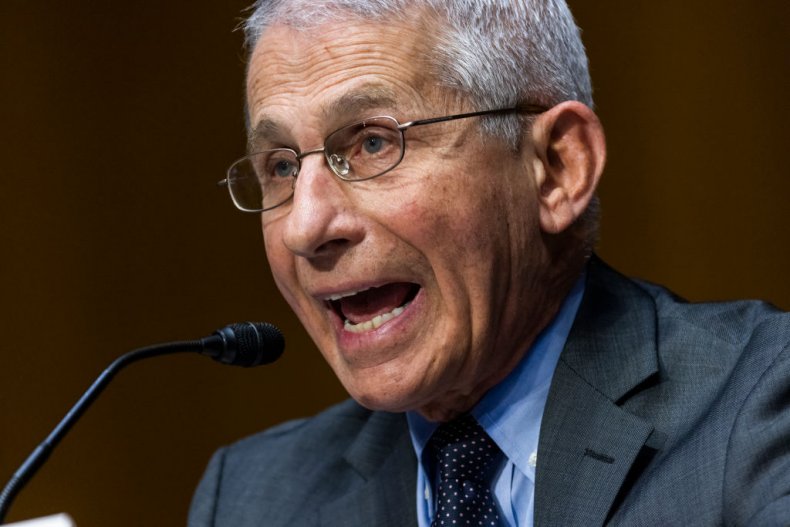 Not all of Fauci's critics are on the right, and leading the charge against him on the left is Robert F. Kennedy, Jr., who founded and chairs Children's Health Defense, largely known for its anti-vaccine activities.
"Fauci is the J. Edgar Hoover of public health," Kennedy told Newsweek. "There's never been any evidence that a bat flew 600 miles from where it nested to be sold at a wet market and that's what started the pandemic."
Kennedy, Prager and a growing number of Fauci skeptics have for months attacked the doctor for dismissing hydroxychloroquine as an early treatment, oftentimes citing expert sources.
A December peer-reviewed study from the International Journal of Antimicrobial Agents, for example, found the odds of hospitalization dropped 84 percent for those who took HCQ, zinc and azithromycin in the early stages of coronavirus, while the odds of death decreased by 80 percent.
And 11 months ago, Dr. Harvey Risch, professor of epidemiology at the Yale School of Public Health, wrote in a Newsweek opinion piece that "tens of thousands of patients with COVID-19 are dying unnecessarily" due to Fauci's and the media's insistence that HCQ is ineffective or dangerous.
"When this inexpensive oral medication is given very early in the course of illness, before the virus has had time to multiply beyond control, it has shown to be highly effective, especially when given in combination with the antibiotics azithromycin or doxycycline and the nutritional supplement zinc," Risch wrote.
(Editor's note: Risch has also done "epidemiology consulting work with Pfizer Inc.," a maker of hydroxychloroquine.)
Fauci is also authoring a book, Expect the Unexpected: Ten Lessons on Truth, Service, and the Way Forward, and is taking heat on all sides for profiting off the pandemic. While it's unclear if he'll make money from the effort, it certainly seems designed, at least partially, to boost his reputation. As with the documentary film, the book is backed by Disney's National Geographic.
Fauci is also under the microscope for using U.S. dollars to back gain-of-function research at the same Wuhan Institute of Virology that the Biden administration is now investigating. The research involved manipulating viruses to explore their potential for infecting humans, a risky endeavor given the risk of accidental release.
It was under grilling from Paul on that topic where Fauci gave the now-famous answer, "I do not have any accounting for what the Chinese may have done." But while some were quick to dismiss Paul for issuing Republican talking points, others have their doubts, as a recent TIPP poll indicated that 44 percent of Americans believe coronavirus originated in a lab while 22 percent think it came from animals and only 11 percent believe it occurred naturally. Another 15.8 were unsure and 7.9 percent indicated they thought it "came from human living habits."
Adding fuel to the fire was a May 23 Wall Street Journal report stating that, in November, 2019, three researchers from the Wuhan lab became so sick that they sought care in a hospital.
"The information that we had coming from the various sources was of exquisite quality. It was very precise. What it didn't tell you was exactly why they got sick," one person familiar with the intelligence told the Journal.
"I'm still a Democrat," Kennedy told Newsweek. "There's a few of us out there, but most Democrats have drunk the Fauci Kool-Aid."
Update: This story has been updated to include information and context on Fauci emails that were recently published.