How Any 4 Republicans Could Control Trump's Impeachment Trial: Analysis
The Senate's impeachment trial of President Donald Trump on Tuesday made clear how just four—any four—Republican senators could steer the proceedings in whatever direction they please. That includes deciding whether to hear from witnesses.
Last-minute alterations were made to a resolution put forward by Senate Majority Leader Mitch McConnell (R-Ky.) that will govern the trial's proceedings only after some Republicans voiced their concerns to leadership.
Under the original text, impeachment managers and the defense would've each had 24 hours to make opening remarks over the course of two days, resulting in four straight 12-hour days. It would've also excluded the evidence gathered in the House's investigation from automatically being entered into the record. The revisions resulted in allowing each side three days for remarks and will automatically include the House evidence.
"Senator Collins and others raised concerns about the 24 hours of opening statements in 2 days and the admission of the House transcript in the record," Annie Clark, a spokesperson for Sen. Susan Collins (R-Maine), told Newsweek in a statement. "Her position has been that the trial should follow the Clinton model as much as possible. She thinks these changes are a significant improvement."
The modifications preceded House impeachment managers and Trump's defense team debating the resolution and Democratic amendments to it that ultimately failed.
Who the other lawmakers were that expressed concern during a weekly party luncheon remains unknown. But it underscores the power that Collins and some of her fellow moderates wield, despite most members of the conference falling in line with McConnell every step of the way.
The stalemate over trial rules and Speaker Nancy Pelosi's (D-Calif.) delay in transferring the articles to the Senate ended shortly after McConnell announced he had enough votes in his party to pass rules promising no witnesses at the outset, another representation of the influence that just a handful of GOP members exert.
Democrats, who've been unrelenting in their demands to hear from witnesses, need just four Republicans to vote with them on any effort to make their desires for witnesses become reality.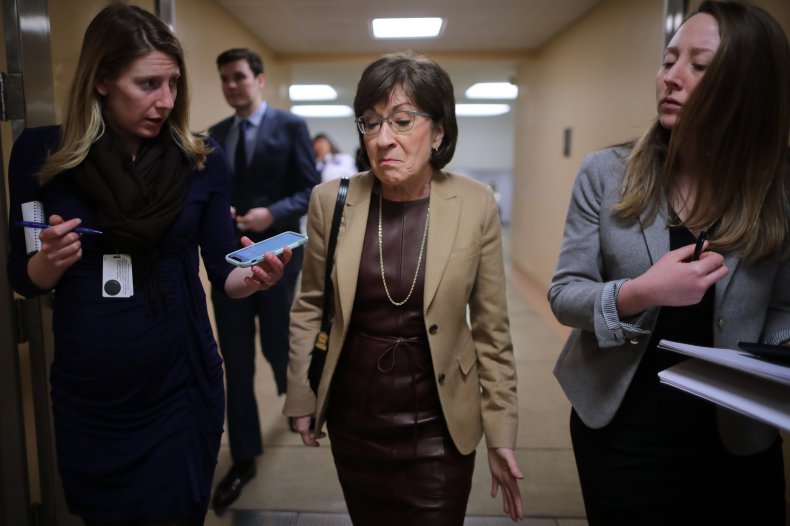 "The public said this is unfair. Republican senators felt the heat and went to McConnell and said you got to change [the rules]," Senate Minority Leader Chuck Schumer (D-N.Y.) said to reporters. "It shows that they can make other changes, and that we can get documents and witnesses. This idea that Mitch McConnell, whatever he does, every one of them will go along with him, doesn't seem to be happening."
Offering some insight into what transpired during Republicans' private lunch, Sen. Mike Braun (R-Ind.) told reporters there "was a pretty broad agreement" that once they had "time to really look at the resolution closely," the House evidence should be included without an additional vote. He would not reveal who, other than Collins, voiced their concerns about the House evidence and condensed trial timeline.
"Until I've been sitting in here now... I don't think I'd be as apt to say that I could sit through 12 to 14 hours or whatever it might be," Braun said. "I want to do it in a way that's going to make sense and where it doesn't look like we're rushing it."
The original rules proposal left Democrats furious. They borrowed a term frequently used by Trump and his allies to accuse their GOP counterparts of conducting a "rigged" trial that would lead to the fastest possible acquittal. They said Republicans went back on their promise to mirror the rules after that of former President Bill Clinton's trial.
Although there are more than a half-dozen GOP senators considered wildcards when it comes to whether they'll vote to remove the president from office, such as Sens. Collins, Mitt Romney of Utah, Lisa Murkowski of Alaska), Lamar Alexander of Tennessee, Joni Ernst of Iowa, Cory Gardner of Colorado and Martha McSally of Arizona, they've sided with McConnell to advocate for considering subpoenas for documents and witnesses only after opening remarks have been made and senators submit questions. The same was done for Clinton's trial.
Romney reiterated his preference to hear from people like former national security adviser John Bolton, but only after opening arguments. As of early Wednesday morning, 11 Democratic amendments—10 of which were Schumer's and one was by Sen. Chris Van Hollen (D-Md.)—which would amend the rules resolution to subpoena documents and witnesses the Trump administration blocked from House impeachment investigators, failed along party lines. In the wee morning hours, McConnell's rules resolution was then passed along party lines.
"Some advice I give our Democratic friends is that if you call everything outrageous, then nothing becomes outrageous," Romney said.