American families will soon be able to claim reimbursements for funeral costs for loved ones who died from the coronavirus.
The Federal Emergency Management Agency (FEMA) will allocate $2 billion, or up to $7,000 per family, for COVID-19-related funeral expenses that were incurred after January 20, 2020.
The funds come from the Coronavirus Response and Relief Supplemental Appropriations Act and the American Rescue Plan. Although the cost depends from state to state, funeral expenses can be a considerable financial burden on grieving families.
Detroit-based Thompson Funeral Home administrator Edward Thompson told the Detroit Free Press a typical service could cost between $3,200 to $5,200, not including the cemetery cost.
People with COVID-19 funeral expenses have been advised to gather and keep their documentation as further details of the process are finalized, FEMA said on its website, adding that a toll-free phone number for those wanting information would be available soon.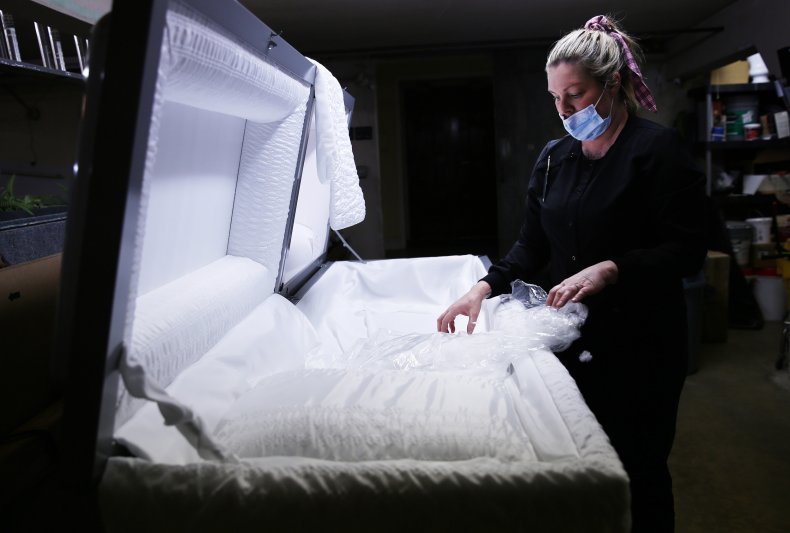 "The COVID-19 pandemic has brought overwhelming grief to many families. At FEMA, our mission is to help people before, during and after disasters. We are dedicated to helping ease some of the financial stress and burden caused by the virus," FEMA said in a statement.
On March 25, FEMA is expected to take part in a webinar with the National Funeral Directors Association which is expected to confirm further details of the scheme, according to the website of the American Association of Retired Persons (AARP).
Here is what we know so far:
Who is eligible?
Although the full terms of eligibility have not been finalized, FEMA has said that the death certificate must state that COVID-19 was the cause of death.
Significantly, there is no requirement that the deceased person be a U.S. citizen, non-citizen national or qualified alien. However, the person applying must meet one of those criteria and have incurred the funeral expenses after January 20, 2020.
The death also must have taken place in the United States, including the District of Columbia and U.S. territories.
How to apply?
People can start applying in April, and FEMA advises that those with COVID-19 funeral expenses should start to gather their information now.
Documents required include an official death certificate stating that the disease was either "directly or indirectly" the cause, and prove that it occurred in the United States, U.S. territories or the District of Columbia.
People are also advised they will need documents such as receipts, the funeral home contract which includes the names of the applicant, the deceased person's name, and also details of the amounts and dates of funeral expenses.
Applicants will also need documents that prove they have received funds from other sources that went to COVID funeral costs.
FEMA said it could not duplicate benefits that had been received "from burial or funeral insurance, financial assistance received from voluntary agencies, government agencies, or other sources."
When approved, the money would be received as a check by mail, or by direct deposit.
The graphic below provided by Statista shows how the COVID death rate has declined before the start of this month.