How To Apply For The 'Legends of The Hidden Temple' Reboot For Grownups
Grab your elbow pads and buckle up for a spooky, adrenaline-filled blast from the past. The popular Nickelodeon game show Legends of the Hidden Temple is returning to the screen, this time, for grownups.
Now is your chance to be a Silver Snake or Blue Barracuda and try your luck at the classic show. Quibi, a new mobile streaming platform, is casting for the upcoming reboot. Here's everything you need to know about the show, the casting requirements and more.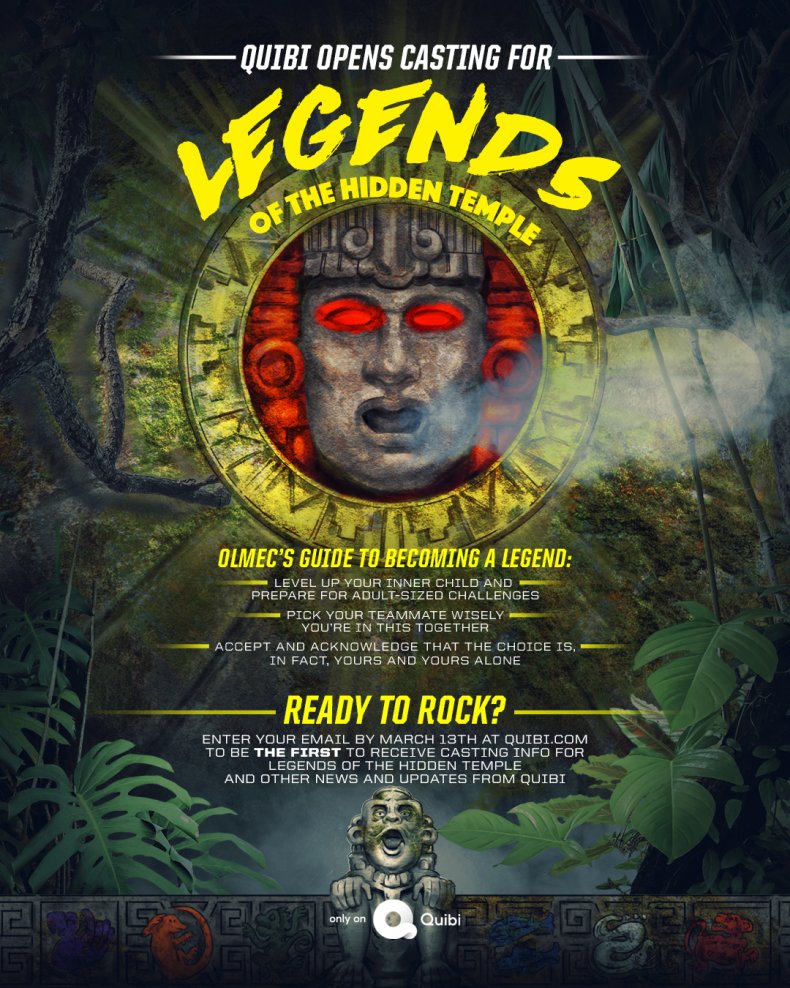 What Is Legends of the Hidden Temple?
Legends of the Hidden Temple was a game show for kids that aired on Nickelodeon from 1993 to 1995. The series showed teams of two trying to escape Olmec's cursed temple. Each room in the game show is full of shocks and surprises, from booby traps to jump scares.
The reboot will allow the millennial demographic, who grew up watching the show, to immerse themselves in the game once again. This time, competitors will be adults. According to Quibi, the reboot will have the same, loved obstacles "the Moat Crossing, Olmec and the Temple Run - but will see them "grown up" for an audience that's grown up along with them."
How Can I Apply?
Quibi is in the early stages of casting, but interested fans can sign up for details now. In order to be considered, competitors must apply with a friend.
There isn't a select forum for Legends of the Hidden Temple casting yet. Instead, interested parties should enter their email on Quibi.com and watch for casting announcements in their inbox. The deadline to be in the loop for Legend of the Hidden Temple announcements is Friday.
No specific requirements for Legends of the Hidden Temple contestants have been revealed yet. It's likely the show will require some level of athleticism from competitors. Quibi warned to "beware, if you are cast in this action-packed competition will test your adventure skills at a whole new level. Enter at your own risk - the choice is yours and yours alone."
What Is Quibi?
Quibi has yet to launch but could change the way entertainment is consumed. The streaming platform will be available only on mobile devices and will feature episodes that are 10 minutes long.
The platform already has a handful of giant celebrities lined up for their own shows. Chrissy Teigen will host Chrissy's Court, which appears to be similar to Judge Judy. Zac Efron will embark on an adventure show that puts him in dangerous situations. Even Sophie Turner is listed in a thriller called Survive.
Quibi will become available to download on April 6. It's unclear when the Legends of the Hidden Temple reboot will launch.