How Ariana Grande Married Dalton Gomez—Full Details of Their 'Intimate' Wedding
Ariana Grande has married real estate agent fiance Dalton Gomez in an "intimate" ceremony.
The pop star's representative told People that the occasion was "full of love".
"They got married," the representative said. "It was tiny and intimate less than 20 people. The room was so happy and full of love. The couple and both families couldn't be happier."
Grande's representative confirmed the news to Newsweek.
The couple are believed to have tied the knot at the "Positions" singer's house in Montecito, California, as per TMZ.
Fans of the songstress couldn't resist sharing their excitement on social media.
Twitter user @ftdirectioners1 wrote: "I'm literally in so many tears , I'm so happy for you ariana i love you <3"
@mooniexsea added: "I'm so happy for Ariana, she deserves the best :(( she has grown so much over the past few years and im so proud of her !! I hope her life with Dalton will be as amazing as it should."
"OMG ARIANA GOT MARRIED IM SO HAPPY FOR THEM," @loveBTSandARI shared.
Another fan, with the username @div1nefairy, said: "ARIANA GRANDE IS A MARRIED WOMAN NOW, IM SO HAPPY FOR HERRRR."
"When you remember how many times Ariana's engagement had been broken, and how much she suffered. Now she's finally married. I love you so much Queen @ArianaGrande. I'm so happy and proud," @_exot12 gushed.
"I WOKE UP AND FOUND OUT THAT ARIANA AND DALTON GOT MARRIED IM SO HAPPY THEY DESERVE THE WORLD," @elle_mari101 added.
Sending best wishes to the couple, @lorefulmendes posted: "ARIANA GRANDE GOT MARRIED. I'M SO HAPPY FOR HER! WISH YOU BOTH SO MUCH LOVE AND HAPPINESS."
The couple dated for around 18 months prior to their wedding.
News of their romance first hit the headlines back in February 2020 when reports claimed the pair were seen kissing in a restaurant in Los Angeles.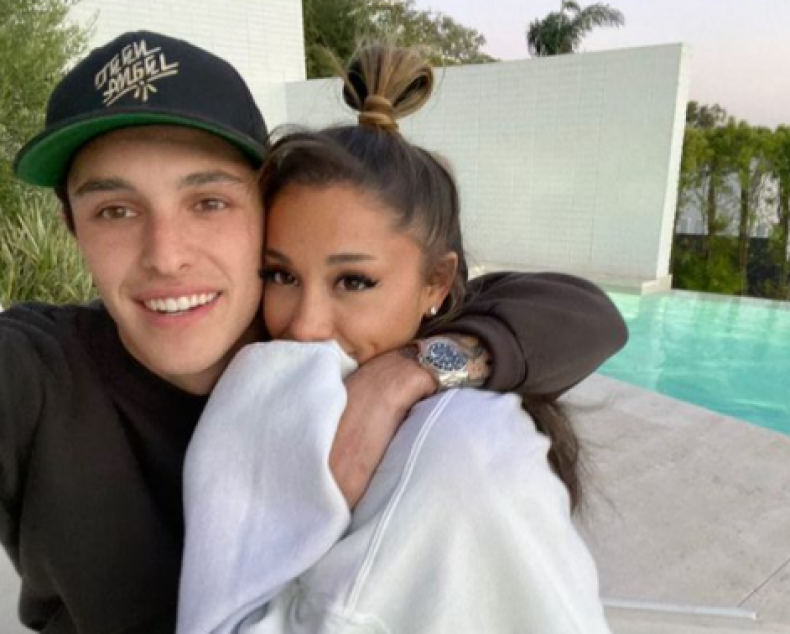 Fans were later given a glimpse into their private relationship when Gomez made a brief appearance in Grande and Justin Bieber's music video for Stuck With U.
In December, Grande excited fans when announced her engagement to Gomez back in December.
She shared the news on Instagram at the time, posting a string of photographs cuddling up to her new fiance, with the caption: "forever n then some."
One of the stand-out images from the slideshow was a close-up of her diamond ring, featuring a pearl accent.