How to Avoid 'Blood Gadgets'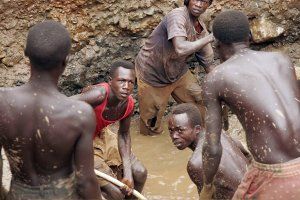 In Congo, a vicious war is financed in part by the mining of tin, tantalum, tungsten, and gold—metals that make their way into phones, cameras, and computers. Human-rights groups are pressuring technology companies to keep "conflict minerals" out of their products, a movement that is gaining momentum with viral videos, chatter on tech blogs, and a New York Times op-ed column on "blood phones." The goal is to re-create the "blood diamond" movement, which resulted in a U.N. resolution and concessions from the global diamond trade.
The issue is a growing concern for socially responsible investors, who so far have little information with which to make decisions for their portfolios. Tech companies say it is nearly impossible for them to know if their products have tainted components. "We require all of our suppliers to certify in writing that they use conflict [free] materials," Apple CEO Steve Jobs e-mailed a customer in June. "But honestly there is no way for them to be sure." The situation may change with the July passage of the financial-reform bill, which requires businesses to disclose if their products contain minerals from the Congo region. The power of the pocketbook is probably the most effective way to influence gadget makers. One NGO, the Enough Project, is collecting data on 21 large tech companies' supply chains and will publish an online report card (at enoughproject.org) before Black Friday, so that concerned consumers can buy accordingly on the biggest shopping day of the year.