The latest Playboy cover star just made history. With Tuesday's dual digital covers, Bad Bunny became the first man, aside from the late Playboy mogul Hugh Hefner, to appear solo on the magazine's cover. This latest issue of the quarterly magazine is also the first one to only be available digitally—another milestone in Playboy's 66 years of existence.
Born Benito Antonio Martínez Ocasio in Puerto Rico, the rapper/singer is of course best known for his Latin and reggaeton style of music, his deep voice and his incredible fashion sense.
Bad Bunny's Playboy covers come amid a serious hot streak for the artist. In February, he performed at the Super Bowl's Halftime Show with Shakira and Jennifer Lopez. Later that same month, his latest album, YHLQMDLG, debuted at No. 2 on the US Billboard 200. It subsequently became the the highest-charting all-Spanish album ever to appear on the chart.
Months after his album dropped, Bad Bunny disappeared from Twitter and Instagram. Now, he's back, dressed like a Greek god on the digital covers of Playboy with a golden wreath and beautifully manicured nails.
For the Playboy photoshoot, which was done in Miami before the coronavirus pandemic hit, Bad Bunny posed gracefully in silk robes and a fur coat while looking out over a balcony. In one picture, he holds a bedazzled Razr cell phone and is adorned in jewelry featuring the iconic Playboy bunny logo.
For the accompanying cover story, titled "Bad Bunny is Not Playing God," Bad Bunny spoke about a range of topics, including being an ally to the queer community, his career and upcoming music he's got planned for later this year.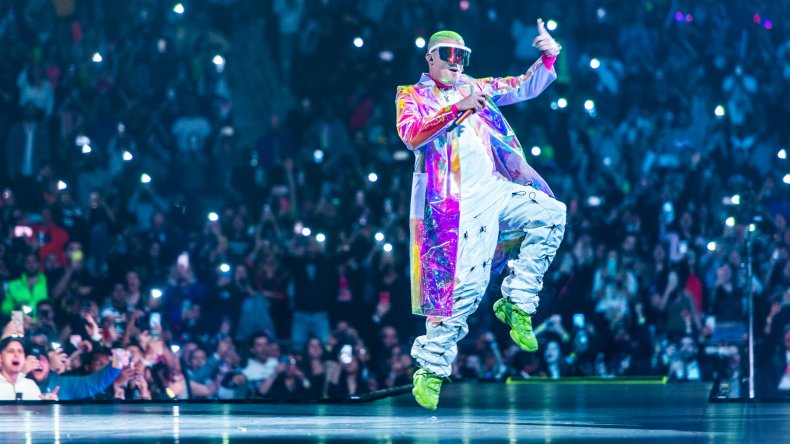 He also talked about how important it is to stay true to his Puerto Rican roots. "I have always done what I feel is right. I was born in Puerto Rico, and I still live in Puerto Rico. I am living my dream thanks to Puerto Rico, and more than a responsibility, it's a connection that makes me do things naturally — get it?" he explained. "If something happens and we need to help, I do it because they are my people, famous or not — it's a matter of the heart."
And, this being a Playboy interview and all, he also discussed sex. "Everyone is free to see it as they want and do it with whoever they want, however they want, with infinite possibilities. In the end, we are human beings. Everybody feels, everybody falls in love with whoever they're meant to," he said.
The rapper has been dating Gabriela Berlingeri since 2017, per a recent Rolling Stone interview. He only went public about their relationship this year. "I am happy with her. [People] don't know she has helped me a lot in emotional aspects when I needed it the most," Bad Bunny told Rolling Stone.
To read Bad Bunny's full interview with Playboy head here.