This Is How Bad Colts QB Andrew Luck Was in His Second Preseason Game: Watch Every Throw vs. Ravens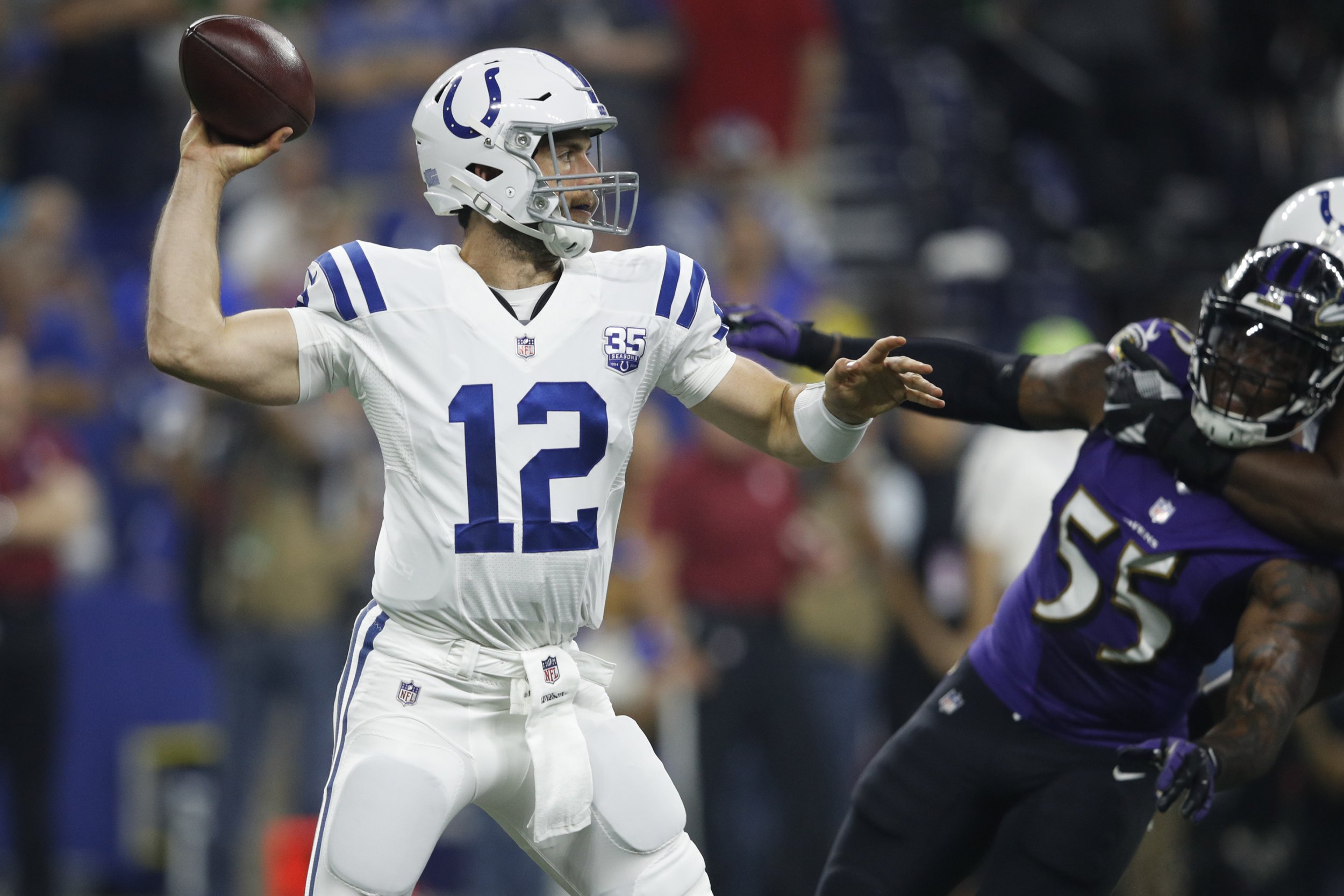 Andrew Luck appears to still be a long way from full recovery after a preseason appearance that had more lows than highs. On Monday night, the Indianapolis Colts quarterback played only his second game in 19 months as his team lost 20-19 to the Baltimore Ravens.
Luck had shoulder surgery early last offseason and was forced to sit out the whole of the 2017 campaign, despite the Colts' suggestion that he would be involved at some stage.
Earlier this month, Luck finally returned to the pitch as the Colts secured a 19-17 against the Seattle Seahawks in the second week of preseason and looked understandably rusty. The cobwebs were still evident on Monday night, as the 28-year-old completed six of his 13 attempted passes for 50 yards, had one pass intercepted and was sacked twice in 23 plays.
However, Luck revealed he was happy to be sacked by Ravens' Terrell Suggs.
"I told someone after the game, 'I'm sort of happy to get sacked by Suggs, a legit sack,'" Luck was quoted as saying by ESPN.
"I landed on my right elbow sort of reminiscent of how I injured my shoulder a couple of years ago [in Week 3 of the 2015 season]. I didn't feel anything. Didn't give it a second thought. That's a big deal for me, being able to lose that thought bubble."
While the Colts' quarterback has made progress in his bid to overcome the psychological burden that comes with a serious injury, he was disappointed with his production on the pitch.
In his two preseason games, Luck has completed a combined 12 passes out of 22 for just 114 yards. Admittedly, against the Ravens the Colts were without receiver T.Y. Hilton and left tackle Anthony Castonzo due to injuries, but Luck admitted the team performance had been "sloppy."
However, the former Stanford student, who is expected to play against the San Francisco 49ers on Saturday, was pleased with his progress. "I'm very, very encouraged. How I feel. I feel great."
Colts coach Frank Reich sounded somewhat less upbeat but hinted it was hard to draw too many conclusions from preseason games. "We just didn't find a rhythm for him," he explained.
"I felt maybe there were one or two throws that weren't his best throws, but overall, it's usually not as bad as you think or as good as you think. Still have a confidence in a direction we're headed offensively."