How Bad Will This Winter Be? 2018-2019 Season Weather Predictions
The fall equinox is only a few weeks away and winter will come to the United States soon thereafter. The summer of 2018 was one of the hottest on record, tying the summer of 1934 for the fourth hottest on record, and there's little indication that the warmer-than-usual temperatures will stop come winter.
The trend of warm weather might follow through into the winter. Prediction maps from the National Oceanic and Atmospheric Administration only look at the meteorological winter, spanning December, January and February. For those months, NOAA's Climate Prediction Center has calculated the probabilities that the United States will either see normal, above or below average temperatures.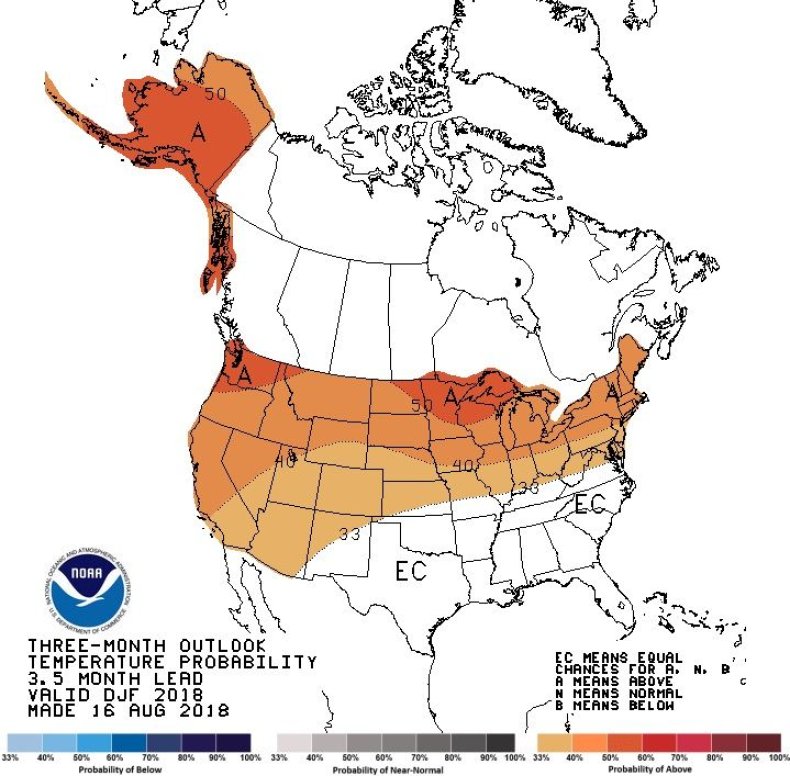 As the map shows, the chance of temperatures in the Northeast being above average is about 40 to 50 percent. The orange color that represents the 40 to 50 percent chance range also crosses much of the northern part of the country, though some areas have chance higher than 50 percent. Alaska also has a large portion of the state where the chances of temperatures being above average are more than 50 percent.
In the Mid-Atlantic, some areas like New Jersey have a 30 percent chance of temperatures being above normal while some have an equal chance of the temperatures being above or below average.
From about New Mexico westward, the entire country will likely see temperatures above average this winter, the map showed.
The Old Farmer's Almanac, which uses different factors than NOAA to calculate probabilities, also predicted a similar outlook for the winter season of 2018 to 2019. But the two differ in their predictions of temperatures in the southwest region of the country. The Almanac predicted there would be colder than normal temperatures, while NOAA predicted it would be warmer than usual.
As for precipitation, many parts of the country that might see above-average temperatures might have more rain than usual too. In parts of the southeast, central and southwest the chances of above average precipitation are between 33 and 50 to 60 percent. Even Alaska is predicted to see above average precipitation.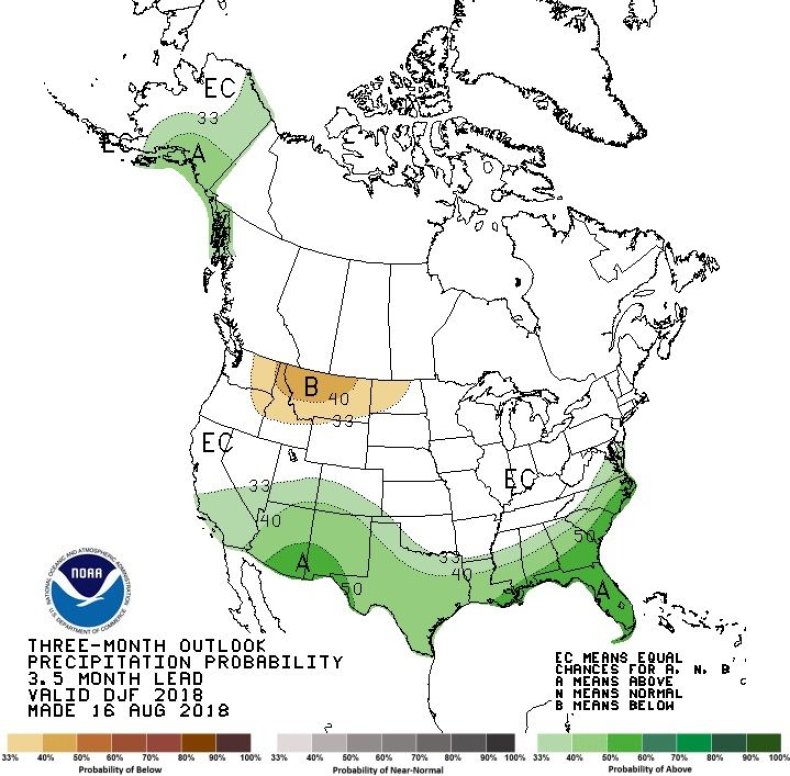 Only parts of Washington, Oregon, Idaho, Montana and North Dakota have a probability of below average rainfall for the winter months, ranging from 33 to 40 percent probability, according to NOAA. This is where NOAA and The Old Farmer's Almanac diverge more in the predictions: the Almanac predicts some dry conditions, whereas NOAA predicted there would be more precipitation.
Once winter rolls around, the weather across the country will reveal which prediction was more accurate.
​