How Bad Will Winter Be? 2019 Winter Outlook Shows 'Extreme' Fluctuations, Snow and Rain Storms for Parts of U.S.
Weather reports are predicting a dramatic winter season for the U.S. this year, especially for the Northeast, Northern Plains and parts of the Midwest.
Last year's winter saw extreme conditions, like the brutal polar vortex that led to more than twenty deaths in Iowa, Illinois, and other parts of the Midwest. This year, those states should see some relief, while others are expected to get pounded with rain and snow, according to recent reports.
New York, New Jersey, Massachusetts and neighboring states can expect a delayed but severe winter chill in late January, according to reports released by AccuWeather and the Farmers' Almanac, which provide long-range weather forecasts. Above-normal snowfall could also be in store for the Northeast, while states just south of the region like Washington, D.C., and Maryland are likely to see a mix of rain and snow.
"Whether or not it's snowstorms, ice storms, or mixed events, I do feel this is going to be an active year for the Northeast," AccuWeather forecaster Paul Pastelok said in the report.
The Great Lakes and upper Midwest should also see above-average snowfall, according to forecasters.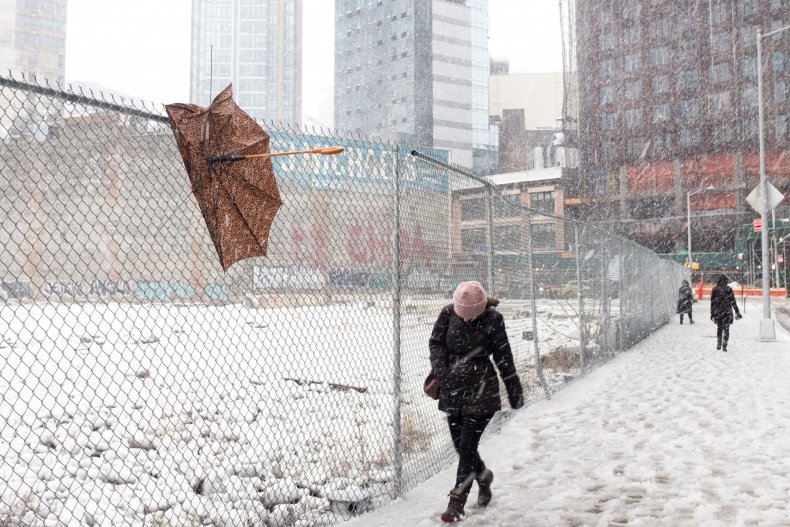 Much of the country will be filled with dramatic ups and downs on the thermometer in the coming months, which the Farmers' Almanac dubbed a "Polar Coaster." But it's not as bad as it sounds. A back-and-forth pattern could generally bring more storms, according to AccuWeather's senior meteorologist Paul Pastelok, but the frequent changes to precipitation and temperature can also prevent extremely drawn out, frigid outbreaks.
"We feel there's going to be a frequent amount of fronts coming across the country," Pastelok said in an interview. "We do feel there's going to be a mid-winter arctic outbreak of cold that's going to affect parts of the Northern plains, Midwest, and Great Lakes," adding that, due to the back-and-forth conditions, it won't be quite as bad as last year.
While states in the middle of the country won't be escaping this winter scot-free -- it's likely there won't be another deadly polar outbreak, either, according to AccuWeather. Last year, the polar vortex, a low-pressure area near the North Pole, was weaker -- allowing more cold air to escape southward. This year, since the polar vortex should be stronger, it will probably keep cold air over the polar region instead of, well, Chicago.
The south should see lots of rain, according to forecasters. With water temperatures running pretty warm, all that humidity has to go somewhere. The westernmost U.S. states can expect normal precipitation and temperatures, bringing some relief to ongoing droughts.
This year and last year will have one thing in common, though: it's going to be another long winter season. While the delayed start to the country's coldest temperatures may bring some relief, Pastelok said we'll see chilly weather extending into March.