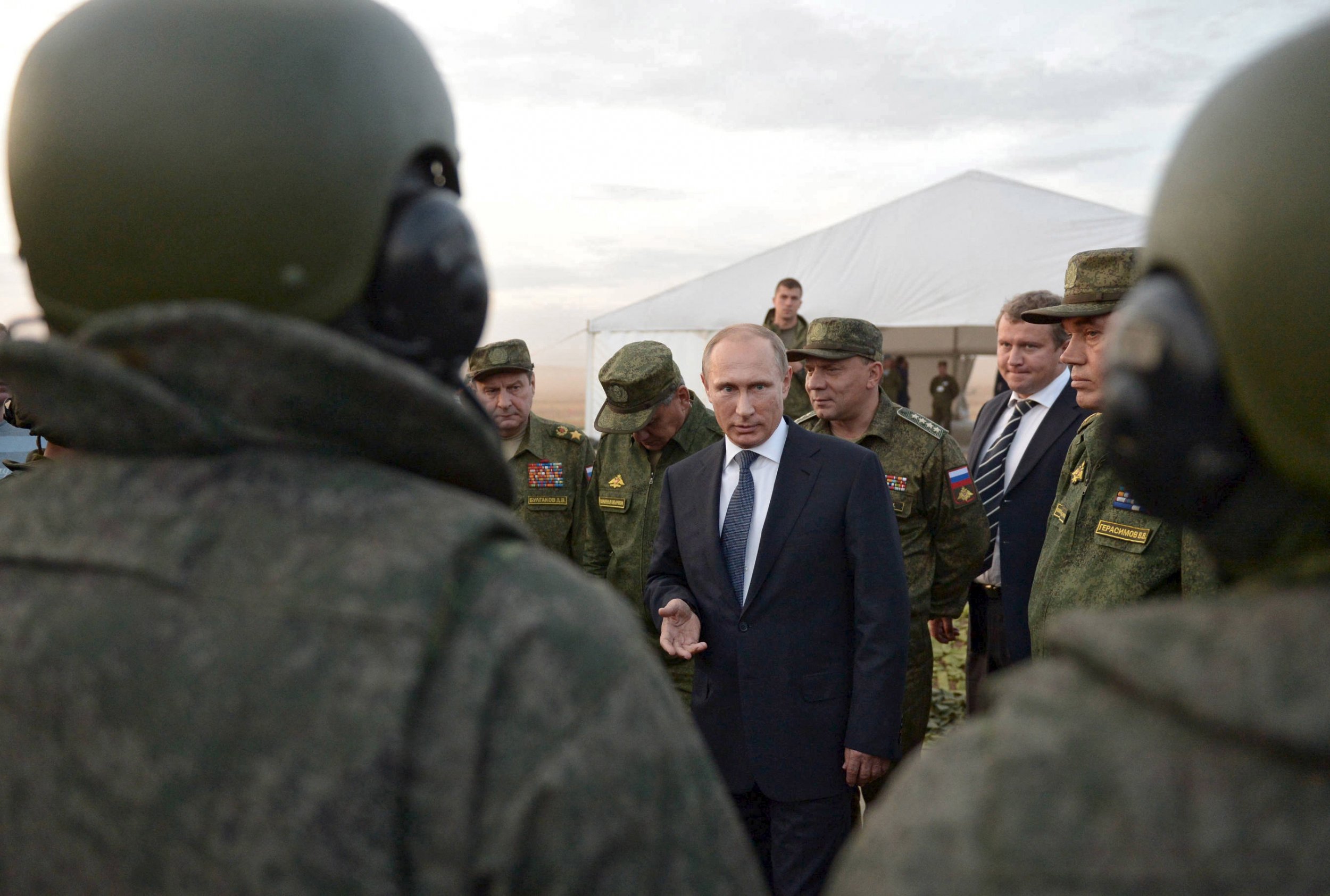 Russian President Vladimir Putin wants more than 1 million troops in his armed forces as of next year—a demand that could obscure the military's actual strengths and weaknesses.
The Russian leader signed a decree published on the country's state law database, which set the target for Russia's military personnel at 1,013,628. The total target figure for staff including civilian support personnel, set to come into force by January 2018, exceeds 1.9 million.
The figure actually represents a reduction of 293 jobs on a target set last year, with little independent evidence that the Defense Ministry ever met the figure. The new decree supercedes old targets but includes no assessment of current manpower nor an explanation for why the change was necessary. It is also unclear how such a specific figure was determined.
The total active personnel in the Russian military numbered 798,527 this year according to independent military analytics website Global Firepower. Individual analysts have also estimated the numbers as falling short of the target.
In February, Russian Defense Minister Sergei Shoigu estimated that the armed forces were still short of the million mark, albeit giving higher estimates. He claimed Russia's troops exceeded 900,000 in what was the last update on the official strength of the country's military.
Konrad Muzyka, Europe and CIS Armed Forces Analyst at IHS Jane's, is wary of trusting the large, official totals but notes that they do not exaggerate Russia's needs. Since annexing Crimea and triggering NATO reinforcements near its borders, Russia has itself reformed or increased a host of units in its Western regions, all of which require additional staff.
"They need to take on a lot of men and my guess is that with deployments in Syria and the war in Ukraine, the depletion rate is the same as before, if not increased," Muzyka says. Russia still has conscription in place, despite its ongoing strategy to professionalize the armed forces with career servicemen and women and with voluntary, longer-term recruits known as contractees (kontraktniki).
Read More: Here is how Russia's military is practicing for responding to a nuclear attack
"The first area (they need personnel) is obviously the navy," Muzyka says, noting that the ongoing revamping of Russia's naval technologies requires professional personnel, not draftees. "The land forces is the second place that they want these troops to go to. The Baltic Fleet and the 11th Army Corps are where they want to attract contractees and the First Guards Tank Army is also undermanned. There, they need a couple of thousand men."
All these units sit in Russia's Western Military District and have either been reinforced since Moscow's collapse of relations with the West or, in the case of the tank army, formed anew.
The overstretched staff has been blamed for the frequency of mishaps in the military, such as a six-month period in 2015 during which six military aircraft crashed.
Russia's ongoing upgrade of its capabilities may be overstating the strength of its numbers, but that does not mean all its ranks are growing toothless, according to analysis from the Carnegie Endowment.
Several of its units, most notably its elite paratroopers (VDV) have become integral to military strategies that Russia plays out in war games. In events such as September's large Zapad 17 drill with Belarus, Russian paratroopers relied on speed, disruption and agility to secure a perimeter, pushing an enemy back.
The military used such tactics in Crimea and allegedly in eastern Ukraine. Carnegie notes that it is the ability of the forces to act swiftly but also "Russia's far greater willingness than its adversaries to resort to military force," that comes into play.
Russia's use of the "element of surprise" also acts in its favor by stunning the enemy into inaction, top Russian military analyst Alexander Golts argued last year.