How Bigger Kamikaze Drones Expected From U.S. Could Boost Ukraine's Fight
Ukraine's war effort against Russia could soon be bolstered by a shipment of a new type of large, U.S.-supplied "kamikaze" drones.
A U.S. research and development contract for 10 larger, long-range Switchblade 600 kamikaze drones is expected to be awarded within the next 30 days, according to a Monday Defense News report citing Pentagon spokeswoman Jessica Maxwell. The U.S. has already supplied Ukraine with hundreds of smaller Switchblade 300 and Phoenix Ghost drones, which are able to "loiter" in an area and conduct surveillance for hours before reaching a target and detonating.
The Switchblade 600 drones were originally promised to Ukraine over five months ago. It is not yet clear when the drones will arrive in the war-torn country, although a delivery date is expected when the contract is finalized. Only 10 drones are expected, due to the Switchblade 600 previously only being manufactured in test quantities with no production line in place, according to Forbes.
Kamikaze drones, also known as "loitering munitions," have the ability to be used to monitor enemy forces and to strike equipment and troops in a single package. Particular advantages of the Switchblade 600 drones include a larger explosive anti-armor payload, a longer range and an ability to loiter in an area for a longer time prior to detonation.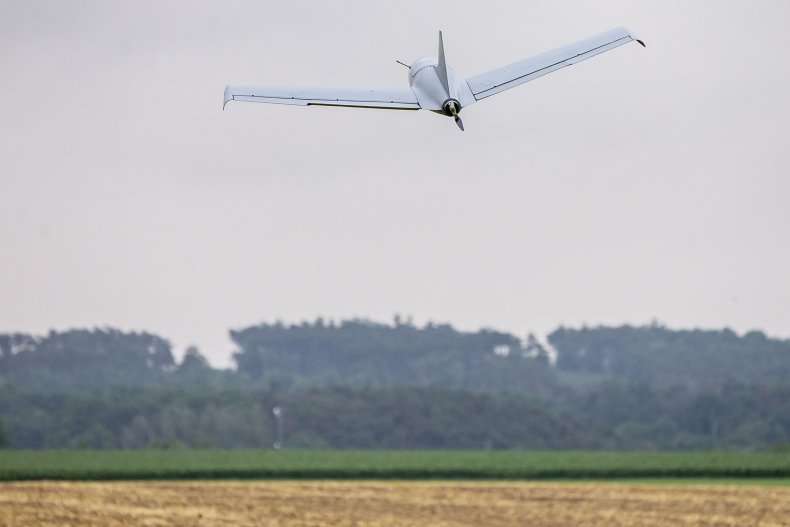 The Switchblade 600, which is designed to strike large armored vehicles and tanks, has the ability to fly for up to 40 minutes at a range of 25 miles. In contrast, the Switchblade 300 can only fly for up to 15 minutes at a range of 6 miles.
Experts believe that the attributes of the large drones could help Ukraine in an expected upcoming effort to regain territory lost to Russia this year in the Kherson region and in Crimea, which Russia annexed in 2014.
Samuel Bendett, an expert on Russian drones with the Center for Naval Analyses and Center for New American Security, told Defense News that the drones could "be instrumental as the Ukrainians are preparing their attack on Kherson and Crimea, because they can be launched beyond the range of Russian systems and inflict damage on Russian infrastructure."
"You can use a 300 maybe to damage a radar, but the more a Russian target is armored and the less Russian forces are in the open, the more you're going to want the Switchblade 600," added Bradley Bowman, the senior director of the Center on Military and Political Power at the Foundation for Defense of Democracies. "They have the same name, but they're very different systems with very different target sets."
The U.S. has sent over $10 billion in military aid including drones, armored vehicles, missiles, Howitzers, ammunition and other weapons since President Joe Biden took office in January 2021. The Department of Defense announced a new $775 million package, the 19th authorized under presidential drawdown authority since August 2021, last Friday.
Newsweek reached out to the Pentagon for comment.