How Bill Irwin Makes Samuel Beckett, Easy, Accessible and Even Fun in Show at Irish Rep
In 2005, Bill Irwin won a Tony award for best actor in a play for Who's Afraid of Virginia Woolf? And he recently got excellent notices playing opposite Denzel Washington in The Iceman Cometh (I wrote then and I still think he would make a great Hickey). He has been seen in everything from a recurring role on Law & Order SVU (as Olivia Benson's therapist) to movies like Eight Men Out, Hot Shots! and Rachel Getting Married. Over the years, Irwin has won acclaim for everything from his clown shows—The Regard of Flight, Fool Moon and Old Hats—to the classics—Scapin by Moliere. But he has always had a special place in his heart (and head) for Samuel Beckett.
Beckett is recognized as a genius—a drama teacher one told me that Beckett "broke all the rules of playwriting and his shows still work. That is genius." He also created a play—or at least a phrase—that has entered the collective unconscious: Waiting for Godot. Godot is, to steal from Tennessee Williams, a cosmic "long delayed but always expected something that we live for."
Irwin could talk about Beckett for hours, but in his new show, On Beckett now playing at the Irish Repertory Theatre, he limits himself to about 80 minutes. He talked with Newsweek about his special obsession.
What in particular about Beckett appeals to you? What is your earliest recollection of seeing or reading Beckett, i.e., that moment you made a special connection to him?
There is something in Beckett's writing that I cannot entirely name or describe—it very often drives me crazy and puts me off—but it catches me in some combination of emotional and cerebral reaction. And, like I say in the evening, it feels like a means of examination—a way to look at human behavior and motive.
The first Beckett thing I ever read was a piece called "Act Without Words I." It's not my favorite piece now and a play I've never seen done—but it really struck some kind of chord: the relationship of character and off-stage forces. It stayed with me since that first read, when I was 18.
Actors I know love to act in Beckett plays. What is it about Beckett that makes him appealing to actors?
Yes, actors love Beckett. And it's sometimes hard to say why. The material's not always kind to us: We don't always look good in Beckett's work. But there's an interplay of raw emotion and beautiful language. And mystery—it's hard to know what is getting inside of you as you play the material.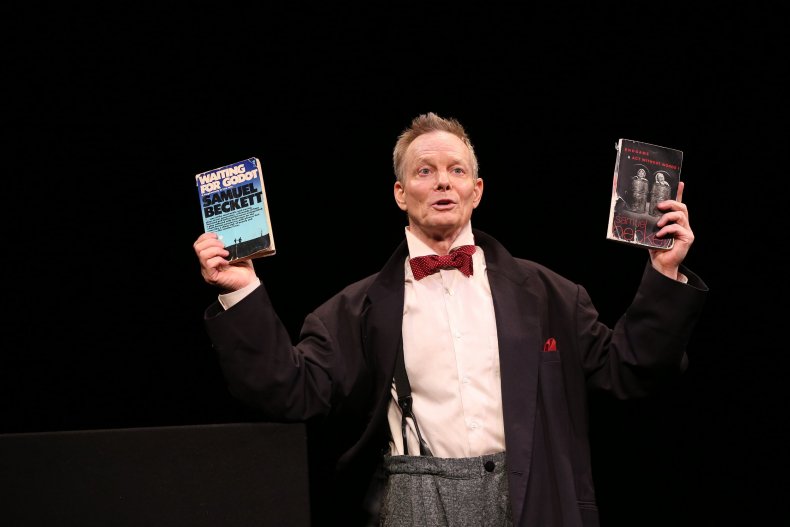 You did two pretty high-profile productions of Waiting for Godot, one off- Broadway at the Mitzi Newhouse and another on Broadway. What were they like—especially working with a range of actors and acting styles like Nathan Lane, Robin Williams and Steve Martin and F. Murray Abraham?
I've been blessed to be on stages with amazing colleagues in this play. That's really maybe all I can say. In any project that has fine actors—with that weird actor's kind of intelligence—every moment is exciting and gratifying. We had good laughs had in every outing, but also lots of angst and frustration, too: I never saw Robin Williams so down as when he felt he was struggling in the Godot production of 1988.
You started out as a clown, and Beckett has often been associated with clowns. Why do you think Beckett makes use of clowns?
I think it's always an open question as to whether Beckett's writing is clown territory. Clowns can mess it up—miss its needs—as easy as non-clowns. But there's something about images from the play—where characters are not talking—that have the look of a clown show and have the eccentric weariness of great clowns, which seem to me to be right for the Godot play. It's an ease in the body that goes with the characterization.
There is a story about Godot playing at San Quentin State Prison, and I believe officials were worried about how it would over. But the prisoners loved it. Why do you think Godot speaks to prisoners?
I went to some of the rehearsals—and attended the one public performance—of the 1988 production at San Quentin. It was pretty electric. Godot speaks to waiting, and it felt right to this group of California state prisoners. I still correspond with one guy, who is in for life (unless his commutation application goes through this time).
There was an unfortunate wrinkle with this production: There'd been a cast change—for obscure reasons—and much of the prison population chose not to attend because a black character was driving a white character on a rope. Testament to the charged nature of Beckett's imagery, it was not watchable by many of the prisoners. I always was grateful to that corrections administration—I thought they did a great job supporting the production and keeping it in control within the facility.
Describe On Beckett. Is it a play, a snippets of plays or a master class on the playwright?
In my mind this is a personal evening—a meet-up with audiences—I call it a combo of aesthetic aspiration and coping mechanism. It is what I do with his language in my head.
On Beckett is currently playing at the Irish Repertory Theatre, 132 West 22nd Street New York City. For more information, go to IrishRep.org.