Here's How Mike Bloomberg Is Preparing For His First Debate in More Than A Decade
Former New York City mayor Mike Bloomberg will take the debate stage for the first time on Wednesday night in Las Vegas, Nevada in what is likely to be a bitter clash with his Democratic rivals—and his team acknowledges he may be a little out of practice.
Bloomberg hasn't faced off against a political opponent in more than a decade. The last time he participated in a formal debate was in 2009 when he was running for re-election as mayor of New York City. But even then, he was only challenged by one candidate. This time around he'll face five other Democrats, all of whom have been involved in the presidential race for far longer than he.
The 78-year-old billionaire qualified for the event at the last minute after a national poll from NPR, PBS NewsHour and Marist College showed him at 19 percent support—higher than the 10 percent threshold needed to be eligible for the event.
The Nevada debate is expected to be contentious—Bloomberg and his 2020 rivals already have traded insults during the past few days.
"We definitely anticipate that the field is going to attack us and we're going to have incoming insults from all sides," a Bloomberg campaign official told Newsweek on Tuesday.
But his inexperience and reputation as a bad speaker—he once ended a speech in 2012 by wondering "who wrote this s***?"—does not necessarily bode well for his performance on Wednesday.
So to prepare, his team has been holding mock debates in which senior campaign members imitate different Democratic candidates. Howard Wolfson, who worked on Hillary Clinton's 2008 run and is now a senior adviser for Bloomberg, has played the role of Bernie Sanders. Wolfson has admitted that his impression of the senator is not the best.
Also participating in the makeshift debate panel is Bloomberg's press secretary Julie Wood as Elizabeth Warren, senior adviser Marc La Vorgna as Pete Buttigieg and senior adviser Marcia Hale as Amy Klobuchar.
The mock debates were first reported by Politico and CNN on Tuesday morning and later confirmed to Newsweek by a campaign official.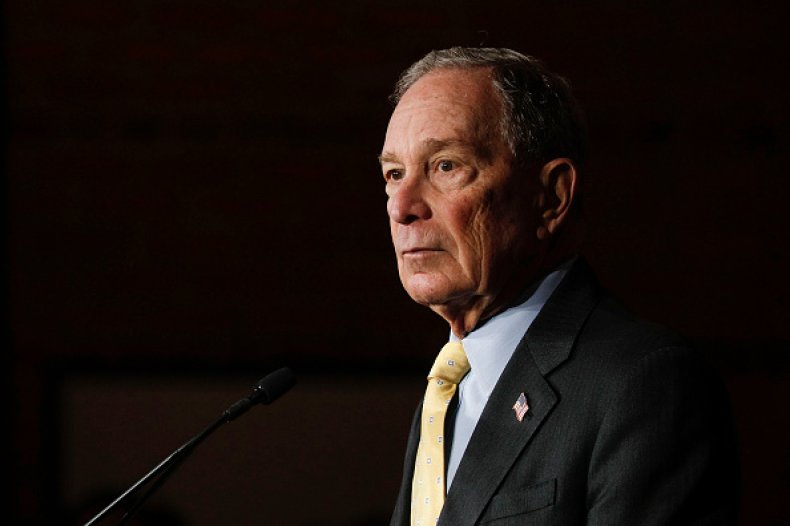 The five other candidates who have qualified to participate in the Nevada debate are Joe Biden, Pete Buttigieg, Amy Klobuchar, Sanders and Elizabeth Warren.
Bloomberg has largely avoided interacting with his 2020 rivals by taking a more unique campaign approach. Instead of focusing on early-voting states such as New Hampshire or South Carolina, where most candidates have been battling each other for months, Bloomberg is spending the most time and resources in states that vote on Super Tuesday and beyond.
So far, he's spent more than $300 million in television advertising nationwide—more than the rest of the Democratic field combined. In total, he plans to spend $1 billion of his own personal fortune in the 2020 election cycle.
The advertising campaign appears to be paying off, as Bloomberg has climbed in recent polls. The NPR, PBS NewsHour and Marist College survey released on Tuesday represented a 15-point jump from his support in the group's poll in December.
He's also surged to first or second place in some key battleground states. A new poll conducted by SurveyUSA showed Bloomberg with 21 percent support in California, trailing Sanders by only 4 percentage points. In Virginia, a Monmouth University survey showed Bloomberg tied with Sanders for the lead in Virginia.
Wednesday night's debate comes just days before Nevada will hold it's "first in the West" caucuses. The early-voting contest, which will be the first real test for presidential candidates among Latino voters, will be held on February 22.