How One Startup Tried to Improve the 911 Emergency Call—and Set Off a Firestorm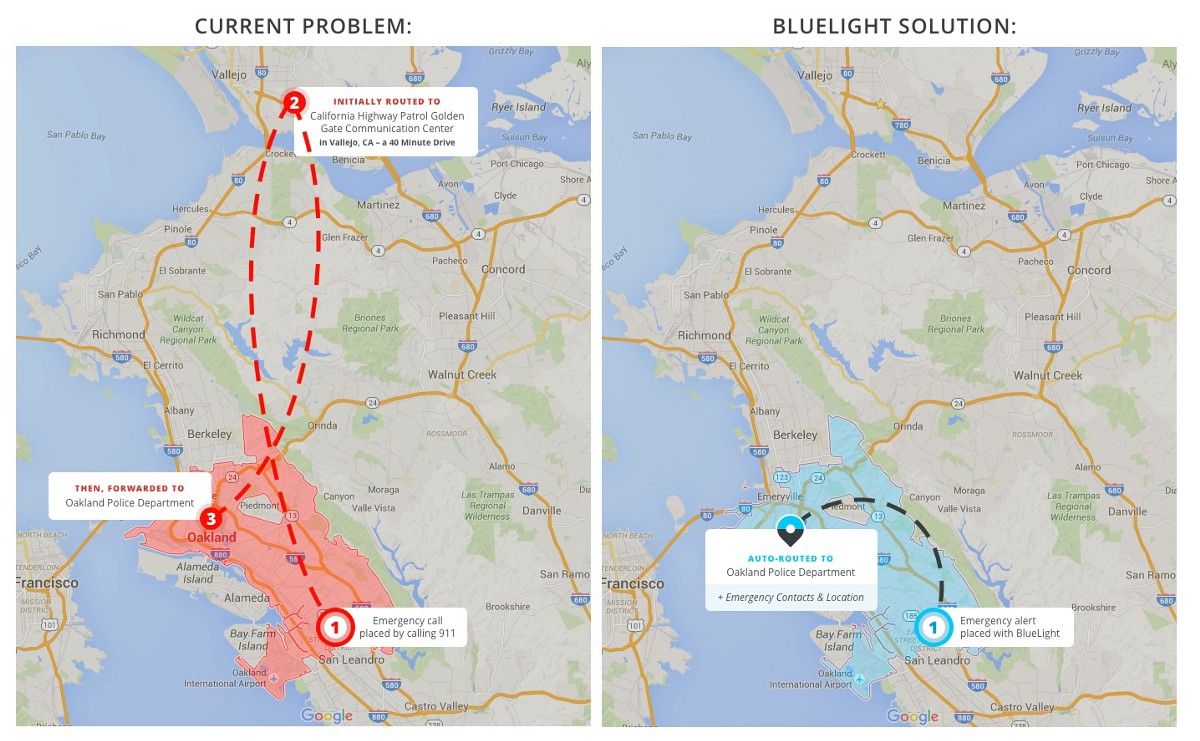 Like bridges and roads in America, the 911 emergency system is aging. Over 70 percent of 911 calls are from cellphones, but the infrastructure is still stuck in the landline era. As a result, it's still hard to pinpoint the location of an emergency.
But there's now a new startup to challenge—or at least jolt—the outdated infrastructure. BlueLight has proposed a faster way to connect emergency callers and dispatchers and is set to launch its first municipal experiment in Oakland, California. But its opening there has drawn controversy for charging users a $20 annual subscription, drawing attacks from those who see the startup as another step in widening the tech-led inequality gap that's been plaguing the Bay Area.
In a Medium blog post, BlueLight says it directly calls the closest Oakland police or fire station through its smartphone app, bypassing the 911 dispatchers out in Vallejo, California, a town 40 miles north of Oakland, who send the call back down to Oakland, according to BlueLight founder Preet Anand. By using GPS technology, BlueLight says, it helps inform dispatchers the location of the emergency to a 60-foot radius.
The current infrastructure lets 911 dispatchers do only a guessing game on the emergency caller's position, by comparing the signal strength and the time the phone signal took to reach nearby cell towers. BlueLight won't require any upgrades to Oakland's current 911 system.
But like all startups, there are caveats. For one, BlueLight makes money off emergency calls—a service than can involve life or death. Second, it works only in areas where BlueLight has set up shop: Try to use BlueLight not in Oakland but in nearby Emeryville or Berkeley and the app will only make a generic 911 call.
While BlueLight plans to launch in Oakland in February, its relationship with the city and the Oakland Police Department remains unclear. Although it will use public services, BlueLight has no contract with the city so far. The OPD and the city have been in contact with BlueLight, according to Anand. OPD and the Oakland mayor's office did not respond to Newsweek' s request for comment.
Anand tells Newsweek that he expected some blowback when BlueLight published a Medium blog post on the startup's arrival in Oakland. But he was surprised by the small tweet-storm that erupted soon after, with Oakland locals saying BlueLight was "inhumane" and engaging in class warfare.
Oakland-based writer and podcast host Brock Winstead tells Newsweek in an email that the "provision of public services is already stratified by income in most American cities, and certainly in Oakland" and that private, for-profit startups like BlueLight only worsen the inequality gap. "We don't need any more help separating the haves from the have-nots," he says.
Anand says the subscription is a necessary means to an end to get BlueLight to mature and become an accepted part of the public infrastructure. "The pricing is a challenge to some people, and we agree," Anand tells Newsweek. "We are trying to improve the standards for everyone. In the future, we hope to be embedded into the current emergency services."
As reasons for trusting his startup, Anand points to accolades for BlueLight—most notably, it was one of two winners in the White House-initiated Multi-City Innovation Campaign, and its numbers are growing on college campuses across the United States. BlueLight's website displays its wide selection of "supported campuses," with universities that reportedly use the service peppering the map.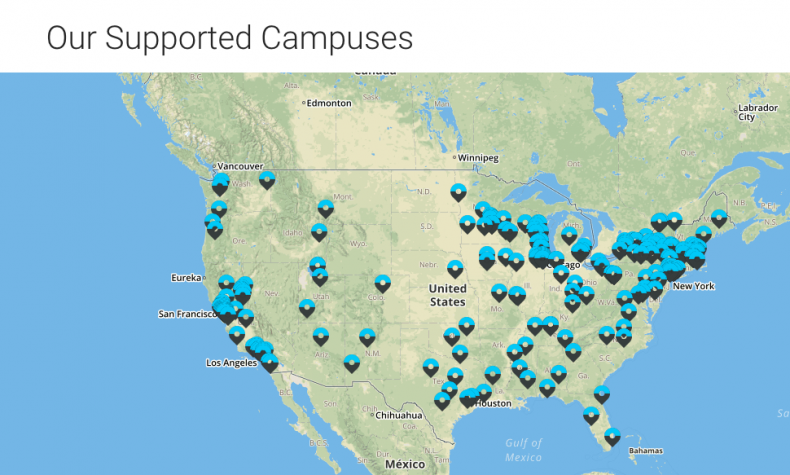 However, when Newsweek reached out to nine of the listed universities, only one—Marquette—knew about and currently uses BlueLight. Four—the University of California, Berkeley; Stanford; San Jose State; and the University of Southern California—tell Newsweek they have never heard of BlueLight or received a dispatch call through the app. The other four did not respond to Newsweek 's request for comment.
"I've been working with different campus safety apps for four years, and this is not a company we've worked with," says the UC Berkeley Police Department's crime prevention officer, Wade MacAdam. "Anything like this would have been vetted through the UCPD."
Anand tells Newsweek that many campus administrations—including UC Berkeley—don't formally endorse BlueLight. Students on those campuses pay the entire $5 annual subscription and are able to use BlueLight to directly reach their campus police dispatchers.
In conjunction with its Oakland launch, Anand is expanding BlueLight to a ski resort in Lake Tahoe, where first responders will be able to locate an emergency call in the vast wilderness. He says he hopes BlueLight will continue to grow and "make an impact" in order to bring 911 to the 21st century.
"In the past few days, the term 'for-profit company' has been thrown at us like an accusation," Anand wrote in a follow-up Medium post addressing the criticism BlueLight has received on Twitter and from Oakland media outlets. "Small companies and city governments have a long history — and a bright future — of forming symbiotic relationships."