How Brad Paisley and Carrie Underwood Conquered The CMAs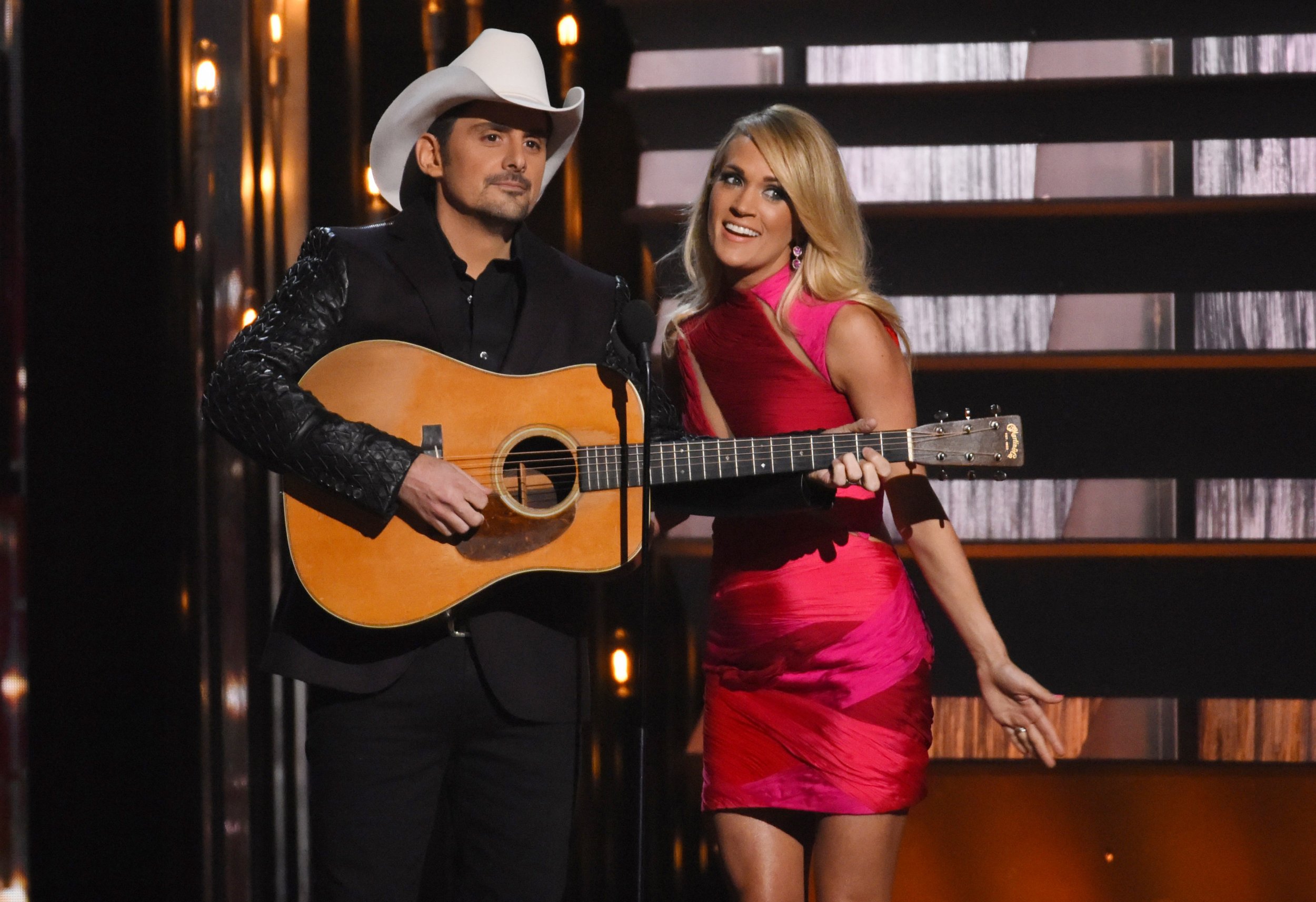 They will be pickin' and a-grinnin'. Fussin' and a-feudin'. Staging a shotgun wedding between Nashville and vaudeville. And when Brad Paisley and Carrie Underwood once again co-host the Country Music Awards (CMAs) on the night of November 2, they will remind us why they are the finest combo the South has produced since biscuits and gravy.
"The first year we did this [2008], we got the gig about three weeks out," recalls Paisley, 44, who will be co-hosting with Underwood for the ninth consecutive year at the 50th annual CMAs show. "Our thought was, Let's get through this. But during the last commercial break, Carrie turned to me and said, 'This is a blast; do you wanna do this again?' And here we are."
Even if the closest you've ever come to country is Taylor Swift (who hails from Pennsylvania), it is impossible not to be charmed by the duo's banter at the CMAs. Particularly their opening dialogue. Paisley, acoustic guitar in hand, plays the role of occasionally clueless big brother. Underwood, 11 years younger, is the conscientious younger sis. He's country ham, and she's sweet tea.
"I like comedy. I was way up for this challenge," says Paisley, who won a CMA entertainer of the year award in 2010. "Carrie, she's just a good person. Very normal, very down-to-earth."
This is not Hee Haw revisited. The material is ecumenical enough to appeal to both fans of Lady Antebellum and Lady Gaga, but there is an undeniable affinity for and awareness of the art form. Paisley and Underwood are as likely to belt out a topical parody song based on a country-and-western standard ("Mamas, Don't Let Your Babies Grow Up to Be Kanye") as they are to gently chide country music royalty. In 2012, they informed legendary artist (and weed aficionado) Willie Nelson that they were stripping him of all his prior awards "because, Willie," Underwood said, "it appears there have been some doping charges."
Here are two of country music's most successful contemporary stars—each has been named vocalist of the year for his or her gender three times—performing 10 minutes of schtick in front of the toughest crowd possible: their peers. Imagine Ryan Gosling and Emma Stone hosting the Oscars while gently needling Meryl Streep and Jack Nicholson, and you can begin to appreciate their acrobatics amid the egos.
"We had no way of knowing how good they'd be," says CMAs Executive Producer Robert Deaton. "But two or three years later, we realized they're as special as Sonny and Cher were as a duo."
It was Deaton's idea to pair Paisley and Underwood in 2008. The former American Idol winner (2005) had opened for Paisley on a tour a couple of years earlier, and, as Paisley recalls, "we got along great." In their inaugural year as CMAs co-hosts, succeeding Vince Gill after his 13-year run, Paisley and Underwood played it straight, as in ordinary (as opposed to Strait, as in George).
In 2009, Paisley was a guest on Letterman a week or so before the CMAs. He watched from the green room as Dave did a top 10 list in a musical format. "I thought, We should be doing something like that," Paisley says. "After all, we both sing." From there, parody songs ("Moves Like Haggard" and "Quarantine," the latter a rewrite of the Dolly Parton classic "Jolene") have become a staple of the act.
Deaton has compared Paisley and Underwood to Sonny and Cher or Donny and Marie, spouses and siblings, respectively, who hosted variety shows in the '70s. Sarah Trahern, CEO of the CMAs, has likened them to George Burns and Gracie Allen. While those comparisons are fair, the closest template is brothers Tom and Dick Smothers, who had a successful variety show in the late '60s.
"I love the Smothers Brothers," says Paisley, "and while we did not set out to model ourselves after them, that's very close. There was Tom Smothers, who had the guitar and would play sort of a clueless clown, and you had his brother, Dick, telling him, 'You can't say that!'"
The CMAs takes place the one night of the year that all of country's widest-brimmed hats and most spectacular tresses assemble under one roof: Nashville's 16,000-seat Bridgestone Arena. Paisley and Underwood treat their opening as a state-of-the-union address leavened with humor. "It's a roast," says Paisley, "but it's more like an old Friars Club roast, not a Comedy Central roast. We all want to still be talking to one another after the show's over."
When Ellen DeGeneres, a comedian and TV host by profession, was preparing to host the 2014 Academy Awards, she used Paisley and Underwood's act as her template. A former top executive at ABC told Paisley that as DeGeneres's staff was compiling material, they'd often say, "What is something we could do that is kind of like what Brad and Carrie do with their show?"
The creative team behind the opening each year is tiny by design. A month or two out, Paisley, Underwood, Deaton and head writer David Wild will begin texting one another or meeting, often at Paisley's home outside Nashville. "I bonded very quickly with Brad," Wild told Rolling Stone in 2014, "because we realized that no matter where you come from and no matter what you do for a living, a wiseass is a wiseass and we were two people who liked to make fun of each other."
Paisley, who is from West Virginia, and Underwood, who grew up in Oklahoma, are distinctly polite and charming country folk. They come from a place where the sharpest comeback to an insult is "Bless your heart." Their jabs are gentle and often directed inward. "Our first rule is to be self-effacing," says Paisley. "After that, we try to remember that we don't want to make people feel bad on the greatest night of their lives."
Country is family, and so Paisley and Underwood, who between them know just about everyone in the business, always endeavor to appreciate family dynamics. They know which siblings are better able to take a joke than others, which is why Blake Shelton is a frequent target. "I can pick on Blake all day long, and Luke Bryan too," says Paisley, who is married to actress Kimberly Williams. "That says a lot about them."
In 2015, after years of the camera panning to country's hottest married couple, Shelton and Miranda Lambert, Paisley and Underwood were faced with the task of handling their acrimonious split (he left her for his co-star on The Voice, Gwen Stefani). "Well, this is family, and we're all going to sit around the dinner table and discuss it, because that's what families do," says Paisley. "So we had to find a way to broach it while being respectful of everyone."
Instead of honky-tonking around the subject, Paisley and Underwood tackled the split head-on. "The breakup that rocked our world," intoned Underwood. "The one that's on everybody's mind, two people in this very room whom we all know and love...splitsville."
"Look, they're not even sitting together," said Paisley as the camera panned to Miss Piggy seated one row in front of a forlorn Kermit the Frog. "Is it me or does he not look well?"
As the audience reacted to the sight gag and the arena broke out in relieved laughter, Paisley quipped, "On a completely unrelated topic, 'Howdy, Blake.'"
Paisley has sold more than 12 million records and scored 19 No. 1 hits on Billboard's country songs chart. Underwood has sold in excess of 65 million albums globally and is one of the top-grossing female acts of the past decade. Neither of them needs the gig. They simply love doing it.
"I grew up watching this show," says Paisley, who started playing the guitar at age 8. "I remember watching Ricky Skaggs win entertainer of the year in 1985 and being thrilled. If Carrie and I can keep this rockin' for a few more years, why not? It's one of the highlight of my year every year. It's one of the highlights of my life."