How to Break the GOP's Grip on the South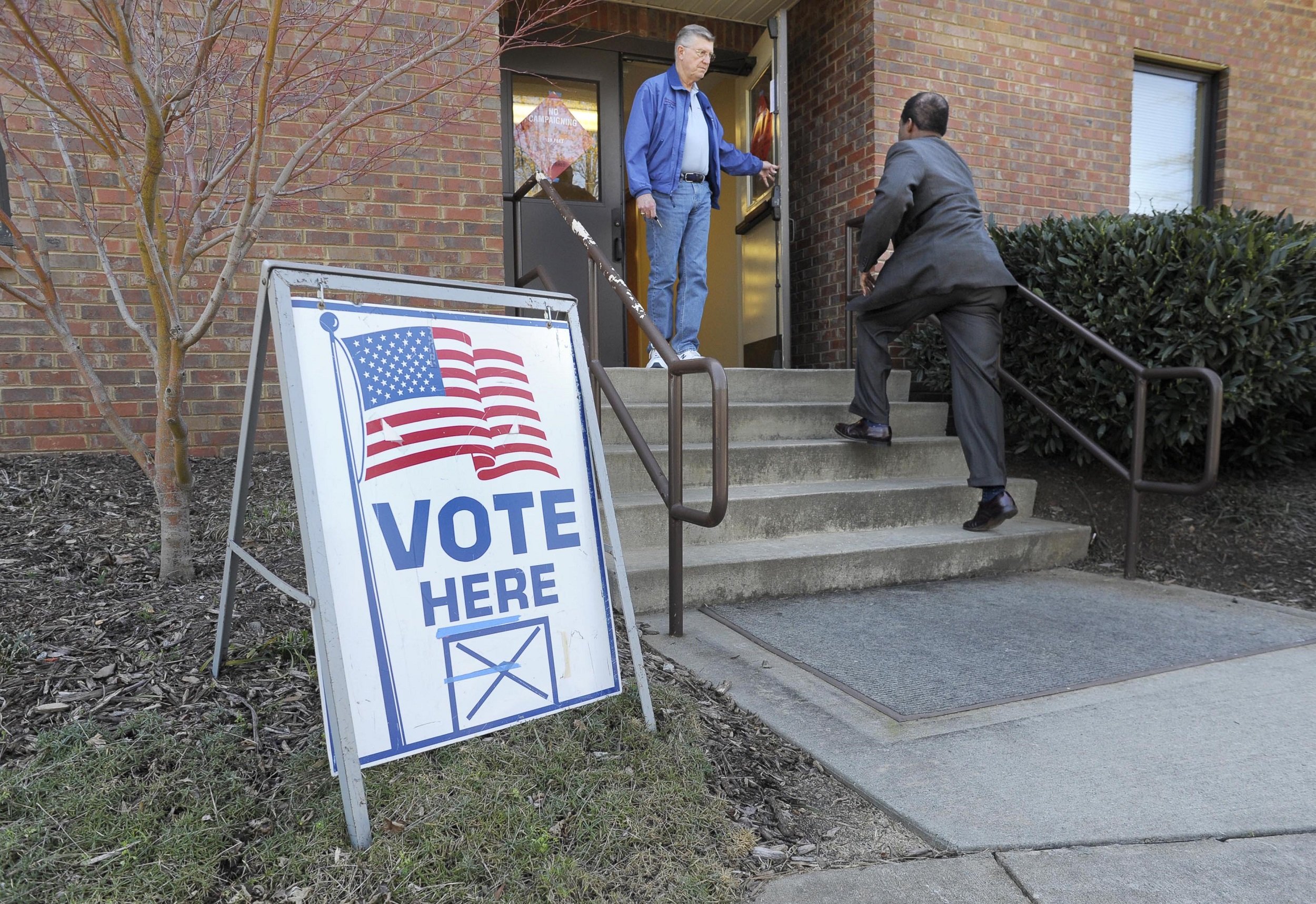 In May, Democratic strategist Tharon Johnson of Georgia had strong words for his party's efforts to elect Democrat Michelle Nunn as the next senator from the Peach State: In brief, register unregistered voters.
"We have to make a firm commitment to register 300,000 unregistered voters in Georgia so that we can expand the electorate to give us a good shot of winning in November," Johnson told Newsweek last month. "Expanding the electorate by registering these unregistered voters gives Democrats the best chance of winning in Georgia."
According to a new report by Benjamin Jealous, former head of the NAACP and now a senior fellow at the liberal Center for American Progress, Democrats could make serious gains in the South if they register some of the many millions of unregistered black, Hispanics and Asians, and then get those new voters to the polls on Election Day.
Titled "True South: Unleashing Democracy in the Black Belt 50 Years After Freedom Summer," the report focuses on the Black Belt, which it defines as 13 Southern states with a black population of at least 10 percent: Alabama, Arkansas, Delaware, Florida, Georgia, Maryland, Louisiana, Mississippi, North Carolina, South Carolina, Tennessee, Texas and Virginia.
Blacks, Hispanics and Asians vote overwhelmingly Democratic. In 2012, President Barack Obama won 93 percent of the black vote, 71 percent of the Hispanic vote and 73 percent of the Asian vote, according to the exit polls. There's reason to believe that in 2016, as Republicans continue to turn off black voters with voter ID laws, and Hispanics with their failure to act on immigration reform, the next Democratic presidential candidate could win even higher percentages of minority voters.
Georgia is a prime example of the untapped potential of minority voters in the South. In the last three gubernatorial elections in the Peach State, Republicans have won by an average of 260,000 votes. According to Jealous's report, if Democrats managed to register 60 percent of the unregistered black voters in the state, that would mean 290,000 new black voters. If Democrats also managed to register 60 percent of the unregistered Hispanics and Asians, that would mean 400,200 new voters in Georgia.
In Georgia, demographic changes are already making elections more competitive. Republican presidential candidate Mitt Romney's margin of victory there in 2012—7.8 percent—was his smallest in every state he won, except the swing state of North Carolina. This November's elections will feature two marquee races in Georgia, as Democrat Jason Carter, grandson of President Jimmy Carter, takes on the Republican governor, while Nunn battles to win the open Senate seat held since 2003 by outgoing Republican Senator Saxby Chambliss.
Georgia is not the only state where minorities hold the key. Rapid growth in minority populations in the South over the past 14 years could radically change the political landscape there. Between 2000 and 2010, census data show, the Southern black population grew by 18 percent to over 23 million, meaning that about 55 percent of the black population of the U.S. now resides in the South, where blacks make up 20 percent of the population.
During the same 10-year period, the Hispanic population in the South grew by 57 percent, to over 18 million. In Georgia, the number of Hispanics nearly doubled, while Hispanic populations more than doubled in Alabama, Mississippi, Arkansas, North Carolina and South Carolina.
Those demographic shifts meant that by 2012 there were 3.7 million unregistered black voters, 3.2 million unregistered Hispanics and 750,000 unregistered Asians in the South, according to the report.
In South Carolina, registering 40 percent of that state's unregistered minority voters would upset the balance of power. Up the road in North Carolina, registering just 10 percent would put Democrats in power.
Registering 60 percent of minority unregistered voters "would upset the balance of power in Florida, Georgia, Maryland, North Carolina, South Carolina, Tennessee and Texas in either a presidential or midterm election year," Jealous wrote in a summary of his report at msnbc.com. "In a presidential election year, Alabama would be added to the list."
Of course, Democrats will have to work hard to translate these substantial demographic changes into sure-fire electoral wins. Still, they offer Southern Democrats a big opportunity, if not this year then in the not too distant future.
"Political activists have been limited for too long by a vision of the Black Belt as a shut door—the 'Solid South' of yesteryear, artificially constrained by the long-lingering legacy of intentionally cultivated racial division," Jealous concludes his report.
"This vision is out of date. The demographic and other trends discussed in his report show that there is an opportunity to bring true political equality to the Black Belt."