How Broadband Access Impacts Aging Loved Ones
The importance of staying connected without forgetting the importance of connections.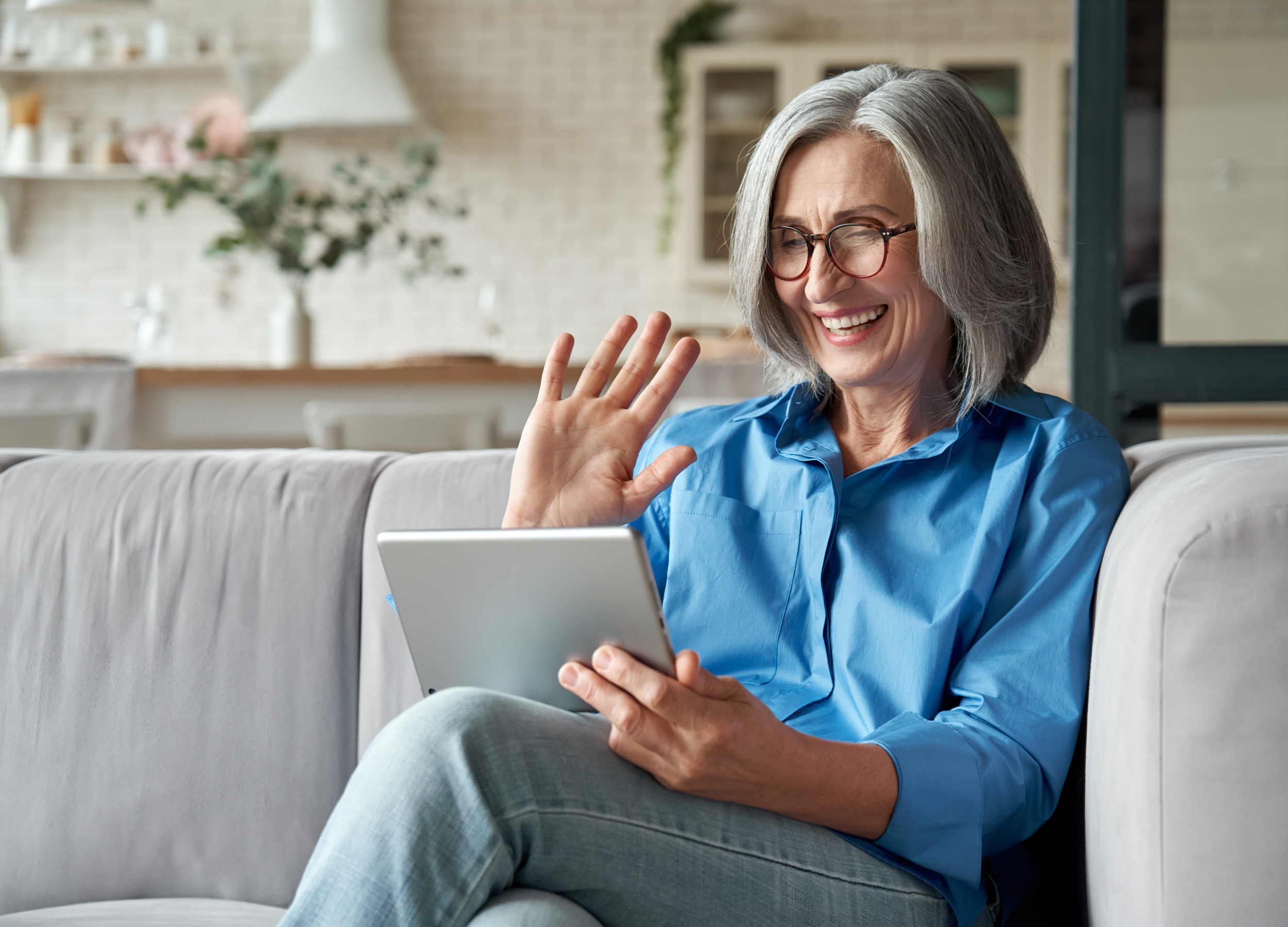 Since the pandemic, feelings of isolation and loneliness are up. Researchers have associated these feelings with an increased risk of heart attack, stroke and premature death. In studies, social relationships have proven to be more impactful than not smoking or exercising for health and longevity. Our need to belong is as basic as our need for food and water.
We've all been feeling more disconnected lately, but when it comes to our aging loved ones, that disconnect can make their life feel lonely and unfulfilled. Most of us can adapt with digital connectivity tools like Zoom or Facetime, but in areas still cut off from high-speed broadband, the connection is even harder to maintain.
Fortunately, broadband is starting to make its way across the country. As the states begin distributing $65 billion in government funds and private investment continues to build and improve access, more people will be able to send and receive messages to their aging loved ones over distances with greater ease. There may be some hurdles to overcome — and in-person and "old-fashioned" communication is still important — but broadband can bring greater safety and satisfaction to our aging loved ones: We should make the effort to help them use it.
How High-speed Broadband Benefits Our Aging Loved Ones
We often think about the benefits of high-speed broadband in terms of video games, streaming and its industrial applications — automation, the internet of things and Industry 4.0. We don't often think about how it can enable our aging loved ones to feel safer and more fulfilled in a world that has become less connected.
I work in connectivity, which gives me a front-row view of the challenges and triumphs of serving more of the population with broadband. At home, I have another view of how high-speed broadband has already shown its ability to improve the health and safety of older adults. Broadband enabled us to install a camera security system around my mother's house, so now I can check on her in real time to know she is safe. Even before my dad died, we put Alexa devices around the house and taught him to say, "Alexa, call Cheri" if there was ever a problem. It gave us all such peace of mind. As we deploy broadband in more places, more applications will emerge to make those safety and security measures easier.
But digital connectivity does more than ensure health and safety: It brings greater fulfillment as we age. My niece grew up visiting my mom a few times a year, short visits that became critical for building a lasting connection. Today, she is committed to nurturing that connection, in person when possible, but also through the power of broadband.
For Christmas this year, she got my mom a digital picture frame — not like the old version I gave her years ago that flipped through uploaded pictures, but a connected device with enough bandwidth to allow my niece and all the other grandchildren to send a new photo or video every day. Grandma now feels more fulfilled through this daily connection to her loved ones' lives, even across the distance, thanks to the advancing capabilities of broadband.
Roadblocks to Overcome
Obstacles are already preventing older adults from getting connected. While 24.5 million of the 63 million Medicare beneficiaries took advantage of at least one telehealth service between March and October 2021, a study that same year found 22 million American seniors lacked wired home broadband access. During the pandemic, they estimated that about 40% of seniors could not access online services.
While government funds can improve access and affordability, we also must ensure seniors know how to use the technology. During the pandemic, I tried to teach my mom to use Zoom and play online games to keep her from feeling isolated, but the connection was always too slow. When she got fiber-to-the-home (FTTH), I was ecstatic to try it out, but she had difficulty understanding why it was better. There still aren't enough applications and processes to make it easy for non-computer-savvy people to be active online.
We can all play a part in getting our seniors connected. As individuals, we can spend time teaching them how to access online services that fit their needs; guide them through an online training program at Senior Planet, Oasis Everywhere or Cyber-Seniors. Digital companies can design apps and products to make it easier for older people to use connectivity tools. Telecom companies can even step in with training for their products and services, like Apple, which recently went viral over a photo of seniors at one of its in-store "Getting Started with iPhone" courses, or Comcast's Internet Essentials program, which provides low-income seniors with digital skills.
The Importance of "Old-fashioned" Communication
While my niece drives our digital communication, my daughter leads the charge in keeping up old-fashioned traditions. She got her grandmother a stationary set and challenged her to write a letter to one grandchild monthly, with specific instructions to ask for one in return.
I know the importance of receiving physical letters well. After the end of a four-year relationship during college, my grandmother wrote me a letter about choices, life and having loved and lost. It was a powerful message at the time, but even more so when I found it again 20 years later while packing up after a divorce.
When strengthening our connections, broadband can only do so much. We still can't feel a hug over broadband. Many aging seniors who live alone, like my mother, may go days, weeks or even months without physical touch. This "touch starvation" can lead to heightened stress and anxiety, which can worsen sleep or other medical conditions and increase the risk of infections. We may not have been much of a hugging family growing up, but now, when I get a chance to visit her in person, I make much more of a point to arrive with a hug.
By working to stay connected with our aging loved ones, we can keep them safe and happy. The best connections come from digital and personal communication — text, call, video chat, write and visit. Broadband is a part of making that happen. The rest is up to us.