Here's How Pete Buttigieg, Elizabeth Warren Plan to Reverse the Trump Administration's LGBTQ Policies
Democratic presidential hopefuls Pete Buttigieg and Elizabeth Warren released plans to promote and expand LGBTQ rights Thursday hours ahead of a presidential town hall on the issue.
The South Bend, Indiana, mayor and the Massachusetts senator unveiled remarkably similar plans that call for the passage of the Equality Act, which would amend several civil rights laws to include sexual orientation and gender identity as protected characteristics. The plans also promise affordable HIV-prevention drugs, to prohibit nationwide gay conversion therapy, and to create non-binary gender options on U.S. passports.
Buttigieg and Warren also pledge to reverse several practices put into place by President Donald Trump that rolled back protections for the LGBTQ community, including his administration's transgender military ban and religious exemption policies.
The military guidance, finalized in May, bars transgender individuals who have transitioned from enlisting in the military. The rule also prohibits active service members from undergoing hormone therapy or gender transition procedures.
Buttigieg, the first openly gay candidate to run for president and a former intelligence officer in the Navy Reserve, said he would immediately repeal the transgender military ban if elected. He also vowed to give every military member who was discharged because of their gender identity the opportunity to re-enlist. Warren said she'd reverse the military ban "on Day One."
In August, the Department of Labor proposed a policy that would give federal contractors the right to discriminate against people who don't share their religious views. The plan would permit companies to decline to hire lesbian, gay, bisexual and transgender people as well as those who don't practice their religion.
Warren accused the Trump administration of weaponizing the language of religion and argued that "religious liberty should not be used to shield bigotry." She also pledged to use "every tool" available to reverse the discriminatory practices in her first 100 days as president.
Buttigieg's proposal was less detailed when it came to tackling religious exemption policies, although he asserted that his administration would examine the policies and reconfigure federal offices that enable discriminatory practices.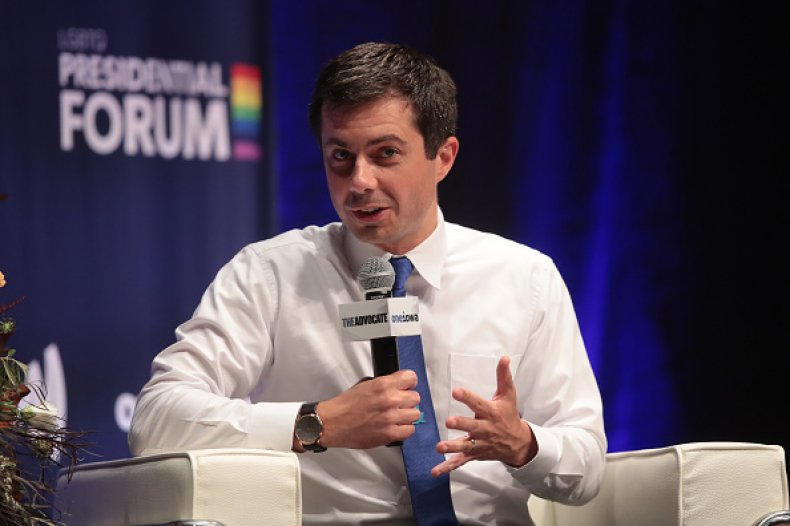 Buttigieg shared in his proposal that as a teenager he "never would have imagined how far we would come as a country" on LGBTQ rights. But he noted that young members of the LGBTQ community may not see the future to be as opportunistic.
"They see an administration that deems people who risk their lives for their country unfit for service because they are transgender," he wrote. "They see a President who, when asked about LGBTQ+ rights by a reporter, joked of his Vice President: 'Don't ask that guy—he wants to hang them all!'"
The plans were released the same day as an LGBTQ town hall hosted by CNN and the Human Rights Campaign Foundation. At the event, candidates will take questions from the audience and CNN reporters on LGBTQ issues and their plans to promote equality. Nine Democrats will participate in the town hall, including New Jersey Senator Cory Booker, Former Vice President Joe Biden, California Senator Kamala Harris, former Texas Rep. Beto O'Rourke, Minnesota Senator Amy Klobuchar, former Housing and Urban Development Secretary Julián Castro, businessman Tom Steyer, Buttigieg and Warren. The town hall airs Thursday, National Coming Out Day, at 7:30 p.m.