How to Buy Coachella Tickets, and Why You Want To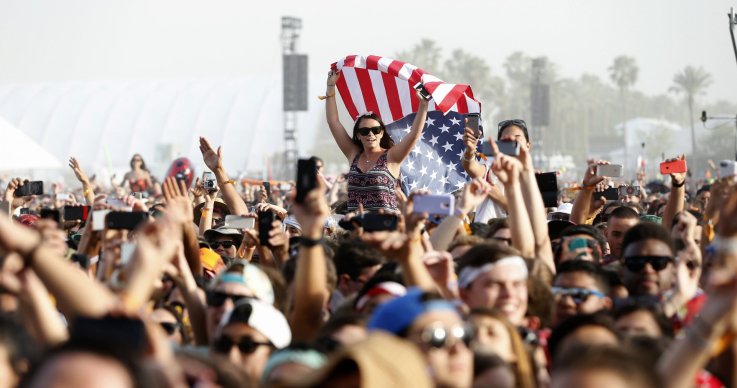 The organizers of the Coachella Valley Music & Arts Festival set the hearts of a million tie-dye-stained millennials a-flutter on Tuesday when they announced this year's lineup, lead by Guns N' Roses, LCD Soundsystem, and DJ to the stars Calvin Harris.
Should you be inclined to mix '90s nostalgia with deep rock while wearing your fluorescent headscarf, here is what you need to know before you join the rush for tickets:
When and Where?
The festival is happening at the Empire Polo Club, Indio, California on the weekends of April 15-17 and April 22-24.
How do I buy tickets?
Tickets go on sale at 11 PST on Wednesday via the Coachella website. Prices start at $399 for a weekend pass, rising to $899 for VIP access.
What if I don't get a ticket?
You probably won't, considering last year's festival sold out in 40 minutes. If you are willing to pay considerably over face value, tickets bought during the pre-sale window are now on Ebay, ranging from $600 for a ground pass to $1,300.
Tickets are cheaper (though extremely limited) at around $500 on Viagogo and Stubhub, but expect that to rise as we get closer to the festival dates.
Is it worth it?
Take a look at this gallery and round-up of key moments from past festivals, and decide for yourself:
Tupac lives
According to mid-'90s folklore, if you listened carefully to certain records by rapper Tupac Shakur backwards, the lyrics would reveal that the East Coast musician faked his death in 1996.
Festival goers in 2012—though they would never admit it—may have briefly thought they were witnessing Tupac's re-emergence when hip-hop stars Snoop Dogg and Dr. Dre welcomed a hologram version of the slain "Changes" singer on to the stage. It would take a lot for any artist to upstage a set that also included a real-life Eminem, 50 Cent, and Warren G., but even a fake Tupac is a crowd-pleasing Tupac.
Daft Punk light up the desert
When the masked electronic dance duo performed in 2006, such was the hypnotic effect of their LED-illuminated pyramid stage that some would argue they could have left the synthpop-crazed crowd happy without playing a single note from their back catalogue.
In a documentary broadcast by Showtime in 2015, music writer Michaelangelo Matos described the performance as groundbreaking.
"No one had seen anything like that," he said. "Everybody who was in the tent was texting everybody else: 'You are missing this! This is the greatest thing I've ever seen! You're missing the greatest performance of all time!'"
Jay Z and Beyoncé Join Forces
The pressure was on Jay Z in 2010 when he became the first rapper ever to headline Coachella. But thanks to his previous gig as the first hip-hop artist to headline Glastonbury festival in 2008, he came with plenty of practice at turning a traditional rock-and-dance crowd into believers.
His secret weapon? Beyoncé.
Drake and Madonna
It was not so much the kiss that Madonna planted on Drake during his 2015 headline performance but his reaction, which seemed to suggest that either he didn't expect it or the experience wasn't quite as he had imagined.