How to Buy Girl Scout Cookies Online in 2021 Through Grubhub and More
Your winter plans may have changed in early 2021 due to the coronavirus pandemic, but Girl Scout cookies are definitely still on the table, even if you want to order from the socially distant comfort of your home. Instead of waiting outside your local grocery store or hoping your co-worker's daughter is selling them, recent Girl Scout advancements give you two ways to order cookies online and still support the young leaders.
The Girl Scouts of the USA's online cookie-ordering service is opening to the general public in 2021, the group confirmed to Newsweek. In the past, Digital Cookie—which launched in 2014—required all online shoppers to gain a unique link from a Girl Scout they knew directly. Starting February 1, the platform will open to all: no special link required. A national link will replace the individual ones.
Digital Cookie allows anyone to log onto the Girl Scout website and order cookies from a specific Girl Scout troop. In the past, Digital Cookie only allowed the public to purchase from a girl scout "council," or local umbrella of troops. These councils are divided by state and location, such as the Girl Scouts of Colorado, Girl Scouts of Greater Los Angeles and Girl Scouts of Orange County.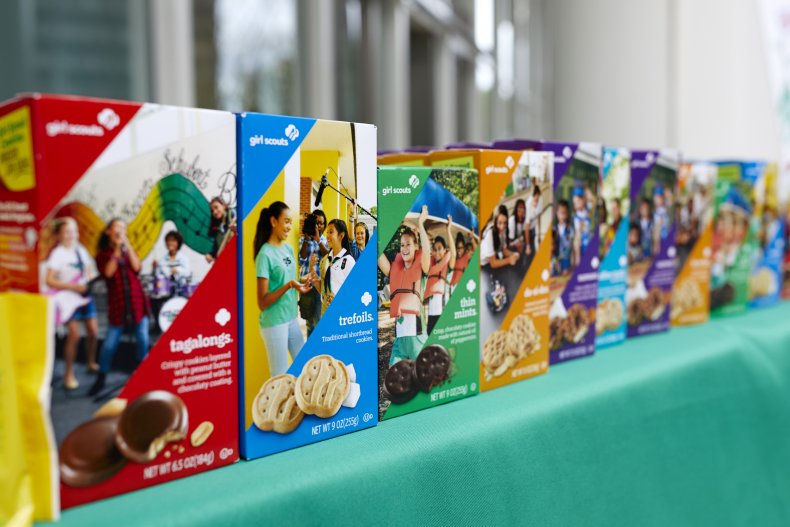 In order to use the Digital Cookie feature, you'll have to log onto the Digital Cookie platform here. Next, enter your ZIP code to identify which troop is closest to your home. You'll be able to order your favorite cookie flavors, for $5 per box, and they'll be sent to your home.
This year, a partnership between the Girl Scouts and Grubhub bloomed, which means you can now order Girl Scout cookies through the food-delivery app. This partnership may exclude some locations, so browsing the Grubhub App is your best way at figuring out if the cookie deliveries include your area, according to ABC. You just have to search "Girl Scout Cookies" to see if there are buying options in your area.
Through Grubhub, you'll still be contributing to the financial success of local Girl Scout troops, too. The app works directly with local troops to deliver cookies, which is why the Grubhub cookie availability varies. No-contact delivery and pickup options are available for Grubhub orders. The app will have a minimum delivery requirement of $15, the equivalent of three boxes.
If you're looking for cookies the old-fashioned way, Girl Scouts in select locations will be selling cookies at local, no-contact tables. In order to find the closest Girl Scout setups in your area, you can use the Girl Scout app, "Cookie Finder." This lists the closest Girl Scout tables to you by date and time.
Of course, if you know a Girl Scout selling cookies, you're encouraged to buy directly from her. This may help your Girl Scout advance in her troop, and secure additional funding for future activities. If you don't know a Girl Scout, though, it's a lot easier to buy cookies in 2021.
COVID disrupted the 2020 cookie-selling season and gave Girl Scouts an unprecedented opportunity to get creative with sales. "From running virtual cookie booths on social media to setting up drive-through locations to facilitating orders that ship directly to customers' doors, girls as young as five years old are continuing to embrace their entrepreneurial spirits, stay connected to their communities, and have fun by participating in the cookie program," a Girl Scouts press release explained. "And, the proceeds from each and every purchase stay local with the troop and its council to power Girl Scouts' essential leadership programming."
In addition to the classic flavors, the Girl Scouts revealed one new French toast–inspired cookie called Toast-Yay! You can browse all of the cookie flavors on GirlScouts.org.
Correction, 1/14/21, 11:35 a.m. ET: This article has been corrected to reflect that online buyers can purchase Girl Scout cookies from individual troops. A previous version of this article stated that buyers would be purchasing orders from a council.