How to Buy the USPS 'Star Wars' Stamp Collection Featuring BB-8 and Gonk
Star Wars fans will soon get to share their love of the franchise through their mail, with the United States Postal Service (USPS) launching stamps inspired by Star Wars droids.
The 10 droids featured on the stamps are IG-11, R2-D2, K-2SO, D-O, L3-37, BB-8, C-3PO, a GNK (or Gonk) power droid, 2-1B surgical droid, and C1-10P, commonly known as "Chopper." The characters are set against backgrounds that represent memorable Star Wars adventures.
The stamps' release date has not been announced, but they will become available sometime in the spring. The stamps are being released as a Forever stamp in a pane of 20—Forever stamps cost the price of the current First-Class Mail 1-ounce price, which is currently 55 cents, so the stamps will likely cost $11 for a sheet of 20.
USPS stamps are available to purchase through the Postal Store at usps.com/shopstamps, by calling 800-STAMP24 (800-782-6724), by mail through USA Philatelic, or at Post Office locations nationwide.
The Star Wars stamps are being released in support of Lucasfilm and Disney's commitment to STEM learning and as part of a collaboration between the charity initiative "Star Wars: Force for Change," and the global pre-K-12 nonprofit organization "FIRST" (For Inspiration and Recognition of Science and Technology).
According to a press release, "'Star Wars: Force for Change' and 'FIRST' have joined forces to expand access to STEM learning to more young people around the world, and to help them envision a brighter, more inclusive future."
Greg Breeding, who regularly works with the USPS, designed the stamps and the pane, while William Gicker, the director of Stamp Services at USPS, was the art director.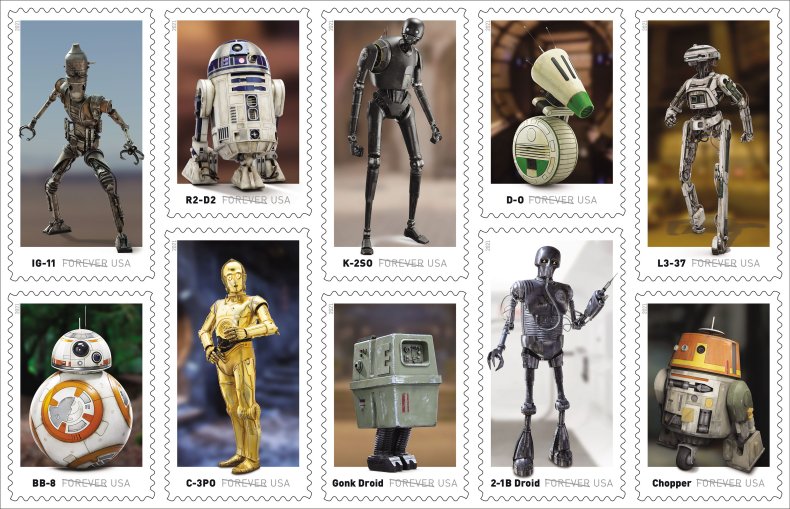 When Gicker was appointed in June 2020, he told Linn's Stamp News: "I am looking forward to the challenge of keeping America's stamp program relevant and engaging. Awareness has always been our biggest challenge and I look forward to expanding awareness of the U.S stamp program through creative outreach and design.
"The program may be almost 250 years old, but it can still be fresh, appealing, and portray the best of America."
Star Wars fans expressed their excitement about the stamps on Twitter, like Jon-Michael W., who said: "Yes, I am going to buy so many of those new Star Wars forever stamps from the USPS that I will be sending letters with them probably until we are sending space letters."
Paige on Twitter said: "I never thought I'd be excited about STAMPS but Star Wars just announced droid-themed stamps......GONK STAMP," while Clarisa said: "you bet I'm getting those Star Wars stamps so I can send letters to everyone."
While this is exciting news, the droid collection is not the first time Star Wars characters have featured on stamps. In 2007, USPS celebrated 30 years of Star Wars and released a stamp set featuring Darth Vader, Luke Skywalker, Han Solo, Chewbacca, Princess Leia, R2- D2, C-3PO, Yoda, Obi-Wan Kenobi, and Emperor Palpatine.