California voters are now just two weeks away from the September 14 gubernatorial recall election that will determine whether sitting Governor Gavin Newsom will remain in office for the rest of his term or surrender his seat to one of his many challengers.
California election officials began sending mail-in ballots to voters earlier this month. All registered voters will receive a mail-in ballot amid the ongoing coronavirus pandemic, though voters also have the option of voting in person if they prefer to do so.
If Newsom defeats the recall effort, he will remain in office through the 2022 midterm elections and have an opportunity to run for re-election at that time. Should he be removed from office, the person who replaces him will serve as California's governor until voters are again asked to pick a governor during the 2022 election season.
As Newsom and his recall challengers present their final arguments to voters in the days remaining before the election, here is an overview of how the recall process works in California: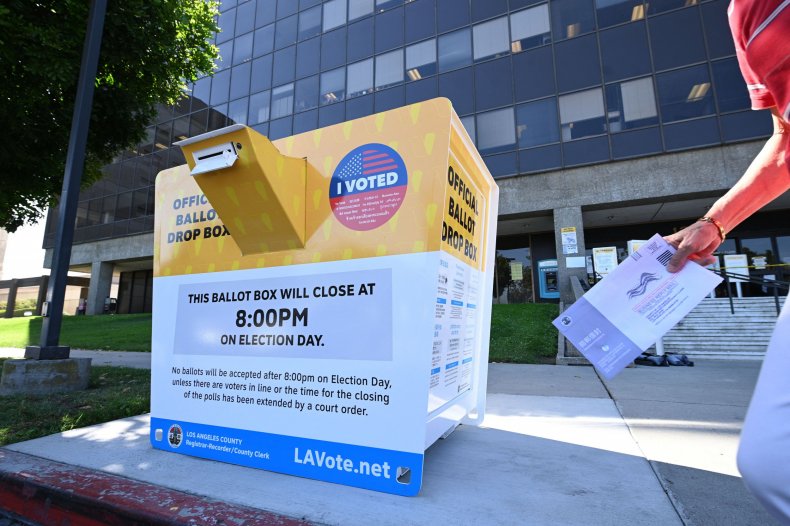 Recall history
In the years since Newsom's victorious 2018 gubernatorial election, the Democrat has faced six recall attempts, but only one succeeded in qualifying for a ballot earlier this year. After California Secretary of State Shirley Weber confirmed recall organizers succeeded in gathering the minimum number of signatures needed to qualify for a ballot, the date of the special election was set and Weber's office released a certified list of 46 candidates who qualified to challenge Newsom on the ballot.
Only four U.S. governors have been recalled, though 19 states have a recall election process for state officials. In California, Democrat Gray Davis was recalled in 2003 and replaced by Republican Arnold Schwarzenegger. Schwarzenegger defeated more than 100 recall candidates in his bid to replace Davis. If Newsom loses the September 14 special election, he would become the second California governor to be recalled since the state created its recall process in 1911.
While Newsom won nearly 62 percent of the votes cast in California's 2018 gubernatorial election, recent polling suggests voters are split on whether they want Newsom to remain in office for the rest of his term. Newsom's campaign and the California Democratic Party have encouraged voters to reject the recall and discouraged them from picking amongst the replacement candidates, a controversial strategy intended to unify California's Democratic majority behind Newsom. The California Republican Party elected not to back a recall candidate, though polls conducted in July and August found conservative radio personality Larry Elder firmly in the lead among his fellow Republicans.
Ballot questions
County election officials began sending mail-in ballots to voters on August 16, but voters can choose to vote in person if that is their preference. Mail-in ballots can be returned by mail as long as they are postmarked by September 14. Voters can also return their mail-in ballots to an official ballot drop box location, to their local election official's office, or to a designated polling place by 8 p.m. on September 14. In-person voting locations and times differ by county, with voters set to receive information regarding their closest polling places as they receive their mail-in ballots.
On the ballot itself, voters will be presented with two questions. The first asks whether they want to recall Newsom, and the second asks who among the 46 recall candidates they would pick to replace Newsom if he is recalled. In addition to the 46 certified recall candidates, state election officials are expected to release a list of certified write-in candidates on September 3.
Voters are allowed to respond to both portions of the ballot regardless of how they vote on the question pertaining to Newsom's removal.
After voting, each individual voter can track their ballot's progress as it makes its way back to election officials to ensure it is received.
Majority rules
If more than 50 percent of voters cast their ballots in favor of recalling Newsom, he will be ousted and replaced by the recall candidate who receives the greatest number of votes. His list of challengers includes 24 Republicans, nine Democrats, three third-party candidates and 10 candidates who did not declare a party preference.
In the event that Newsom defeats the recall, he will remain in office for the remainder of his term, which officially ends on January 2, 2023. He would also have an opportunity to run for re-election next year.
If Newsom is recalled, the candidate who wins will replace Newsom as California's governor until January 2, 2023.
Counting votes
The vote-counting process begins locally. County election officials are permitted to begin processing ballots seven business days before the election, though Weber's office says "under no circumstances" can the results be tabulated before polls close.
County officials have 30 days to finish processing ballots, after which the results are sent to the California secretary of state's office. Weber then has until 38 days after the election to certify the results.
Whoever is declared the winner will complete Newsom's term, which ends on January 2, 2023.