Robocalls Are Out of Control: Here's How To Stop Them From Taking Over Your Phone
Robocalls are a nuisance to almost everyone. In June 2019, the FCC passed new rules that expand phone companies' ability to protect customers against illegal robocalls. While many carriers have been providing free or low-cost services that label and, in some cases, block illegal spam calls, customers have, up to this point, had to "opt-in" to take advantage.
With the FCC's latest ruling, however, phone companies have now been given the option to "aggressively block unwanted robocalls before they reach consumers."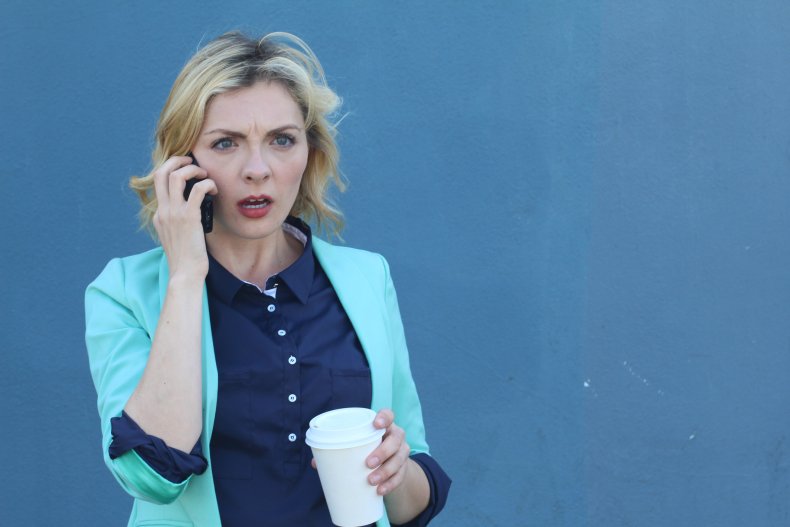 According to the Commission, the new Declaratory Ruling gives voice service providers the ability to block spam calls by default, as long as the decision is based on "reasonable call analytics," and that customers are told that they have the option to opt-out of blocking. The ability to block unwanted calls by default allows phone companies the ability to protect far more customers— particularly those without the technical understanding of how to get these services added to their phone plans.
While cell phone companies like Verizon have applauded the FCC's stance on robocalls, the problem isn't likely to disappear overnight. In part that's due to the difference between a legal and an illegal robocall.
The graphic below, provided by Statista, illustrates the area codes most targeted by robocalls.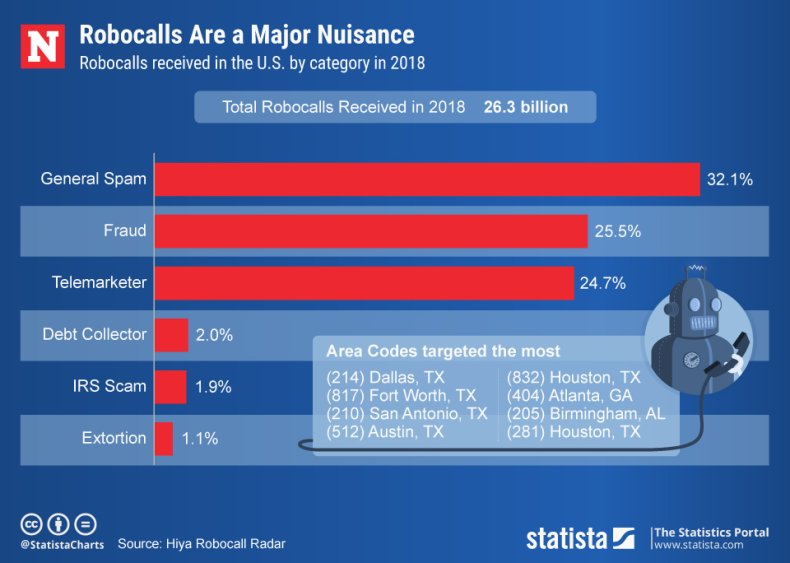 What is a Robocall?
If you live in the U.S, chances are you're familiar with robocalls: They're the incoming calls that are a recorded message rather than a live person on the other side. In the last several years, the number of unwanted automated calls has skyrocketed: According to a report by YouMail, a popular visual voicemail and robocall-blocking service, Americans received over 47.8 billion robocalls in 2018 alone, a major increase from 30.5 billion in 2017. And despite many carriers offering ways to block many kinds of robocalls, spam messages continue to proliferate. In March 2019 alone, 5.23 billion robocalls hit Americans' phones—an all-time high.
But just because a call is unsolicited and irritating, doesn't mean it's against the law: YouMail's report indicated that more than 60 percent of robocalls placed in 2018 were legal.
So what constitutes a legal or illegal robocall? According to the FTC, legal robocalls include things like political campaign promotions, charities asking for donations, appointment reminders, debt collection services, and even some sales calls. In fact, a sales robocall is only illegal if you haven't given your legal, written permission to receive it.
Why the Robocall Problem Keeps Growing
While the FTC has done a good job of defining what makes a robocall illegal, tracking and penalizing violators can be difficult, thanks to the global nature of the internet. Placing yourself on the National Do Not Call Registry should, in theory, protect from unwanted telemarketing calls, the registry is only applicable to companies operating in the United States. Increasingly overseas scammers have better—and cheaper tools—available to create massive databases of phone numbers and the ability to place millions of calls at once with just the push of a button. Add in sophisticated technologies that "spoof" the phone numbers of neighbors, friends and legitimate businesses, and it becomes even easier for them to flood our phone lines. You might have noticed an uptick in Chinese robocalls, insurance quotes, or threatening messages allegedly from Social Security. Many of these are getting through because of the rising difficulty in tracking and penalizing companies from outside the U.S..
Tips for Slowing the Flow of Robocalls
Currently there's no way to completely stop robocalls, but there are a number of steps consumers can take to keep unwanted calls from getting out of control.
1. Register Your Number with the National Do Not Call Registry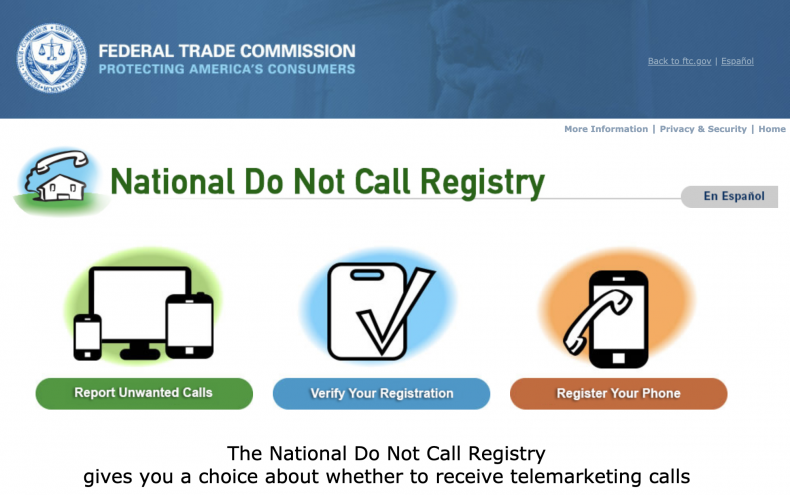 The National Do Not Call Registry won't put a stop to calls from overseas spammers, or unscrupulous American operations that disregard it, but it will stop unwanted telemarketing calls from legitimate businesses. It's the first step in paring down the number of robocalls you receive.
2. Report any Unwanted Telemarketing Calls to the FTC
Once you've registered for the National Do Not Call Registry, it'll take a little time for businesses to get the memo. But if you're still getting unsolicited sales calls after a month, be sure to report them to the FTC.
3. Sign Up For Your Provider's Scam Call-Blocking Services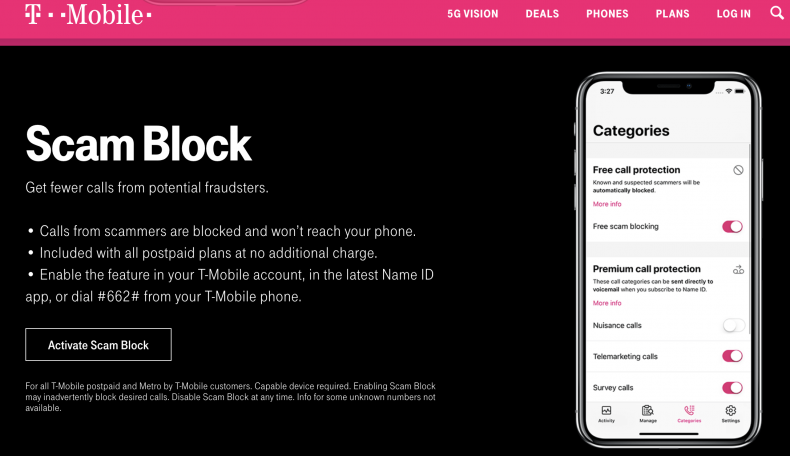 In the last few years, cell phone companies have begun offering services which block, or at least detect, illegal spam calls. While the FCC's latest ruling does allow carriers to begin blocking illegal robocalls by default, those services haven't been deployed yet. For now you'll need to contact you provider to get them added to your plan. Below is a breakdown of free spam-call protection services provided by the four major cell-phone carriers
T-Mobile Scam ID and Scam Block
Since 2017 T-Mobile has offered two different free protection services, Scam ID and Scam Block. Here's how they work:
Scam ID: Customers are automatically alerted when an incoming call is "scam likely." No app is required and there's no need to opt in or turn it on—Scam ID is an automatic part of T-Mobile or Metro by T-Mobile phone service.
Scam Block: When enabled, Scam Block will stop scam calls before they reach your phone. Customers can choose to toggle it on and off from their T-Mobile account, in the latest Name ID app, or by dialing #662# from their T-Mobile phone.
AT&T Call Protect and Digital Phone Call Protect
AT&T offers a free default service that labels and block billions of unwanted or illegal robocalls each year. The company also offers additional layers of free protection for those who request it:
AT&T mobile phones: AT&T Call Protect is available for download as an app, or by going into your account settings on myAT&T and turning it on. If you download the app, you can create a personal blocked number list.
AT&T Phone: Digital Phone Call Protect is available by going into your account settings on myAT&T and turning it on. You can also block up to 100 callers by pressing *61 after the unwanted call.
Verizon's Spam Call Filter
In March, Verizon announced a free robocall protection tool called Call Filter. With it, customers can receive alerts about likely spam calls, report unsolicited numbers and automatically block robocalls. Call blocking is customizable to an individual's "preferred level of risk." Additionally, users can sign up for a $2.99 monthly service that allows you to see the names of unknown callers and develop your own personal robocall block lists. It also adds features like a robocall risk meter and a spam number lookup.
Sprint Premium Caller ID
Sprint doesn't have a free spam protection service, though it does offer a Premium Caller ID service: For $2.99 a month, it screens calls that aren't in your contact list. There doesn't appear to be an advanced scam detection program, though, so calls from doctor's offices, pharmacies or credit card companies verifying a purchase might get screened out, too.
4. Use a Third-Party Robocall Blocking App or Service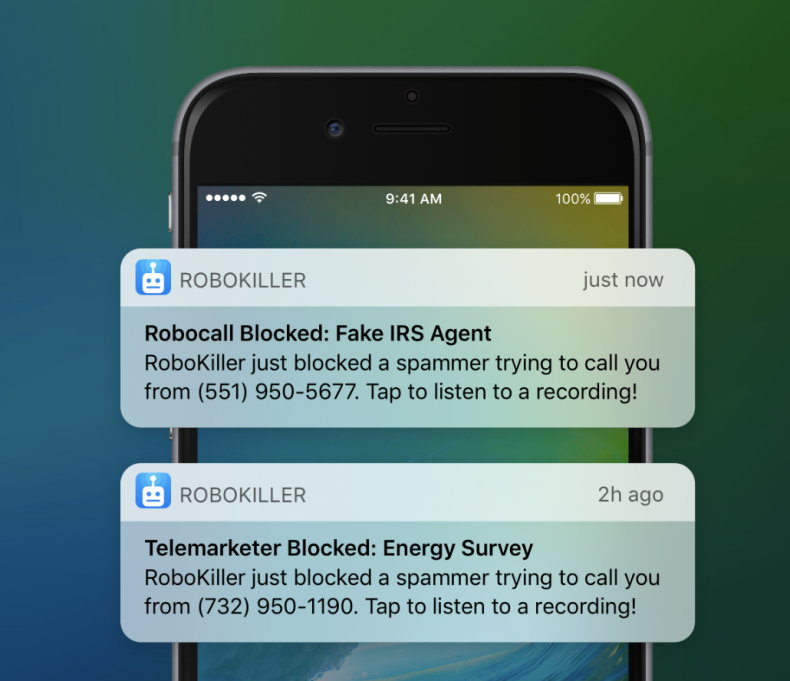 If you feel the services your phone company provides aren't robust enough, the final line of defense is to sign up for an app that blocks unwanted calls. Some of the most well-known are YouMail, Robokiller and Nomorobo. Each costs a dollar or two per month, though YouMail has a basic free call-blocking service for mobile phones and Nomorobo provides a free robocall blocker for landlines. All three are available for both iOS and Android phones.
5. Block Robocalls Manually
This can be a tedious process, but most Android and iOS phones provide a call-blocking option, which silences future calls from an unwanted source. On the iPhone, simply tap on the "i" icon next to a recent call and scroll down to the "Block This Number" option.
On Android, users should long press on spam calls and select the "Block Number" option.
This article was updated to include an infographic.