How Can We Explain Rising Gender Dysphoria Among Girls? | Opinion
Should gender dysphoria be considered a disability? In August, the Fourth U.S. Circuit Court of Appeals said yes. The federal court determined that gender dysphoria is covered under the Americans with Disabilities Act. The case involved a trans woman who sued the Fairfax County, Virginia, sheriff after being jailed alongside men. Unless challenged at a higher court, this decision applies to all areas of society where disability rights law is enforced, such as employment and public accommodations.
Some campaigners argue that, if people with gender dysphoria are covered under disability rights law, those who reject their sex can finally ensure access to sex-specific facilities and medical interventions, such as surgery. Speaking about the ruling, the executive director of the National Center for Transgender Equality, Rodrigo Heng-Lehtinen, told NBC News: "It's a very important and positive ruling to increase people's access to gender-affirming care."
The term "gender dysphoria" refers to a strong feeling of rejection and distress that a person may experience about their biological sex. Most people have sympathy and compassion towards those who feel so distraught by their bodies that they wish to escape them. However, society's understanding of gender dysphoria is undergoing an unprecedented upheaval that demands further scrutiny.
In the past, when we spoke of gender dysphoria, the concept was overwhelmingly applied to middle-aged men who preferred feminine stereotypes to the expectations of masculinity. Some studies indicate that in the 1960s, over 90 percent of people who identified as trans were male. But recent decades have seen a dramatic shift from this demographic to a vastly different one: teenage girls.
Within the last decade, there has been a meteoric increase of young people rejecting their bodies and identifying with the opposite sex. The vast majority of these youths are female. Statistics from Canada indicate that the number of patients reporting gender dysphoria went from almost none in 2004 to more than 1,000 in 2016, and around 80 percent were female kids. In the U.K., the Gender Identity Development Service saw a 4,400 percent increase in the number of girls who presented with gender dysphoria within a decade. Whereas the majority of patients a decade prior were male, by 2018, more than 70 percent were female.
If this astronomical rise in gender dysphoria were due to greater awareness and acceptance of people who feel distressed by their sex, we would see similar increases across all demographics, including middle-age women and men of all ages. But that is not happening. We therefore need to seriously consider: what if gender dysphoria, particularly among impressionable young people, is increasing due to social contagion?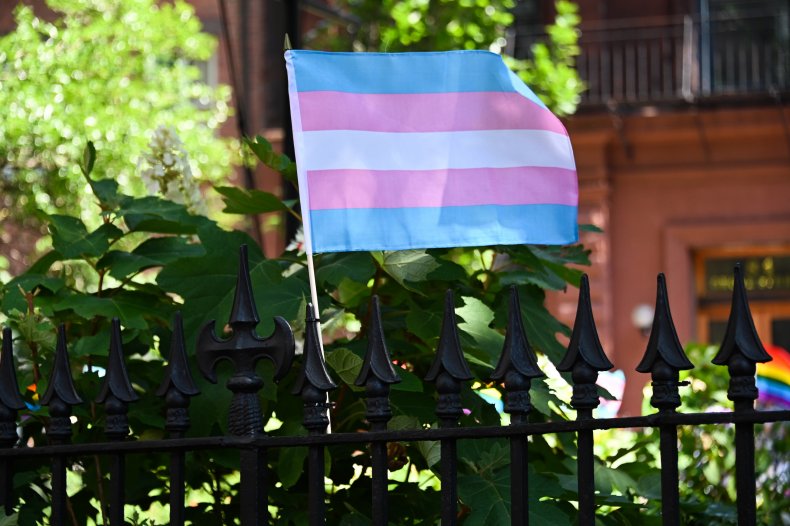 Many of the girls rejecting their bodies had no previous history of feeling distressed about their biological sex and only started presenting gender dysphoria after a friend came out as trans or after being exposed to the idea in online forums.
It is not unheard of for teenage girls to become hooked on an idea once they've been exposed to it among their peer group. Something similar has happened with eating disorders such as bulimia. What is unusual and disturbing is to see established institutions actively encouraging disordered thinking among impressionable youth.
Around the time that the Fourth Circuit ruling was handed down, news broke that some children's hospitals were advertising life-changing treatment and procedures to minors. The Boston Children's Hospital released promotional videos aimed at girls advising them on how to bind their breasts and explaining what "gender-affirming hysterectomies" consist of. The Children's Hospital of Pittsburgh has released promotional videos on puberty blockers, featuring uplifting music and cheerful doctors extolling the virtues of a medication that has been proven to negatively impact bone density and increase the risk of infertility. The Children's National Hospital in Washington D.C. was caught on record stating it performs hysterectomies on 16-year-olds and younger girls distressed by their sex.
While some countries, like Australia and Canada, are pushing ahead with the medicalization of children who identify as transgender, others like Sweden, Finland, and England are pressing pause so that more comprehensive research can be done. In July, the U.K. announced the National Health Service would be closing its only gender identity clinic for children, following complaints about inadequate care of young people by whistleblowers and a damning independent report. Among the report's key points were: "There is lack of consensus and open discussion about the nature of gender dysphoria and therefore about the appropriate clinical response."
At a time when unprecedented numbers of children and young people are presenting with gender dysphoria, what do we make of a federal ruling that considers this condition a form of disability? What the head of the National Center for Transgender Equality refers to as "gender-affirming care" are irreversible and life-altering procedures now covered thanks to a new legal loophole.
Since the majority of people reporting gender dysphoria are female, I would say that, far from entering a brand-new world of progressive civil rights, we have arrived in a dystopian medical future in which girls and young people are encouraged to transform their bodies, rather than tear down the sexist stereotypes they so desperately want to escape.
Raquel Rosario Sánchez is a writer, researcher, and campaigner from the Dominican Republic.
The views expressed in this article are the writer's own.