How CDs Have Been Supplanted by Music Streaming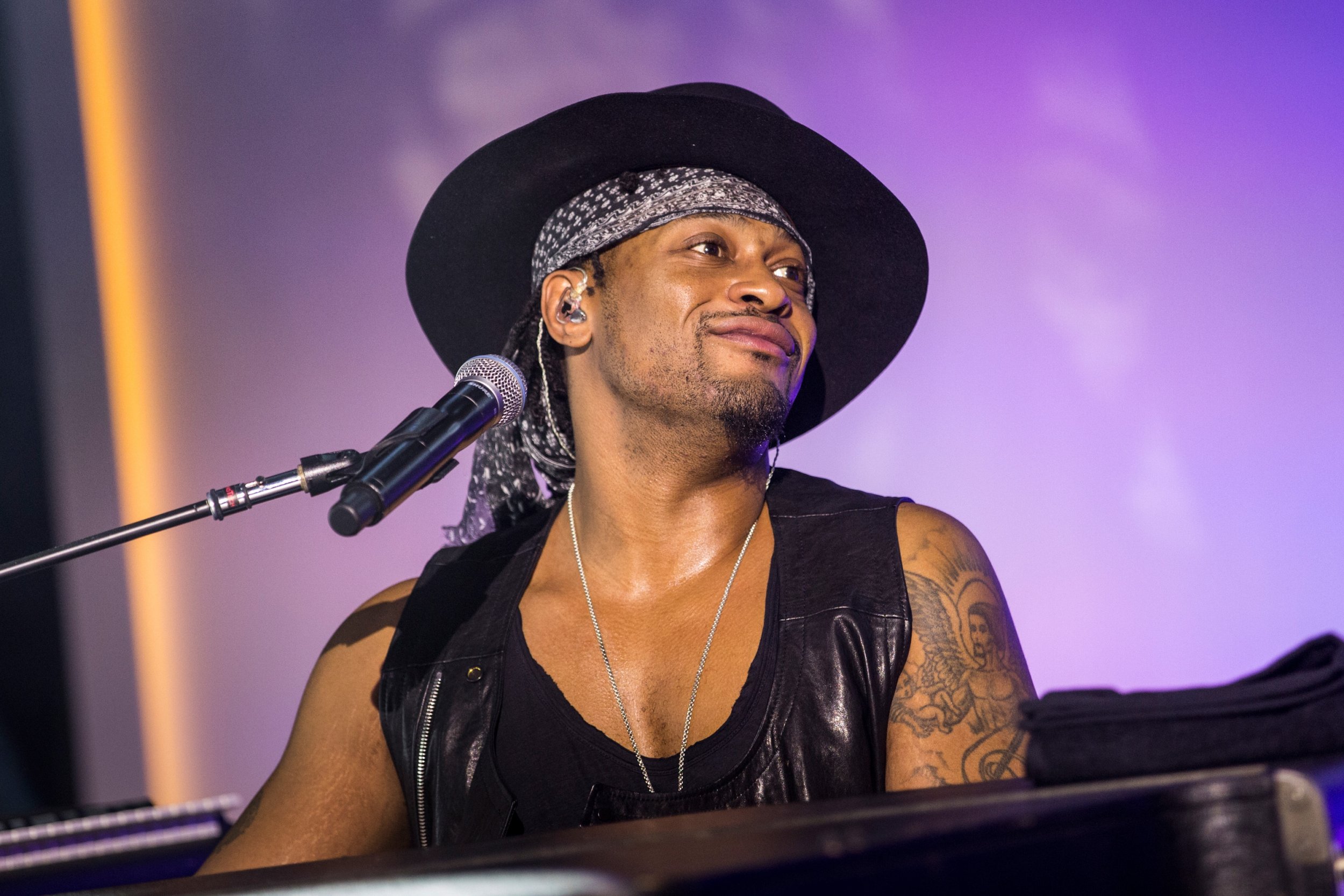 This article first appeared on the American Enterprise Institute site.
The Recording Industry Association of America (RIAA) recently released recorded music sales revenue figures for 2016 and some of the historical music sales data from the RIAA are displayed in the two charts above (press release here).
Here are some observations:
1. Recorded music sales on the rise again
After declining in 15 of the 16 years from 2000 to 2015 (and each of the 11 years from 2005 to 2015), recorded music sales revenues increased last year by 10 percent to a five-year high of $7.57 billion.
It was the largest annual increase in recorded music sales in more than 20 years, going back to a 19 percent increase in 1994 (in inflation-adjusted dollars).
Reason for the turnaround in recorded music sales last year? A more than doubling (114 percent increase) of sales revenues from "paid music subscriptions" (Pandora, Spotify, Apple Music, Google Play Music, Tidal and Amazon Music Unlimited), which increased from $1.16 billion in 2015 to almost $2.50 billion last year.
Music fans are increasingly turning to subscription services for their music listening and paid subscriptions in the US increased to 22.6 million subscribers last year from 10.8 million in 2015 and only 7.7 million in 2014 — subscriptions to online music services have roughly tripled between 2014 and last year.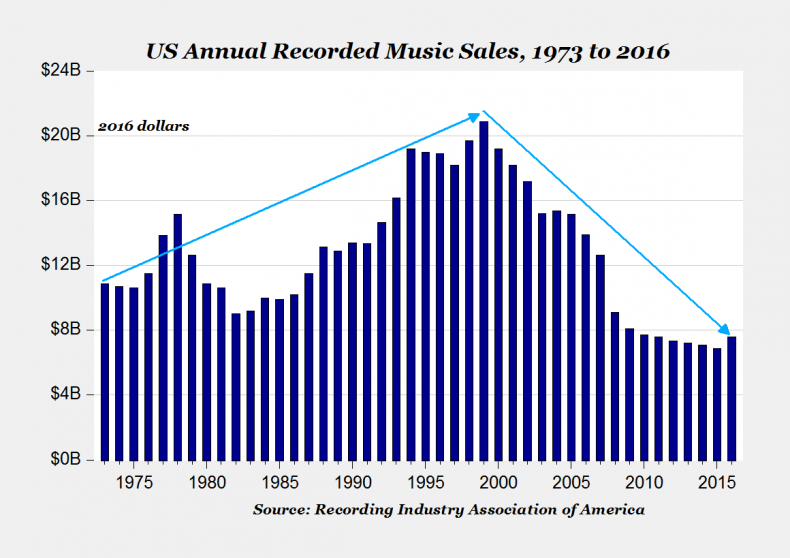 2. CDs are no longer the top music format
Last year also marked the end of a 25-year reign of music CDs dominating recorded music as the top, single-most popular music format.
In every year since 1991, when CD sales surpassed audio cassette tape sales for the first time, through 2015, revenues from CD sales were higher than any other single music format category.
The dominance of CDs peaked in 2002 when CD sales accounted for 95.5 percent of recorded music sales. By last year, CDs sales as a share of total recorded music revenues fell below 16 percent — the lowest market share for CDs since the early days of that format back in 1985 at 8.8 percent when cassette tapes had a 54 percent market share and LPs had a 36 percent share.
And for the first time ever, paid subscriptions became the top-selling music format last year at $2.26 billion compared to CD sales of $1.17 billion, which fell to the second most popular category in 2016.
Adjusted for inflation, CD sales last year were the lowest since 1985, the second year CDs were available.
3. Vinyl is making a comeback
Vinyl recordings are making a comeback — inflation-adjusted vinyl sales last year were the highest since 1989 and represented the highest market share (5.7 percent of all sales last year) since 1988.
From sales of only $27 million in 2007, LP sales last year topped $435 million, a 16-time increase in nine years that reflects a 36 percent average annual increase.
4. Physical formats give way to digital delivery
The bottom chart above displays the dramatic shift over the last 14 years from a music industry that historically sold music recorded exclusively on physical formats (vinyl, tapes, CDs, DVDs) to an industry that increasingly markets and sells music in digital formats (subscriptions, streaming, downloads, etc.).
From 100 percent of the recorded music sales in every year until 2003, physical formats (CDs, vinyl, music video, DVD audio) represented less than 22 percent of recorded music sales year, while sales of digital formats (downloads, subscriptions, streaming, etc.) accounted for more than 78 percent of recorded music sales.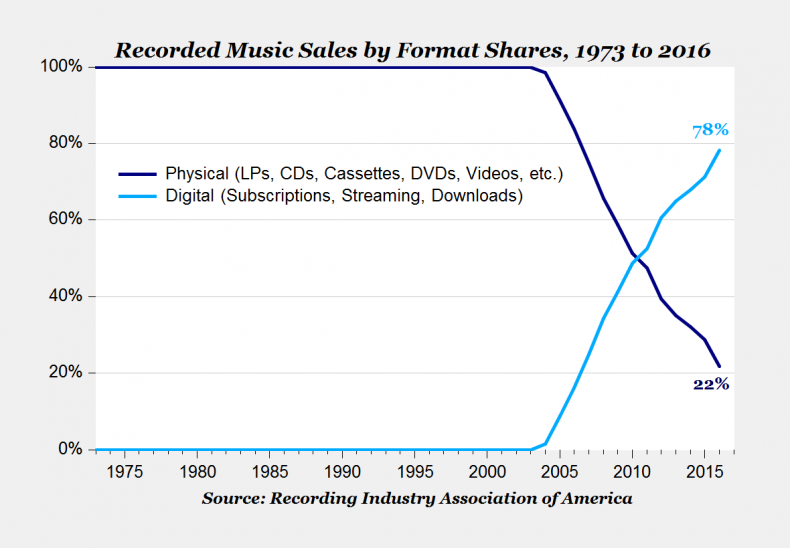 5. We spend less but have access to more
From the inflation-adjusted peak sales volume in 1999 of $20.9 billion (2016 dollars), recorded music sales last year of $7.57 billion were nearly two-thirds below that peak sales level nearly two decades ago.
Adjusted on a per capita basis, Americans spent about $75 per person in 1999 (in 2016 dollars) on recorded music compared to only $23 per person last year. Measured by traditional national income accounting procedures, these figures would suggest that Americans are "music poor" today compared to the "music rich" Americans at the turn of the century.
And yet, who today would trade his or her music options, access, and convenience today for what Americans had in the year 2000 (CDs, cassettes and vinyl, along with FM radio maybe)?
We spend two-thirds less per person today on recorded music than in 1999, and yet have access to an almost infinite library of recorded music through streaming services like Spotify for about $10 per month (with access to more than 30 million songs).
And the convenience factor of music listening today is significantly greater than the old days of buying CDs, organizing and storing them, playing them one at a time, etc.
Personally, I used to spend more than $1,000 per year buying CDs (which have to be organized and stored), and still never had a complete collection of everything I wanted. For $10-15 per month, I now have access to an endless supply of music through Spotify and Pandora, and there's no storage issues.
As I reported before on CD:
Measured by final sales of recorded music for GDP purposes, it would look like the "music wellbeing" (and the "music standard of living") of Americans has fallen by about two-thirds since 1999.

And yet, most Americans would probably agree that their access to music today is greater than ever before at a lower cost than ever before, and would agree that their "music wellbeing" (and "music standard of living") is at an all-time high – in direct contradiction to what standard GDP statistics would tell us.
Bottom Line
The shift from physical format music to digital formats (especially subscription services) has significantly lowered the cost of music, and given the average person affordable access to an almost infinite supply of recorded music.
The average American, for a cost of about $10 per month, has convenient access today to an almost unlimited music library that even a well-endowed university library or large radio station wouldn't have had available in years past.
And even if a billionaire like Bill Gates could have afforded to purchase (and store and organize) every CD and LP available commercially in 1999, his enjoyment of that complete music library of inconvenient physical format recorded music is nothing compared to the enjoyment one can get today by having convenient and instant access to an almost infinite music library through services like Spotify ( more than 30 million songs ) for $10 per month.
Despite what GDP statistics might tell us about the declining output of "recorded music," even low-income Americans are now "music millionaires" in the new age of low-cost, affordable digital music.
Mark J. Perry is a scholar at the American Enterprise Institute and a professor of economics and finance at the University of Michigan's Flint campus.