How to Change L.A.'s Sprawling Commutes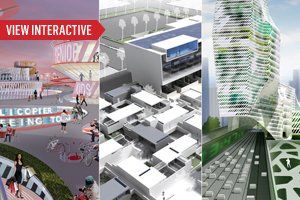 In the year 2030, few Americans will toil in cubicles for eight hours a day. Instead, they'll write e-mails or take phone calls in sleek "collaboration centers"—large buildings equipped with Internet access, lounge chairs, and private spaces for one-on-one videoconferences. Employees will live, work, and play in the same complex, taking the elevator downstairs for a jog in a second-floor park. Running into a colleague in the elevator could lead to an impromptu meeting. At least that's the vision of Eric Stultz, an architect at the firm Gensler. "Problem-solving can now happen in a much broader area," he says. "The whole community will now become a place where work happens."
What will our cities look like in 20 years? Already, roughly 36.4 million Americans work flexible schedules, according to the U.S. Bureau of Labor Statistics. The fixed 9-to-5 schedule no longer suits the round-the-clock demands of finance, business, and professional services. The Great Recession, and the resulting corporate cost cutting, has hastened the shift toward telecommuting and a freelance lifestyle. All these changes will inevitably transform the way we work, commute, and play.
NEWSWEEK asked three major architecture firms—Michael Maltzan Architecture, Gensler, and cityLAB-UCLA—to reimagine the future of work in Los Angeles. The city, with its sprawling highways, mega–entertainment and cultural centers, and diverse population, is the perfect place to experiment with the idea of a community built for residents who work remotely. Each firm offered its own vision, but they agreed on a few points: L.A. architecture will become more dense and multipurpose; community hubs will replace the disparate spaces where Angelenos now live and work; and even commuting will involve traveling through public parks, pools, and retail spaces. "The relationship between work and living needs to be thought of as overlay," says architect Michael Maltzan.
Maltzan's firm believes the traditional office spaces scattered throughout the city will be replaced by all-purpose buildings, where people move between floors from their apartments to offices to outdoor recreation spaces. Since space is at a premium in L.A., there will be no choice but to use buildings in different ways. A worker might run into a colleague on the stairs—just as a person living in another city would run into a friend on the street or the bus. This interaction will create buzz inside the buildings similar to the energy one feels walking down a busy street.
Socializing, learning, and collaborating on work projects will take place in spaces that feel more like social clubs than drab office buildings, the Gensler architects predict. These workspaces will give people places to meet when they're not working from home or outdoors. Because people will no longer need individual desks, these new "work clubs" can afford to be more comfortable, with lounge chairs, sleek side tables, and floor-to-ceiling windows that overlook gardens.
For the L.A.-based think tank cityLAB-UCLA, workplaces might center around big-box retail stores. One in 10 Angelenos already works in retail, according to cityLAB's Tim Higgins. These employees will no longer be re-sponsible for just selling goods. Instead, cityLAB-UCLA envisions a place like "Target Town," where parks, apartment buildings, and movie theaters surround a big retailer in a spread that looks something like a theme park.
When Angelenos of the future commute to work, they might hop a bus that picks them up at their exact location and doesn't follow a fixed route—thanks to public transportation that runs on GPS. Other workers might jump into short-term rental cars or onto bikes. Others will take public trains, with stations built alongside swimming pools and parks.
So what will all these changes in the physical structure of workplaces mean for workers? Long traffic jams and the annoying quirks of colleagues who chew gum too loudly may go the route of the fax machine. On the other hand, families will have to learn to cope with ever-increasing intrusions, as parents and spouses type e-mails from kitchen tables. Collaboration will happen, just in a more focused way, and for companies the biggest challenge will be knowing when to leave employees alone.
How to Change L.A.'s Sprawling Commutes | Business