How Chief Justice John Roberts Will Handle Obamacare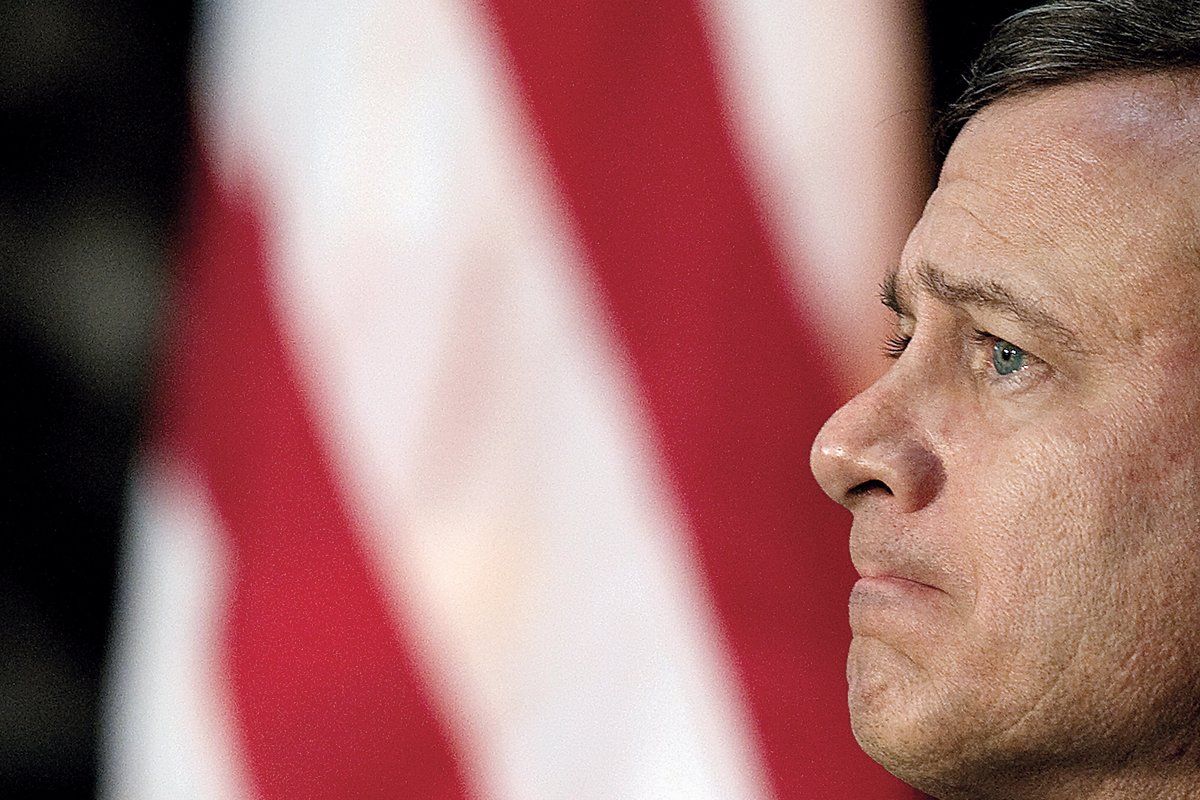 The day after the Supreme Court announced its bombshell health-care decision, Chief Justice John Roberts joked that he would be fleeing to Malta. It's "an impregnable fortress island," he quipped at a judges' conference in Pennsylvania. "It seemed like a good idea."
Roberts did indeed leave Washington for the Mediterranean island nation, where he taught a two-week class on the history of the Supreme Court. His real refuge, however, was Hupper Island—a small bit of land nearly kissing the coast of Maine where he and his family bought a modest vacation home in 2006. Roberts arrived on Hupper Island in early August and quickly settled into the soothing summer rituals that help him unwind and escape the pressures of his job. He puttered around in his little outboard motorboat, hiked along the island's winding trails through lush meadows and birch groves, and took the kids to the nearby general store for ice-cream cones. But this year there was an addition to the routine: Roberts had a security detail trailing his every move. With the toxic climate that followed the health-care decision, court officials were leaving nothing to chance.
For many Democrats, Roberts's Obamacare ruling was an act of judicial statesmanship that saved the Supreme Court from becoming a virtual arm of the Republican Party. For the right, which had championed his elevation to chief justice, it was an ideological stab in the back. But for Roberts himself, it was arguably the apotheosis of a jurisprudential and personal struggle years in the making—between his staunch conservatism and his attachment to predictability, social harmony, decorum, and propriety. "John's caution is very deep-seated," says a former colleague who would speak about the chief justice only on the condition of anonymity. "He doesn't like surprises." In voting to uphold health-care reform, Roberts showed deference to the elected branches of government, averted a direct clash with a president from an opposing party in the heat of a national election, and strengthened the court's institutional legitimacy as a neutral arbiter of the law. The court's public image, however, remains extremely divisive. And inside the court, Roberts's own last-minute vote change seems to have inflamed his conservative colleagues. Now, as the chief justice prepares to take up the gavel for his eighth term, tackling such politically fraught issues as affirmative action, gay marriage, and voting rights, he presides over a court awash in recriminations and leaks: just the kind of disorder and unseemliness that John Roberts has spent his whole life avoiding.
To understand Roberts's psychology, it helps to begin with a moment that he would probably like to forget: his administering of the presidential oath to Barack Obama.
A rock-ribbed Republican, Roberts almost certainly did not vote for Obama. But he enjoys the pomp and ceremony of his job and was looking forward to the small but highly visible constitutional role he would play during the swearing-in ceremony. A new book on the relationship between Roberts and the Obama White House by journalist Jeffrey Toobin reconstructs the elaborate planning that led up to the quadrennial ritual in cinematic detail. Toobin reports that Roberts relentlessly rehearsed the 35-word oath. His wife, Jane, joked that her husband had repeated the oath in their suburban home so many times, "the dog thinks it's the president." During a run-through a few days before the inauguration, Roberts shunned a notecard that had the text of the oath on it. He would rely on his memory. (A Supreme Court spokeswoman said she was unable to confirm Toobin's account.)
But when the moment came, Roberts bungled it. Obama briefly jumped the gun, which flustered the chief justice. He dropped some words and said others out of order. After Justice Department lawyers researched the constitutional implications of a botched oath, the White House decided on a do-over.
Two sources close to Roberts told me he was deeply embarrassed by the fumble and unhappy that the White House insisted on a mulligan, which he thought was unnecessary. Their recollections reflect Roberts's trademark sense of propriety. "The Constitution assigns a significant chunk of the national government's power to the court, and it's his job to husband that, and I think he takes that extremely seriously," says a prominent Supreme Court practitioner. "And I do think matters of decorum matter to him a lot."
Even as a boy Roberts showed a preoccupation with order and etiquette. He grew up in Long Beach, Ind., the son of a Bethlehem Steel plant manager, and attended La Lumiere, an all-boys Catholic boarding school—where the administration chose him as the student enforcer of the institution's strict dress code, and he editorialized against the school's decision to open enrollment to girls. But while he never lacked strong convictions or confidence, Roberts also learned to mask any arrogance with humility and a low-key demeanor. Over time he would develop a penchant for forging consensus that may have come from his father, who was known for trying to bridge the divide between the company's factory floor and its executive suites.
Roberts attended Harvard as an undergrad (finishing in three years), then enrolled at Harvard Law School. By that point, he was a genteel, almost old-fashioned conservative who opened doors for women and stayed out of the ideological wars that were roiling the faculty. Mainly Roberts was known for his piercing intellect and brutal study schedule. Shortly after graduating in 1979, he checked himself into a hospital for exhaustion.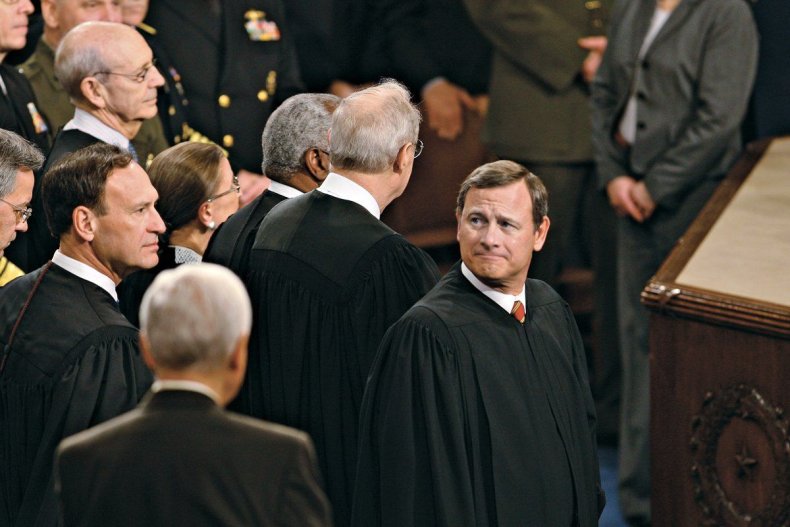 In 1981, after clerking for both Judge Henry Friendly and Supreme Court Justice William Rehnquist, Roberts joined the Reagan Justice Department. The following year, he went to work as a lawyer in the White House counsel's office. In these roles, Roberts was on the ground floor of the Reagan legal revolution—but he didn't seem to have the ideological zeal of many of his colleagues, the so-called movement lawyers. Over the next two decades, Roberts would move back and forth between the government and private practice, yet generally steer clear of political causes or controversy. For instance, he never joined the Federalist Society, the conservative legal group that inspires fear and loathing among liberals. "He was the anti-Zelig of the conservative legal movement," says one former colleague.
Following his stint in the Reagan administration, he left for a Washington law firm, where he developed one of the most successful Supreme Court practices in the capital. Roberts was known for his ferocious preparation, isolating himself for days to master a case and then participating in multiple moot courts to hone his strategy. He was so anxious about being prepared for every eventuality that he even brought cold medicine to arguments in case he developed a cough or the sniffles at the last minute.
As always, Roberts was careful in the causes he embraced and tended to shun conservative political crusades. One former colleague says Roberts was ever mindful that high appointments in the executive branch or to the courts were a serious possibility. He didn't want to jeopardize those chances by stepping on a political land mine. "John wanted to put himself in a position for high-level consideration at various points," says the former colleague. "To some extent it is risk aversion. He didn't want to have to defend things that might look bad 20 years later. He wanted to be above reproach, where no one could question his judgment or character. There's an element there that's honorable, but I can't say it isn't divorced from a sense of ambition."
Roberts went back to government during the first Bush administration—serving as deputy solicitor general under Ken Starr, who despite his later reputation as Bill Clinton's Torquemada was known as a courtly, by-the-book lawyer's lawyer. He and Roberts were a perfect fit. Then, toward the end of the Bush administration, Roberts was nominated to be a judge on the U.S. court of appeals for the D.C. Circuit. Still only in his mid-30s, for Roberts it was a dream job and a potential pathway to a seat on the Supreme Court. But with an election only months way, Roberts was left dangling by Democrats, who controlled the Senate. He was angry and complained that the attorney general, William Barr, wasn't fighting hard enough for him. His colleagues explained to him that there was nothing that could be done. Crestfallen, the ultimate meritocrat—a man who had been meticulous about crafting his image and exercising control over every aspect of his career—had run smack into the unpredictability of politics. Recalls a Justice Department colleague: "It was the only time I ever saw John really upset and wear his frustration so openly."
Not long afterward, he had a major health scare. Roberts suffered a seizure while playing golf. "It was stunning and out of the blue and inexplicable," Larry Robbins, a former Justice Department colleague, told Newsweek years later. Roberts wasn't allowed to drive for several months afterward and took the bus to work at his law firm. Seizures are generally sudden, highly unpredictable, and only episodically controlled by drugs. What is known is that once a seizure occurs, the chance of a second one rises dramatically. And indeed, while vacationing on Hupper Island in 2007, he would have another—his only other one to date. In an otherwise well-ordered life, Roberts has had to learn to live with an extremely unpredictable health risk.
In 1996 Roberts married Jane Sullivan, an accomplished lawyer herself whom he met through mutual friends at a Delaware beach house. The daughter of Irish immigrants who grew up in a modest home in the Bronx, Sullivan was deeply attuned to her Gaelic roots and Catholic faith. She and Roberts married relatively late in life—they were both 41—and could not have children together. But in 2000 they adopted two babies: a boy, Jack, and a girl, Josie.
The family lives a quiet life that revolves around their children, their parish, the Church of the Little Flower in Bethesda, Md., and their country club, where they spend most summer days when they are in town. Roberts is a doting father who shuttles his children to playdates and hockey games. He mows his own lawn and opens the door for trick-or-treaters on Halloween. He sends gifts to friends who have newborn babies, and he writes notes to colleagues who have a sick relative or have had a death in the family, according to journalist and law professor Jeffrey Rosen.
Roberts lives a balanced life (with a little more evening work than the average dad): dinner at home with the kids most nights; an occasional meal out with one or two couples at the club or a local restaurant, where he'll sip wine modestly. He attends professional functions, but is almost never seen on Washington's A-list party circuit or at charity balls.
Friends say that life with Jane and the kids has made Roberts more laid-back and brought out a more fun-loving side of his personality. Not that he was a stiff, they say—he's always had a good sense of humor that can even veer into the ribald or politically incorrect. But children have a way of upending the established order, and that has been healthy for Roberts. "The addition of Jane and the kids has shown him that there is a fun and uncontrollable side of life, and it's allowed him to put himself out there in a more personally vulnerable way," says a friend.
Of course, putting himself out there does not seem to come naturally to Roberts. But as is often the case with highly disciplined people, Roberts seems to have at least one venue where he allows himself to cut loose: he is, according to friends, a raucous Irish dancer. He was introduced to the traditional dances by Jane on trips to Ireland, where the Roberts family has a one-eighth share in a cottage in County Limerick. And while céilí, the form of dancing Roberts does, is highly choreographed, with partners linking arms and lines formed, those who have seen him in action say he moves with great intensity and verve. "It was incredible," recalls one Washington lawyer who saw Roberts at an annual Irish-dancing party. "He was really getting into it, stomping his feet. His face was red. He was having a blast."
Roberts's relentless drive and ambition propelled him to the elite tier of Washington's legal world. Renominated to the D.C. Circuit in 2003, he was confirmed, vaulting onto the shortlist for the Supreme Court. When Sandra Day O'Connor announced her retirement two years later, Bush tapped Roberts to fill her seat; while his nomination was still pending, William Rehnquist died, and Roberts was nominated to be chief justice. He put on a virtuoso performance at his confirmation hearing, dazzling senators with his encyclopedic knowledge of constitutional law and Supreme Court precedents while casting himself as an avatar of judicial modesty.
But within a few years, the consensus in Washington was that, far from being a moderate, Roberts was in fact a reliable conservative.
O'Connor came to feel that way—and worry about it, as Toobin reports in his book. Roberts arrived on the court not long before O'Connor exited, but she was "enchanted by his debut," Toobin writes. As the court plowed through the term, though, handing down conservative rulings on abortion, civil rights, and women's rights, O'Connor grew perturbed, as though the Roberts court was determined to upend her more moderate legacy. "In private," writes Toobin, "O'Connor had a disparaging word for what she saw in Roberts—an agenda."
The consensus about Roberts's ideological stamp grew firmer when, in January 2010, the court severely undermined campaign-finance regulation with its controversial ruling in Citizens United. Many constitutional scholars believed the court could have reached a much narrower decision. But instead, Roberts and his conservative brethren opted for a broad ruling that was cheered by conservatives and widely derided by liberals.
At the State of the Union address a few days after the decision was handed down, Obama took the extraordinary step of castigating the conservative justices to their faces—at least those who attended the speech. Roberts fired back a few weeks later at a law-school appearance. He said he had no problem with a president criticizing the court. "On the other hand, there is the issue of the setting, the circumstances, and the decorum," Roberts sniffed. "I think it's very troubling." A friend of Roberts's told me the chief justice was so offended by the spectacle that he strongly considered ending his attendance at State of the Union speeches. But he relented, because he thought it would be worse for the court's reputation if only the liberal justices showed up.
Roberts watchers say he is an equal-opportunity critic when he believes decorum has been breached. In June, when the court handed down an immigration ruling that was widely perceived to be a victory for the Obama administration, Justice Antonin Scalia read an angry dissent from the bench that seemed to many like a nakedly partisan speech criticizing the administration's immigration policies. Several people in the courtroom that morning say that Roberts noticeably winced. "You got the sense he really didn't like the optics for the court," said one lawyer who witnessed the scene.
It was that concern with institutional decorum that may well have driven Roberts to stun liberals earlier this year by casting the tiebreaking vote to preserve Obamacare.
History might also have been on his mind. Roberts has read the biographies of many of his 16 predecessors. Most of them, he has said, were failures. One disgraced chief justice Roberts has studied closely is Roger Taney, who delivered the majority opinion in the ignominious Dred Scott case, which held that blacks could never become citizens and helped set off the Civil War. Before Dred Scott, Taney was one of the most respected jurists in the country, the John Roberts of his day. But the Taney court tried to solve the issue of slavery for all time when it didn't have to. It was a case of judicial immodesty with disastrous consequences. Roberts had learned that lesson.
Liberals should have no illusion that Roberts is in the midst of an ideological conversion. In the coming year, the safe bet is that he will side with conservatives on affirmative action, gay marriage, and voting rights. But over the long term, it is certainly possible that the Obamacare ruling will not be the last time Roberts's conservatism is trumped by his concern with decorum—the perfectionism he now seems to embrace not just for himself, but for the court as an institution. One prominent Washington lawyer who knows the chief justice well suggests a thought experiment: if Obama wins in November and over time the court tilts to the left, can you really imagine Roberts as a lonely, angry dissenter? Or would he be more likely to find a way to work with the justices to his left—so he can continue to act as a diligent, image-conscious custodian of both the court's reputation and his own?
1979
Graduates magna cum laude from Harvard Law
1980
Hired as clerk for Supreme Court Justice William Rehnquist
1981
Enters Reagan Justice Department
1986
Joins Washington law firm of Hogan and Hartson
1992
Tapped for the D.C. circuit, Democrats prevented a vote on his nomination
1993
Suffers his first seizure. He has a second episode 14 years later, in 2007.
1996
Gets married at age 41. In 2000, adopts two children.
2003
Confirmed for a seat on the D.C. circuit
2005
Nominated to the Supreme Court
2009
Fumbles the oath at Obama's swearing-in
2012
Delivers the majority opinion in Affordable Care Act cases